AC Milan sign Pep Reina and Ivan Strinic on free transfers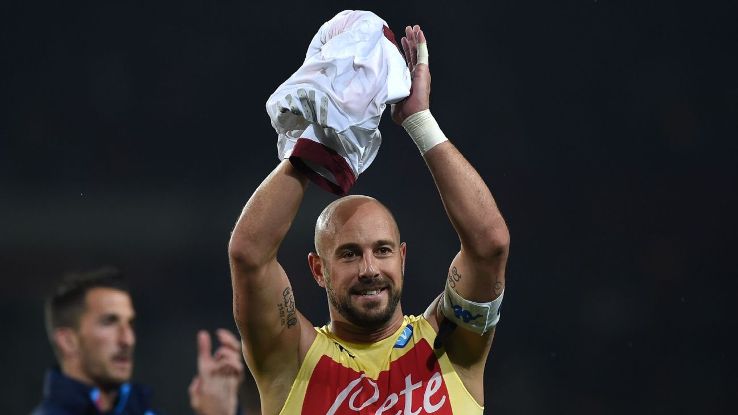 AC Milan have confirmed the signings of Pepe Reina and Ivan Strinic on free transfers from Napoli and Sampdoria respectively.
The Rossoneri, who have appealed a decision by UEFA to exclude them from next season's Europa League, announced the two new arrivals on their website on Monday, confirming both the Spanish goalkeeper and Croatian defender have signed three-year contracts.
"Pepe Reina is an experienced goalkeeper and was a valid opponent for AC Milan, especially in his spell at Liverpool," a club statement said. "He was in the Reds' starting XI in Athens when we won our memorable seventh Champions League and now he will be contributing to the Rossoneri's race for a European spot.
"In Serie A he has already started in more than 100 games and his international experience speaks for itself. A man and player that can surely improve AC Milan and be of great help to Rino Gattuso.
"Ivan Strinic is making a positive impression at the Russia 2018 World Cup, starting for an impressive Croatia. After a 2017-18 made of ups and downs at Sampdoria, this new AC Milan adventure is an opportunity to bounce back. A solid player, always attentive in defence, Ivan has also good technique.
"Two important signings, who bring added value to the Rossoneri squad. Welcome, Pepe and Ivan!"
Ufficiale: @PReina25 e Strinic sono rossoneri 👉🏻 https://t.co/rFG5nw6jUy
Official: Reina and Strinic are Rossoneri 👉🏻 https://t.co/UCPu1PZ484#weareacmilan 🔴⚫ pic.twitter.com/YlXQ6GZGhW

— AC Milan (@acmilan) July 2, 2018
Milan are also close to completing the signing of Alen Halilovic, who underwent a medical last week, with the Italian club's general manager Marco Fassone branding the former Barcelona midfielder an "opportunity" with "unbelievable talent."
In a Q&A session on the Serie A club's website, Fassone also allayed fears that they would be selling key players, such as Leonardo Bonucci, in the wake of UEFA's decision.
"Leo is our captain, he's a strength and we're definitely not discussing his outgoing: I hope he will stay with us for a long time," Fassone said. "Romagnoli's renewal? He married AC Milan, he wants to stay here and win.
"With [Patrick] Cutrone there is much more than a handshake, we will soon confirm that he is going to stay with us for a long time. We are foreseeing three quality signings for the focal points of the pitch, it will be a market of arrivals and departures.
"We have enough money, for now, Mister Li [Yonghong] has never failed to give us everything."