Arsenal's exceptional forwards bail out the Gunners' incompetents in unlikely comeback at West Ham
LONDON — The great thing about football is that sometimes things happen that years of knowledge, observation, conversation and analysis can't explain. For the first hour of their 3-1 win over West Ham, Arsenal were absolutely desperate, heading for a 10th winless game in a row, staring down the barrel of a devilish run of fixtures over the next six weeks with only a four-point cushion to the relegation zone.
Then Gabriel Martinelli, a cross between a young Luis Suarez and an enthusiastic puppy, gave Declan Rice the slip and equalised. Nine minutes later, they had scored twice more, and before too long, their fans were chanting "Ole!" as their team merrily knocked the ball around to close out the game.
What happened? What changed? Who knows, really. Arsenal's interim manager, Freddie Ljungberg, put it down to West Ham tiring, but that seems unlikely. Whatever it was, a light seemed to turn on in the heads of the Arsenal players, and suddenly swirling despair turned into giddy optimism, the travelling support seeing a glimpse of a football team again, that something does indeed live inside this collection of players. Hope is what they saw.
With that in mind, it almost seems churlish to point out that this win didn't really tell us anything we didn't already know about Arsenal. We have known for some time that their strength has been in attack and essentially everything else is up in the air: a team uncertain in midfield, shaky in defence.
This game was won by their exceptional collection of forwards: by Martinelli, who looks like the find of the season, with this goal representing his eighth in seven starts across all competitions; by Nicolas Pepe, whose early months at Arsenal have been slow but who very clearly has talent; and by Pierre-Emerick Aubameyang, who scored his 43rd Premier League goal since making his debut in February 2018. Nobody has more in that time, and only Jamie Vardy has as many.
Imagine where Arsenal would be without those guys, plus Alexandre Lacazette. If you have those attackers, you need to put a few of them on the pitch in only a vaguely coherent manner, and they will dig you out of a hole every now and then. Dig them out of this hole they did, and it's worth pausing to discuss again just how abysmal they were for the first hour.
In the first half, Arsenal had 65% possession but translated that into two efforts on goal: one was a free header that Mesut Ozil skewed way over the bar, and the other came when Aubameyang briefly decided that he should probably do something about the howling incompetence around him, drove at the West Ham defence on his own and shot from outside the area, only to slice it 10 feet over the bar. It barely classified as football, and they looked like a set of broken players heading for another dispiriting loss.
In short, Arsenal would have been absolutely buried by a better team in that first half. Manuel Pellegrini said afterward that "for 65 minutes, there was just one team on the pitch," but in truth, West Ham were nearly as bad as Arsenal. They took the lead through a header deflected by a player, Ainsley Maitland-Niles, who was trying to get out of the way, a goal as shambolic and incompetent as the general play. Arsenal were there for the taking, but Pellegrini's side couldn't muster a second and thus deserved everything they got after the hour mark.
"In the first half, we were slow, lethargic, which comes from players who have no confidence," Ljungberg said after the game. "We saw West Ham get a bit tired, low, and we sliced them open in the second half."
The question now is what this means for Arsenal. Perhaps in May we'll look back on this as the nine minutes that turned their season around, a spark to ignite dormant confidence that will flood through the team and inspire them to greater things.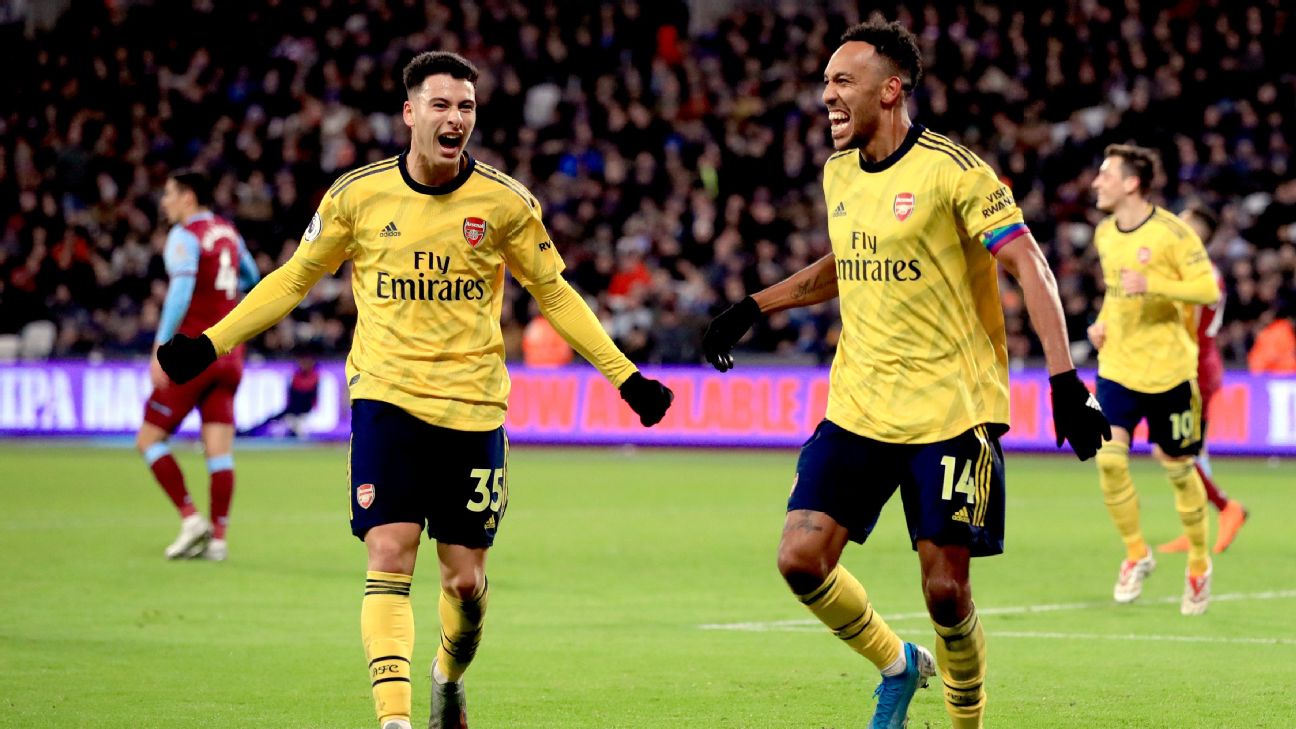 "Of course you always hope," Ljungberg said when this was put to him. "But I try not to get carried away because I still feel there are things we need to work on. We're not near where I want us to be. But I hope the happiness the players feel, that spirit, the belief in themselves — they can pass the ball with more tempo, play with one and two touches, a lot quicker, and that can have a positive effect."
It was exactly the sort of thing a sensible manager would say, trying not to get ahead of himself and avoiding hubris. But on this occasion, it also happens to be true: a good half an hour against a bad side can help with a little self-belief, but the problems that were there at 1-0 down were still present at 3-1 ahead.
Ljungberg said there were still things to work on, but the question is whether he will be allowed to work on them. "I've been told to work on a game-to-game basis," he said, "then it's up to [the club] to do what they do. It's the club I love, and I will try to help them as much as I can."
Time is a question, too. Arsenal have another game on Thursday, one more on Sunday, and then we're into the madness of English football over the festive season. Ljungberg will barely have a chance to watch the video of this game, let alone spend the time he wants on the training ground to try to fix as much of this as he can.
The final third of this game was exhilarating for a team pretty short on exhilarating moments of late. They will enjoy that, and rightly so, but let's remember that it hasn't solved any problems for Arsenal. Yet.