Barcelona's Luis Suarez: Antoine Griezmann is welcome at Camp Nou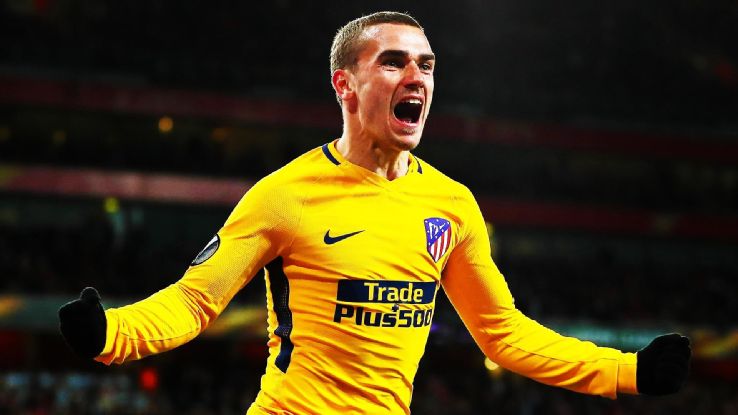 Luis Suarez says Antoine Griezmann would be welcome at Barcelona and dismissed the idea the Atletico Madrid forward could take his place in the team.
Speaking as if the deal is already done, Suarez talked up the quality of Griezmann and said he's proud of how Barca keep on signing the world's best players.
Widespread reports in Spain suggest Barca will do all they can to sign Griezmann this summer, with the France international available for his €100 million release clause.
Barca have denied making an approach for Griezmann but the club's director of institutional relations, Guillermo Amor, suggested a move was possible last December.
"Barca always bring in quality players like Antoine, as we've seen with [Philippe] Coutinho and [Ousmane] Dembele, players with huge amounts of quality," Suarez told Radio Uruguay.
"[Griezmann] has been playing at the top level for many years, fighting for everything. He leads Atletico's attack, which is fundamental [in showing his quality].
"He's welcome [at Barcelona]. He's not coming to take anyone's place, but with the ambition to do big things with the best club in the world. I'm proud that Barca keep signing players of such quality."
Appearing in a news conference on Saturday, Barca coach Ernesto Valverde attempted to play down the significance of Suarez's words, suggesting the Uruguayan striker was speaking "figuratively."
"Griezmann plays for another club," he said. "We shall respect that other club and not make any comment. Someone told me about Suarez's comments, but I have nothing to add.
"I think Luis was speaking in a figurative sense. We all have to be careful with what we say to the press when other teams are involved. You're bugged with questions, then they start messing around with your words and making it seem like you said things that you never really wanted to say."
Griezmann said last week that he's waiting on the result of talks with Atletico before deciding his future amid the speculation of a move to Camp Nou.
He has already revealed that he expects everything to be cleared up, one way or another, before he heads off to the World Cup with France this summer.
Atletico, meanwhile, are doing everything they can to convince him to stay.
The club's president, Enrique Cerezo, is optimistic and said this week that he believes the forward will still be at the club next season.
Griezmann nearly left last summer, but a move to Manchester United was called off when he decided to stay in Spain after Atletico had an appeal against their transfer ban turned down.
He has scored 27 goals in 46 appearances this season, helping Atletico reach the Europa League final, where they will face Marseille later this month.