David Luiz's shocker proves it's the same old calamitous Arsenal
LIVERPOOL, England  — It was as if David Luiz felt so embarrassed by the damaging recklessness of what he had just done that he felt some kind of knee-jerk moral compulsion to acknowledge his mistake.
The second half was two minutes old at a warm, summery Anfield and Arsenal, though 1-0 down, were just about holding their own. That's when Mohamed Salah made a move to latch onto a prodded pass by Roberto Firmino and Luiz instinctively yanked at the Liverpool No. 11's shirt. The Brazilian got such a solid fistful of his opponent's jersey that the stretched red fabric could probably be seen from the back row of the stadium's enormous Main Stand. The video officials at Stockley Park will not have to validate a more blatant penalty decision all season.
— Arsenal ratings: Pepe shows promise but Luiz 3/10
— Reddy: Salah shows Liverpool's class in route of Arsenal
Luiz's mea culpa moment occurred before referee Anthony Taylor even had time to blow his whistle. We are used to seeing defenders react to committing a foul by deceptively wagging a finger or perhaps urging their opponent to get back to their feet, but Luiz merely raised his right hand into the air, palm open, as if aware that what he had done was so screamingly obvious that there was no point in even pretending otherwise.
"Yes, it's a fair cop," he seemed to be saying. "I am David Luiz and this, I'm afraid, is what I tend to do."
Taylor's whistle duly sounded and Salah did the rest, placing the ball on the spot and then expertly bending it inside the left-hand post to double the hosts' lead. It felt like game over –and 10 minutes later it was, with Luiz again at fault.
Sensing the Arsenal centre-back in close attendance as he drifted across to the right wing to gather Fabinho's forcefully struck pass, Salah took one touch to control the ball and then sent another past Luiz into the acres of green grass behind him, the shaggy-haired centre-back this time raising both hands to show he had not committed a foul. Nacho Monreal could not catch Salah, and the Egyptian sped into the box before brilliantly steering a shot into the bottom-left corner.
Luiz could not be held responsible for Liverpool's 41st-minute opener, which had seen Joel Matip outmuscle Sokratis Papastathopoulos to head Trent Alexander-Arnold's corner past Bernd Leno. But his second-half cameo showed that for all the personality he has brought to the changing room and for all that his passing will help Arsenal to play through opposition presses, the risk of a calamitous mistake is never far away. Spiriting him away from Chelsea on transfer deadline day might have felt like a clever and opportunistic piece of business, but then again, there is a reason he only cost £8 million.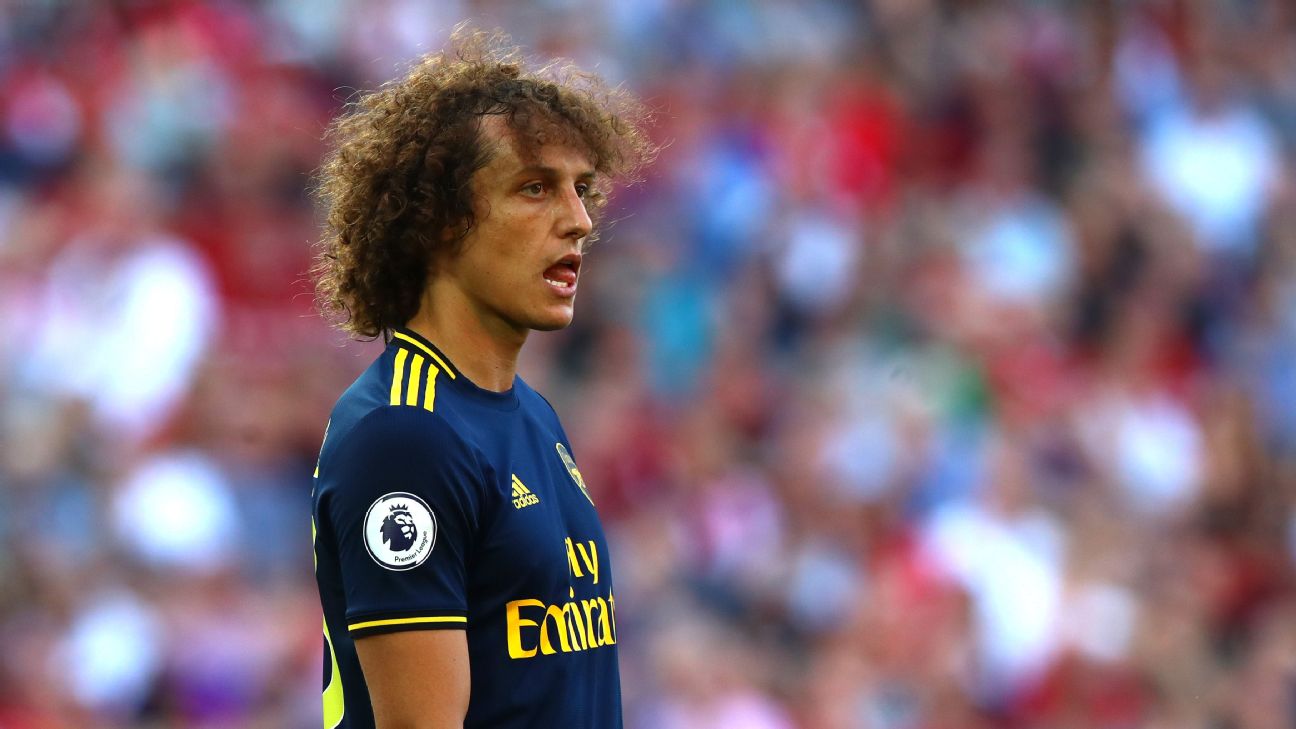 Before Liverpool's first goal, Arsenal manager Unai Emery will have reflected with satisfaction on the extent to which his tactics had succeeded in frustrating Jurgen Klopp's side. Set out in a compact 4-3-1-2 formation that Klopp later admitted had surprised him. With Pierre-Emerick Aubameyang and full debutant Nicolas Pepe paired together in a spring-mounted front two, the visitors defended in a low bloc, crowding the middle of the pitch and looking to release their speedy forward players on the break. Arsenal's away record at Liverpool has been dreadful in recent years, but for once, they avoided being submerged before half-time.
Pepe even pulled off the rare feat of dribbling past Virgil van Dijk, his seventh-minute dart on then halfway line making him the first player to have left the towering Dutchman in his wake in a Premier League game since Newcastle United's Mikel Merino in March 2018.
The Ivorian winger, Arsenal's £72 million record signing, had shown glimpses of his gifts as a substitute during last weekend's 2-1 win over Burnley, and here he was at Anfield the visitors' most dangerous player. After twice threatening from outside the box, he created — but then squandered — a brilliant first-half chance, seizing on Jordan Henderson's miskick and jinking inside Andrew Robertson before failing to open his body up sufficiently to place his side-foot attempt past Adrian. Then, shortly before half-time, a slick turn sent Robertson skittering away in the wrong direction.
Arsenal's third new signing, Dani Ceballos, was brought down to earth after his man of the match display against Burnley, almost gifting a goal to Sadio Mane with a dangerous pass across his own box, before giving way to Lucas Torreira just after the hour mark. It is one thing to swagger around midfield against Sean Dyche's Burnley; quite another to do it against the European champions on their own patch. With Ceballos off the pace, it was left to Joe Willock to take the game to Liverpool in midfield, the 20-year-old academy graduate impressing with some assured touches and purposeful runs.
Emery singled out Willock, Pepe and Matteo Guendouzi as three players who, he felt, had "made one step ahead."
"Ceballos struggled more than last week," the manager admitted, "but it is one experience more for him."
With Alexandre Lacazette dropping to the bench, the away fans in the Anfield Road Stand had to wait until his introduction in the 81st minute before getting another look at the Francophone front three of he, Pepe and Aubameyang. Arsenal's consolation goal arrived just four minutes later as Aubameyang laid the ball off to Torreira, who scored at the second attempt after Henderson had impeded his first effort.
While Arsenal could take encouragement from their dogged first-half showing and late rally, which Emery held up as evidence of "character," this also was a reminder that a football team is only ever as good as its weakest player. And when that weakest player is David Luiz having one of those David Luiz afternoons, even the most carefully laid plans can be left in tatters.