Italian FA president Gabriele Gravina on racism in Italy lifting 'depression' after World Cup woe
Gabriele Gravina was elected president of the Italian Football Federation (FIGC) on October 22, 2018 after almost nine months of administration under control of the Italian Olympic Committee (CONI) following former president Carlo Tavecchio's resignation and failed elections for a new president.
The FIGC governs 1.4 million members, approximately 13,000 clubs of which 84,000 teams play in 580,000 games per year.
ESPN FC sat down with Gravina in Rome to reflect on his first 100 days in office, the problem of racism in Italian football and a bid for Euro 2028.
ESPN FC: What were the main challenges you faced when you became president?
Gravina: When you arrive after a period of administration, there are a lot of important issues to be dealt with. The biggest challenge, though, was to try to lift an air of depression which had hit our football [after failing to qualify for the 2018 World Cup and failed elections] and this was the most delicate issue. There were numerous challenges, but there was also plenty of enthusiasm and determination to improve this situation.
ESPN FC: What has changed over these first 100 days in office?
Gravina: On Oct. 22, 97.20 percent gave their significant approval; a message of unity to the footballing world — an extraordinary result which we needed. That message carried two significant meanings: the first, that we had found unity, and the second, that they had vested their faith in the responsibility of their president to launch a series of reforms. From that moment, this rediscovered enthusiasm, increased responsibility has enabled us to accelerate progress on many important issues.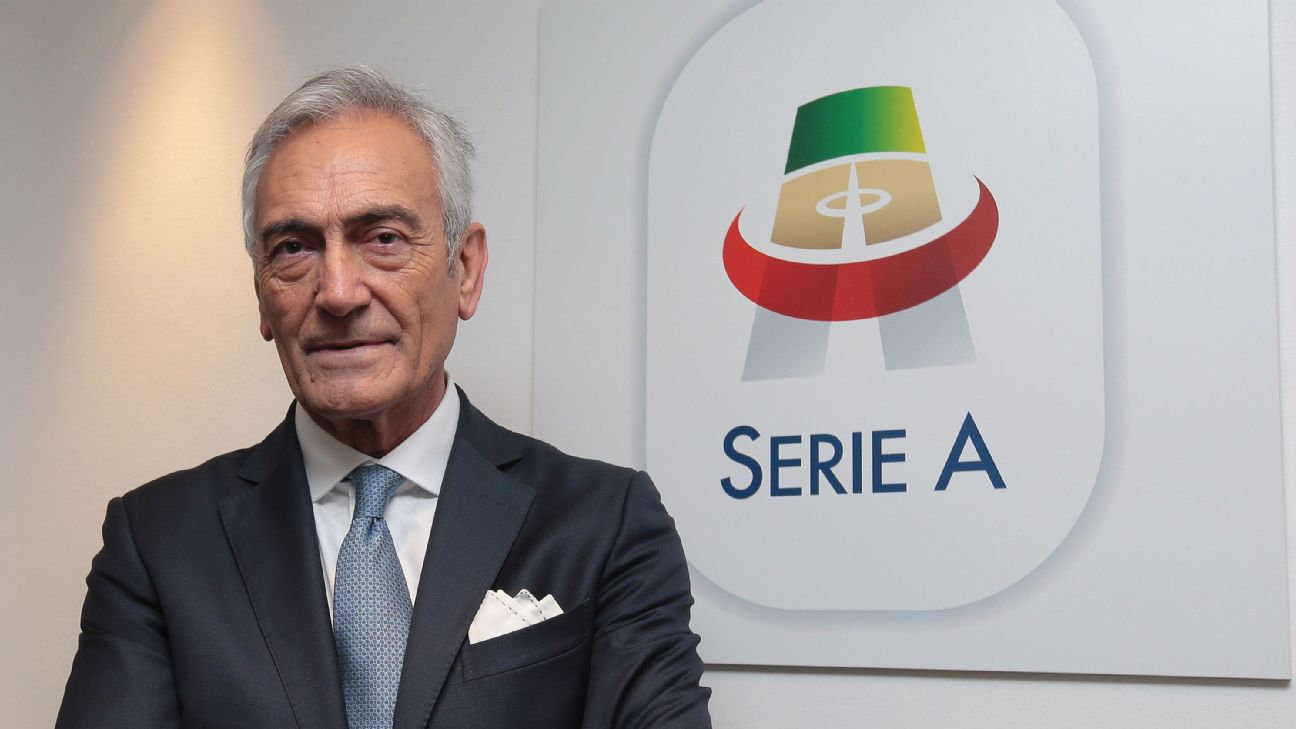 ESPN FC: There is still a lot to be done, though, so what are the priorities for the next 100 days?
Gravina: We immediately got to work on the issue of bringing back enthusiasm and a sense of belongingness, and this enthusiasm has also infected our fans because the national team has shown signs of revival. For the first time, we were able to approve club licences six months prior to their expiry [instead of a month before], we modified and established a new format for our leagues and now the next objectives will be to reform the sporting justice system, reform Club Italia and analyse the work undertaken by the infrastructure committee.
ESPN FC: The sporting justice system has had plenty of work to do recently, as Inter Milan fans aimed monkey chants at Napoli defender Kalidou Koulibaly. Is racism still a problem in Italy?
Gravina: It is an extremely important issue and I don't think it's just an issue in Italy, but in the whole world — a problem generated by the effects of globalisation, and an issue which unfortunately we know has been around since the start of the 20th century and has been generated by a series of educational instabilities in humanity. It is present in Italy, but it is not so much the aspect of racial discrimination. What is emerging is a degeneration in the way fans are developing a kind of territorial discrimination, which is truly horrible, ugly and offends the dignity not only of humans, but of a whole group of people. We're faced with mass racial discrimination and this is no longer acceptable, especially not in the stadium environment, which is being exploited as a platform for — not fans — but ill-mannered people who need some form of education, and I think we need to develop new ways of educating fans. We need to be concerned not only with developing new footballers in football schools and academies, but also with developing new football fans to ensure that they realise what it means to act in the right manner.
ESPN FC: There were some signs of a change in mentality at Inter-Bologna when those who heard people racially abusing a player reacted and drowned them out with whistles…
Gravina: The new norms that we have introduced in the fight against racism and territorial discrimination foresee above all incentives for promoting good fans. When you feel that you are in the company of good fans and you make it clear how beautiful it is to support your team in a correct, clean and healthy way, people choose whether they want to be part of the good fans or the bad fans. Of course there are more good fans around so, at San Siro, the idea of rewarding the club when their good fans turn on those bad fans, it's a huge success [Article 13 of the sporting code details how stadiums can be fully or partially closed as a result of racial or territorial discrimination, but that punishments will be reduced if it is proven that the majority of fans acted to overrule a minority.] We need to work on this because if we start to make them feel like they are in the minority and we marginalise them, and they are no longer protagonists in their stadiums because the good fans are, then they will turn good too because that's human nature. If you realise that being a bad fan is rewarding, then you are incentivising it, but this way, we're incentivising the good fans so that they become the real protagonists.
ESPN FC: UEFA has shown faith in the FIGC by awarding the opening game of Euro 2020 to Rome…
Gravina: They showed great faith also in holding the UEFA congress here in Rome, in the elections of the executive committee and the re-election of president [Aleksander] Ceferin. They showed faith in awarding us the 2019 European under-21 Championship and the organisation of the opening game of Euro 2020; and I think that this relationship is also set to test the organisational capabilities of a large federation, which Italy's is, in view of future events.
ESPN FC: Such as Euro 2028?
Gravina: We are extremely keen on bidding to host Euro 2028. It's still a bit too early and we've asked president Ceferin if he can bring forward the date for submitting bids for Euro 2028 from 2022 to 2020, even earlier if possible, as it would give us more time to use this potential candidacy as a key to unlocking the possibility of renovating stadiums throughout Italy, which is one of the most fundamental assets for relaunching Italian football.
ESPN FC: How important is it to modernise the stadiums in Italy?
Gravina: Our life depends on it. Football is about bringing people together; it's an event based on a spectacle which must be accessible to people interested in this sport. To force people to experience this kind of event in surroundings which are not welcoming, which are dangerous or at high risk only distances people from the game and we need to recreate new venues that bring people together, that are welcoming and that are above all modern. The idea of having modern stadiums in Italy is one of the utmost priorities at the moment. When you have a new stadium, everything becomes easier — not only on the sporting side, but also commercially. Evaluating from a business point of view how important a new stadium can be, with everything that you can do with it regardless of the gate receipts, it is one of the principle elements that all clubs need to reflect on.