Jurgen Klopp EXCLUSIVE: Liverpool's desire to win trophies is immense
At some point this season, Liverpool's supporters will be able to enjoy the ride that will, barring an unprecedented loss of form or some strange alignment of the stars in the night sky, take them all the way to the club's first league title since 1990. But right now, despite enjoying a double-digit lead over their closest challengers at the top of the Premier League, nobody connected to the club — player, fan, director or otherwise — is daring to speak publicly about ending the 30-year wait to be crowned champions of England again.
It's partly desperation and part fear of failure — the scars are still raw from Steven Gerrard's slip against Chelsea which as good as cost Liverpool the title in 2014 — but manager Jurgen Klopp appears to be the only person at Anfield who can see the funny side of the tension that is gripping the Liverpool fan base.
"They are [desperate for the title], Klopp laughs, during an interview with ESPN. "They are, but we cannot change that. We cannot change that it takes time, that you have to work, that you have to play all the games.
"It is not for sure that we will win it. We have a chance obviously. We've created a good base so far, but we have to fight in each game like crazy. Nothing is easy for us."
But are the fans too scared of something going wrong to even dare mention their desire to see the Premier League trophy hoisted aloft by captain Jordan Henderson next May?
"No, no, no, people tell me that constantly," Klopp said. "When I see them, they constantly tell me that. But the only thing what I can say is 'I try' or 'we try.' I cannot promise more. That's how it is.
"When I became champion with Dortmund, it was always the same question. It's always about 'come on, do you want to be champion?' Of course you want to be champion. 'But will you be champion?' I don't know. It's not interesting to me until we are."
One thing that is certain amid all the nervous tension, however, is that no Liverpool supporter would rather have anyone else leading their title charge than Klopp. The 52-year-old German, who ended Borussia Dortmund's nine-year wait for a Bundesliga title back in 2010-11, has become the coach that every other club would dream to have since succeeding Brendan Rodgers at Anfield in Oct 2015. Pep Guardiola might have more trophies on the board than Klopp, but nobody connects to their club's supporters quite like Klopp, and it's difficult to argue that even Guardiola's City have been a more exciting, scintillating team than the current Liverpool side.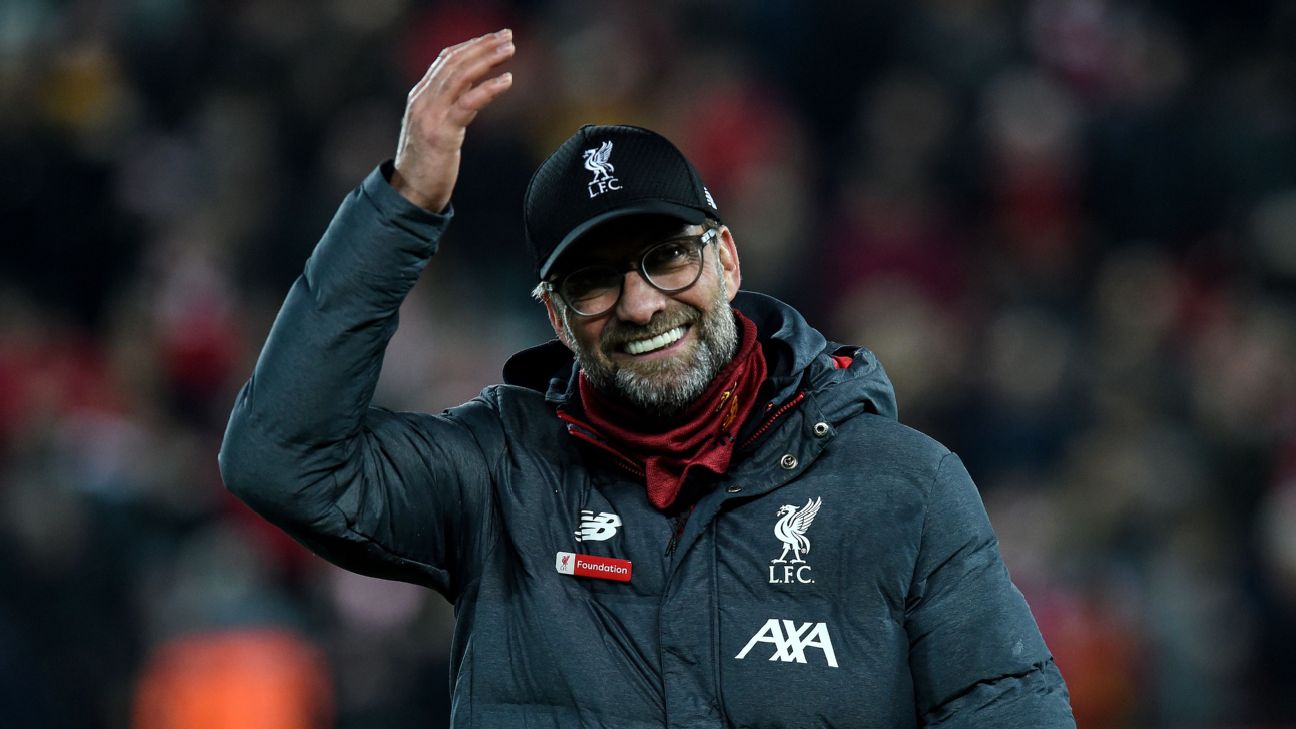 Ultimately, Klopp's refusal to allow the pressure that comes with chasing silverware to become a burden shows why he's the perfect man for Liverpool. Expectancy is huge at Anfield, but Klopp has harnessed it as a positive energy — Barcelona's capitulation in last season's 4-0 Champions League semifinal second-leg defeat is an example of the irresistible force he can create — and the ability of his team to overcome the disappointment of finishing second on 97 points last season is down to the manager's refusal to focus on the negative.
"Common sense," Klopp said, when asked how he turned finishing second into a positive. "Yes, we were disappointed, but if your main contender is Man City, you can't expect to just get something only because you do your best, because they did it as well.
"We pushed each other through the league and we were disappointed, yes, but of course it helped that we had three weeks later a big final [in the Champions League] for us. It helped, for sure, but the disappointment after the season was not as much as we would maybe expect. And not because we didn't want it. I think everyone saw we really wanted it. Just because we accept the reality. That's how it is. That's what I said before.
"All Liverpool supporters wanted to be champion, and it didn't work out, obviously. We try again and again and it is what we do this year with a slightly better basis than usually. That is all."
There has been no hangover from finishing second. Instead, Liverpool have torn the field apart, winning 18 of 19 games so far in the Premier League. Klopp has built a team of all talents that dominated the ESPN 100, from the world's best goalkeeper, Alisson Becker, a colossus at centre-half in Virgil van Dijk, two world-class full-backs in Andy Robertson and Trent Alexander-Arnold and a forward line of Mohamed Salah, Roberto Firmino and Sadio Mane that has proved to be the best on the planet in 2019. And now it has all come together to create arguably the best team in the world.
"We are not dreamers," Klopp said. "We work for the things we want to have and, if you work for it, it's not guaranteed that you get it. It's only chance that you get anything, and that's what we try and that's exactly what we did again.
"The mood was brilliant when we started the season again. We play for everything. The Super Cup is a good example. We didn't know exactly how important it is. When we won it, it felt sensational, but we had no clue before."
The UEFA Super Cup, won via a penalty shootout against Europe League winners Chelsea in Istanbul in August, was the Reds' second trophy of 2019 following the Champions League success against Tottenham two months earlier. Liverpool then added the FIFA Club World Cup in December, beating Flamengo in Doha, Qatar, to become world champions for the first time.
From being a team and a coach who were becoming viewed as "nearly men," Liverpool and Klopp have flipped it around to become a team and coach that might just win everything this season. Two trophies are in the bag and they already have one hand on the Premier League title. Who's to say they won't retain the Champions League and win the FA Cup, too?
But for Klopp, wanting to win again and again is not greed. It is simply a desire to experience glory as often as possible.
"Is it greed? I'm not sure," he said. "It's like this desire you want to have trophies. I don't think it's real greed. We have improved our opportunities obviously with different things, with the players we brought in and to work together for a while of course with more experience. Stuff like this.
"Getting used to different situations more and more [is helpful too]. You know a defeat is a defeat, but if you learn, it still makes sense, like the Champions League final [defeat to Real Madrid] the year before, when [Liverpool] lost that. It's not that we really learned something from the final, but the way to the final or the way to the next final, the experience for me before helped us a lot.
"I really think our desire is immense. It's big, it's massive to win more trophies. If it's greed, I don't know, but yeah. Who cares?"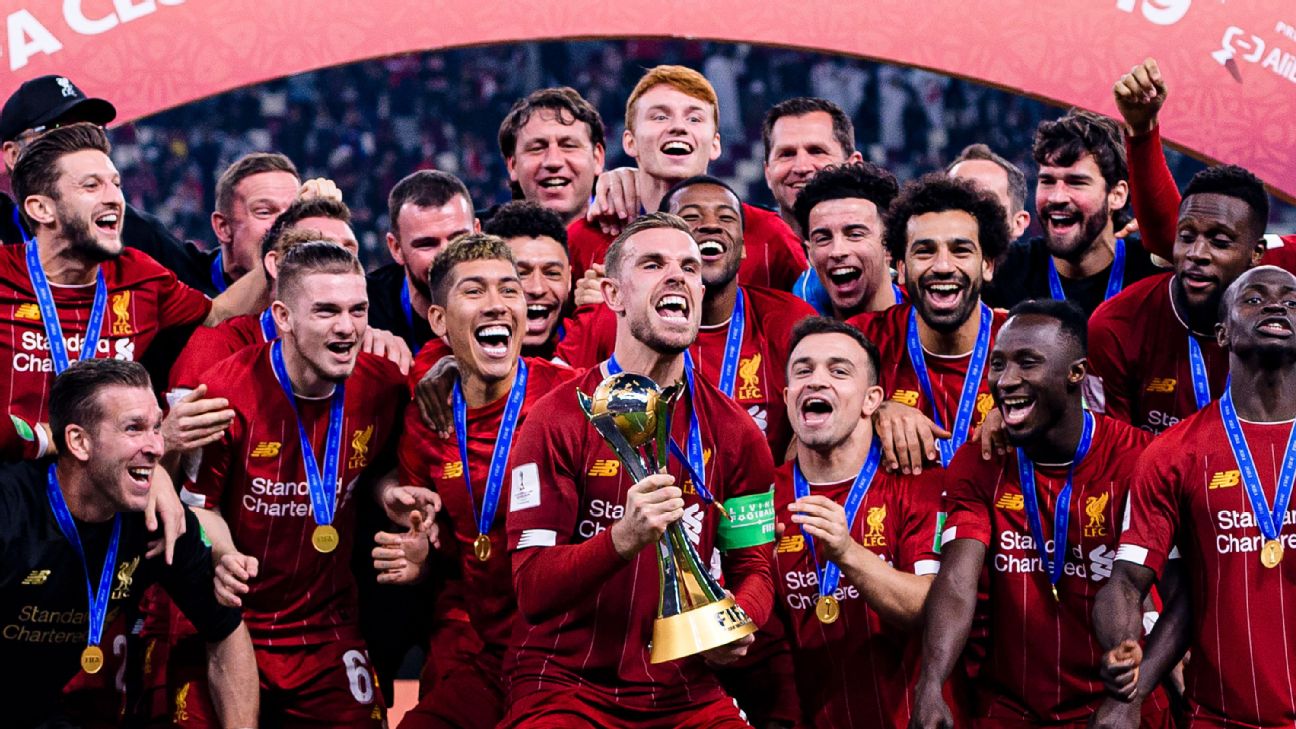 Despite the insistence around the club, Liverpool are in a good position to sweep the board in 2020. Even Klopp admits that is basic numbers.
"A lot of teams can do that to be honest," he said. "OK, with the Premier League, maybe it's now three teams. I don't know exactly who can win it still, and the Champions League there are still 16 teams who can win it.
"The FA Cup? I don't know exactly how many teams are in still, but that's how it is yes. The good thing is that if you think about it, you don't think we have no chance, and that's a start. We have a chance. But we knew that.
"I remember two years ago, before when we qualified for the Champions League after the Hoffenheim game, we had a meeting. I said to the boys, 'look, in the competition there are maybe 10 clubs who can win the Champions League.' There were more teams in obviously at that moment, a lot of teams are part of it, but about 10 clubs can win it. We are one of them. It doesn't feel in the moment like this, but we are. That's what we should try, and that's how we took the Champions League, for example.
"With the Premier League, it's slightly different and difficult when you see the dominance of Man City for the past three years. You work on that, you hope for it but you don't know exactly. So we are no dreamers. We are just quite positive about our skills and our relationship and the things we do together and the things we want to achieve together.
"So we will see what happens. Nobody knows if we win one of these trophies, but we will work of course."
But unlike those at Liverpool who are facing sleepless nights as the long wait for the title ticks down, Klopp won't be worrying too much.
"I don't have to know when it will be or whatever," he said. "There is a final match day in May sometime, I don't even know exactly when it is.
"So if we are then top of the table, believe me we will celebrate it, but until then we don't have to think about will we really be it or what."