Juventus' Gianluigi Buffon 'deserved a goodbye like that' – Massimiliano Allegri
Juventus manager Massimiliano Allegri paid tribute to departing goalkeeper Gianluigi Buffon following the 40-year-old's emotional final game for the club.
Buffon received a guard of honour as he left the pitch after being substituted in the 63rd minute of Saturday's 2-1 win over Hellas Verona.
There were tears among the fans who gave him a standing ovation following his 17 years with the Serie A champions.
"Today it was right that Gigi Buffon was honoured for all he did, there was no better way to finish this year," Allegri said in quotes reported on www.gazzetta.it.
"I was moved by him — in these four years [that Allegri has been Juve boss] I saw him doing impressive things and he deserved a goodbye like that. There was a wonderful atmosphere."
Allegri also credited his team for fighting to hang on for the victory in Buffon's final match and for the fight they showed in holding off Serie A title challengers Napoli.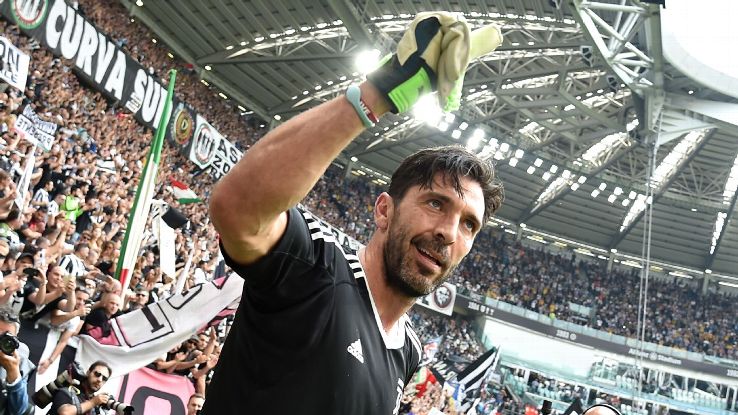 Allegri told Mediaset Premium: "The team had an extraordinary season and it's always wonderful to win.
"We fought with Napoli throughout the year, we tip our hats to them, but we were the best. It's not right to criticise a team that has won everything in Italy for seven years and gone very close in Europe.
"The best side always wins in Serie A and over the last seven years, Juventus have been consistently the best, the ones with their names written in the history books.
"When you play for Juventus, you have to be a top quality player, then other components come into play: pride, controlling certain moments of the season and all the other great elements this side has.
"We never take anything for granted, nor accept we are beaten. That is a characteristic this club has ingrained."
While Buffon has confirmed his exit, Allegri's future has been the subject of great speculation, as he has been linked with the Arsenal manager's job in the wake of Arsene Wenger's departure.
He has repeatedly emphasised his desire to remain in Turin, though, and said: "We will meet next week to plan the future, to understand where we have to improve, there are no problems."