MLS expansion: San Diego, Las Vegas top candidates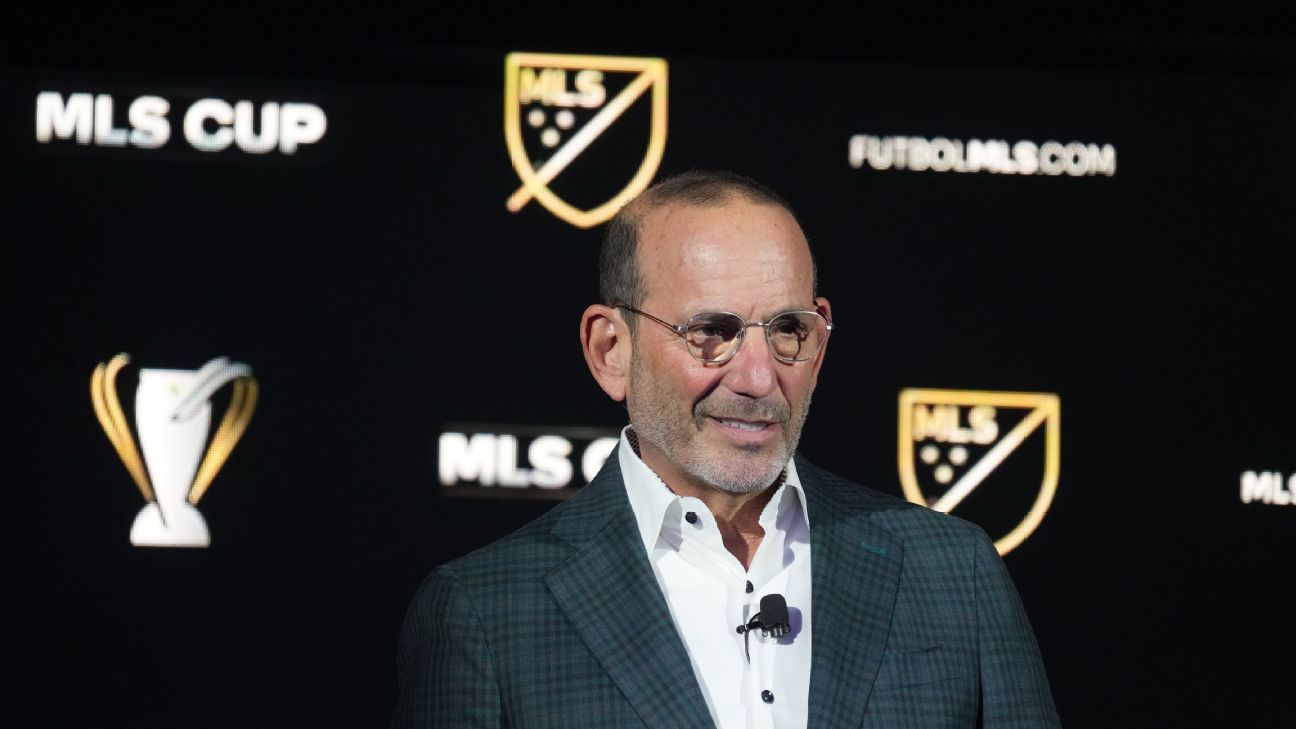 With opening day approaching Saturday, Major League Soccer commissioner Don Garber expressed hopes of picking a 30th team by the end of the year and defended an expanded playoff format in which 18 of 29 clubs make the postseason.
MLS has nearly tripled in size from 2004, when it was a 10-team league. St. Louis City SC, the 29th team, starts play Saturday at Austin FC.
– Stream on ESPN+: LaLiga, Bundesliga, more (U.S.)
"We do need more teams. The 30th team will come at some point soon. Hopefully, we'd like to get that announced by the end of the year," Garber said Wednesday during a kickoff event at the league's new television studio, built with Apple TV.
"We say we're going to stop at 30, but [some of] the other major leagues are larger than that. I never say never in Major League Soccer. There are many other markets that are opportunities for us. I think San Diego and Las Vegas are the most likely opportunities for 30."
He mentioned Detroit; Phoenix; Sacramento, California; and Tampa, Florida, as other expansion possibilities.
Speaking ahead of MLS Cup last November, Garber said he hoped to announce the location for the 30th team in the first half of 2023, adding that he was in active discussions with representatives from Las Vegas and San Diego.
Previously Garber had cited Las Vegas as the front-runner to host the league's next team, with ambitions to build a stadium right off the iconic Strip, through prospective owners Wes Edens and Nassef Sawiris. The pair are co-owners of Aston Villa, and Edens is also a co-owner of the Milwaukee Bucks.
However, San Diego has emerged as a serious rival, with Garber saying he was a "big believer" in the Southern California city.
Last year the San Diego Wave launched as an expansion team in the National Women's Soccer League (NWSL) and in September broke the league's single-game attendance record with a sellout crowd of 32,000 in a win over SoCal rivals Angel City FC.
MLS expansion fees have risen dramatically in recent years, from the $10 million paid by Toronto FC in 2007 to a record $325 million for the most recent expansion team, Charlotte FC, at the end of 2019.
– Carlisle: What's new in MLS for 2023?
Garber defended the playoff format, announced a day earlier, in which 62% of teams reach the postseason. In other U.S. sports, 14 of 32 teams (44%) make the playoffs in the NFL, 12 of 30 (40%) in Major League Baseball, 16 of 30 (53%) in the NBA and 16 of 32 (50%) in the NHL.
MLS used a mixture of two-leg and single-elimination rounds from 2003 to 2018, then went to a knockout competition the past four years. The league is switching to single-game wild-card matchups and a best-of-three round — last used in 2002. The playoffs revert to a knockout competition for the final eight.
There will be a maximum of 33 games, up from 13 last year.
"We have been working on trying to find the right format for a really long time. We are playing here in North America and know the importance of playoffs to drive energy in the latter part of the season," Garber said. "We wanted more games. … If this works, we'll have it forever. If it doesn't work, we'll continue to evolve it."
Garber hopes MLS season-ticket holders will have preferred access for tickets for the 2026 World Cup, which the U.S. will co-host with Mexico and Canada. No decisions on ticketing have been made.
"It would seem that if you're a supporter of the game by buying season tickets, whether that's for Major League Soccer or it's the NWSL or the various other, minor leagues, you ought to be able to have a direct or more direct access to tickets for any tournament, whether that's U.S. Soccer matches or that's Copa América-type tournaments or if it's the World Cup," he said.
Garber spoke at a 6,000-square-foot television studio in the Spanish Harlem area of Manhattan that will host coverage of telecasts by Apple TV, a 10-year deal announced last June. All MLS games will be streamed by Apple starting this weekend.
Garber said he felt relieved that MLS avoided the difficulties faced by other sports preparing for the possible bankruptcy of Sinclair Broadcast Group's Bally Sports regional sports networks.
"It would be unfair to say we were prescient and anticipated a dramatic change in what's happening with at least one company, but we knew that the market was moving from local to more of a direct-to-consumer offering," Garber said.
"There was such a lack of consistency on the quality of our broadcasts because of the changing dynamic that was happening in the local level. And that was happening for five years. So I'm glad that we're in the position we're in."
Information from The Associated Press was used in this report.