Premier League, look out: Liverpool's reserves, plus Sadio Mane, thrash sorry Everton in inspired fashion
MERSEYSIDE, England — In the 15th minute of the Merseyside derby, which Liverpool eventually won 5-2, Reds defender Dejan Lovren played a pass back to Adrian, then dashed out to the right-back position as Richarlison closed the Liverpool goalkeeper down. Adrian assessed his options, looked left and right and chose to return the ball to Lovren by chipping it over Richarlison with the outside of his right foot. It spun perfectly to Lovren's foot and allowed him to launch an attack. For most, it would have been a little early for showboating, but not this Liverpool team.
About 20 minutes later, Lovren picked up the ball a little farther upfield, looked up and pinged a millimetre-perfect pass over the top of the Everton defence into Divock Origi's path, with the unlikely hero of last season's Champions League win leaping to bring it down at about hip height before casually lobbing a helpless Jordan Pickford to make the score 3-1. Imagine those two players combining like that in any other team.
At times this season, which now has reached its 15th game with Liverpool only dropping two points, the Premier League leaders frankly haven't played that well. Some performances have been stodgy and uninspired, they've sailed extremely close to the wind with late goals and they've enjoyed slices of luck. None of this applied to Wednesday night's win. They were inspired, playing with a swagger and a devastating brio that we all knew they were capable of, but hadn't seen in a while. It was as if in previous weeks, it hadn't quite occurred to them they were European Champions and eight points clear at the top of the Premier League in December, only for someone to let them know before stepping out to face Everton. This was the reaction, and result, we've been waiting for.
Oh, and all of this was accomplished with half a second-string team. Of their first-choice XI, Alisson was suspended following his handball outside the box against Brighton, Joel Matip and Fabinho are injured, while Jordan Henderson, Roberto Firmino and Mo Salah were all rested. In order, that's one of the top three or four goalkeepers in the world (No. 1, according to the 2019 FC 100); probably the most improved central defender in the Premier League; the midfield glue that has held the team together for a year; the team captain; the man most regular observers will tell you facilitates all their attacks; and their top-scorer for the past two seasons.
Some of those who started this game are regular deputies, but this was just Adam Lallana's second league start of the campaign, and Xherdan Shaqiri previously had just 14 competitive minutes under his belt since the summer. "Really?" said a genuinely surprised Jurgen Klopp when it was pointed out this was the Swiss forward's first start in seven months. "Sorry Shaq."
When you can dismantle your (admittedly beleaguered) local rivals so emphatically and with such confidence while fielding half a team of reserves, it would be a great sign for their prospects at any time, but it's particularly valuable now considering their upcoming schedule.
"Good. Really good, especially in the circumstances I pretty much created for myself with the lineup," Klopp said about Liverpool's performance. "Making five changes can lead to some problems: I didn't see any of them. We have to make changes, that's clear."
He's not kidding. Liverpool are in the middle of a back-breaking run of fixtures — 14 games in 42 days — and their next five games are in four different competitions in three different countries on two different continents. They will need every one of those backup players to excel if they're to reach the middle of January — basically the next time they can draw breath and have a bit of a sit-down — in ship shape and still in charge of the title race. Klopp essentially is drawing on his second string's sense of a fear of missing out, harnessing the sure knowledge that something very special is happening at Liverpool and that everyone will want to be a part of it. Every one of those players will want their own little section of the inevitable YouTube compilations of this season that will emerge; at the moment, that form of motivation is working very well.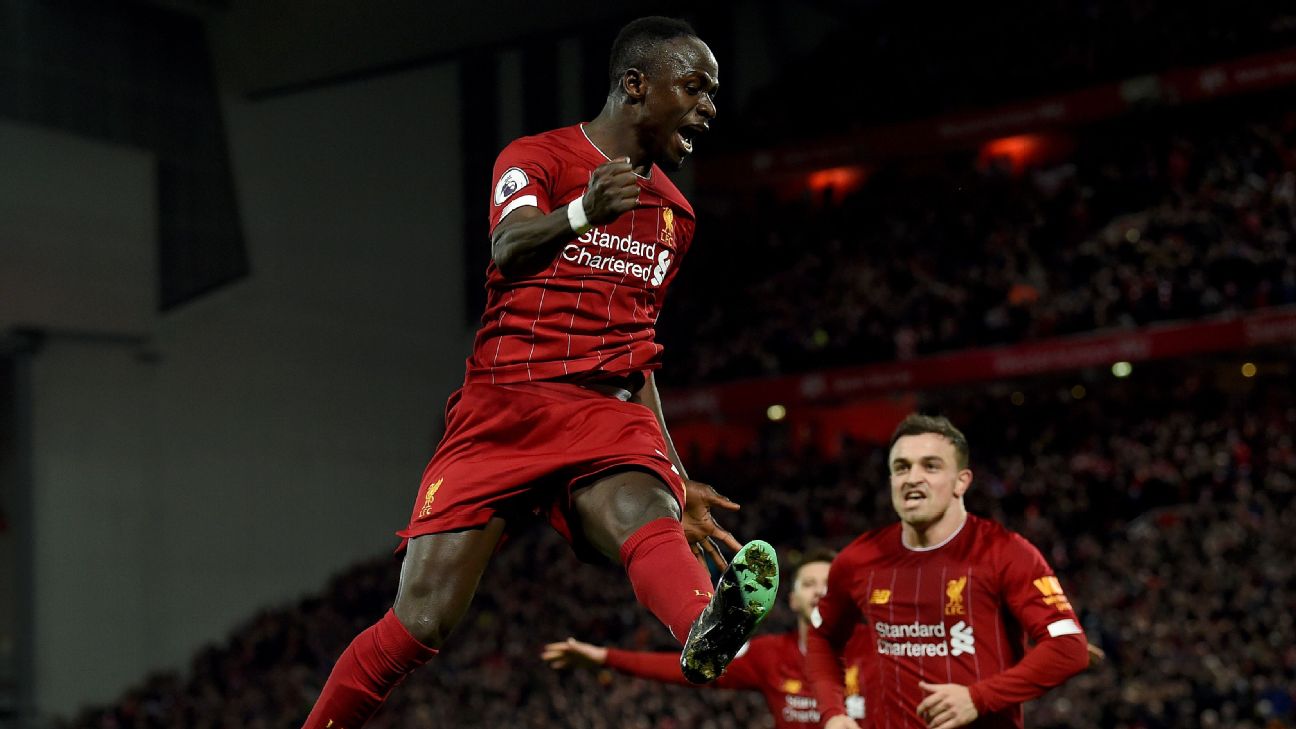 "It was always clear that this period in the year is where we need all the boys," Klopp said, "and I hope they will be in the shape like Shaq and Div tonight, or Adam. It gives us the feeling that we can do it more often. You hope [it will work], and when the boys deliver like they did tonight, it's the best feeling you can get as a manager. You don't expect … not perfection, but [for them to play] in that manner."
Having said all that, the best player on the pitch (in the first half at least) was very much a first-choice player. Sadio Mane has seemed to improve with every game, not just since joining Liverpool, but way before that too. Now he has blossomed into one of Liverpool's many world-class performers, and some of his touches here could be ranked among the absolute finest.
Take the pass for Liverpool's opener, scored by Origi. It was an exquisitely judged slid ball that, because of the angles and respective positioning of Everton defenders and the intended recipient, could only have succeeded if placed in about one square yard of space behind the Everton backline and in front of the keeper. Some passes are more spectacular, but you'll be hard-pressed to see a better one this season — or really any other.
Mane's approach play for the second was exceptional too, bringing down Trent Alexander-Arnold's fizzing cross-field pass, delicately semi-juggling it infield before slipping a delicious reverse ball for a run from Shaqiri that nobody else had spotted. He missed two simple scoring chances in the second half, but considering how good he was in the first, he could have spent the entire 45 minutes in a hammock next to the Kop and still been man of the match. At the final whistle, Klopp strode straight to Mane and gave him a colossal hug, lifting him off his feet like a kid grabbing one of those huge teddy bears you win at the fair.
Klopp has a delicate task in these coming weeks to marry squad rotation with getting the best from the big guns, but on this evidence — albeit with the caveat that Everton were, and are, a mess — that won't be much of a problem. It's as if confidence is just part of the air at Melwood these days; next to nitrogen, oxygen and the other gases, the atmosphere also is comprised of absolute faith in this team, and everyone takes a big deep breath before every game and plays accordingly.
"It was an intense game," Klopp said, "then we scored a sensational fifth goal and … job done. All good."