Sergio Ramos 26 career red cards are not even close to the record held by The Beast
Real Madrid captain Sergio Ramos picked up his 26th career red card in the Champions League loss to Manchester City, but he's still a long way off the world record …
The Toe Poke Daily is here every day to bring you all the weirdest stories, quirkiest viral content and top trolling that the internet has to offer, all in one place.
Jump to: Bon Jovi reveals Bayern beat Chelsea "on the power of whiskey and beer" | Goalie scores dramatic late winner in CONCACAF Champions League
Having just completed an entire calendar year without being sent off, Real Madrid's red-card master-in-chief Ramos was sent off once again on Wednesday as Los Blancos lost 2-1 at home to Manchester City in the thrilling first leg of their Champions League round-of-16 tie.
As Real's resolve crumbled in the latter stages, Ramos compounded his team's woes by receiving his marching orders for bringing down Gabriel Jesus as the City forward ran through on goal.
The dismissal was No. 26 of Ramos' career (a full breakdown of which can be read here), and his fourth in the Champions League — equalling the record co-held by Zlatan Ibrahimovic and Edgar Davids in Europe's top club competition.
It also means that Real will be missing their vastly experienced captain when they travel to the Etihad for the second leg on March 17 and attempt to salvage the situation.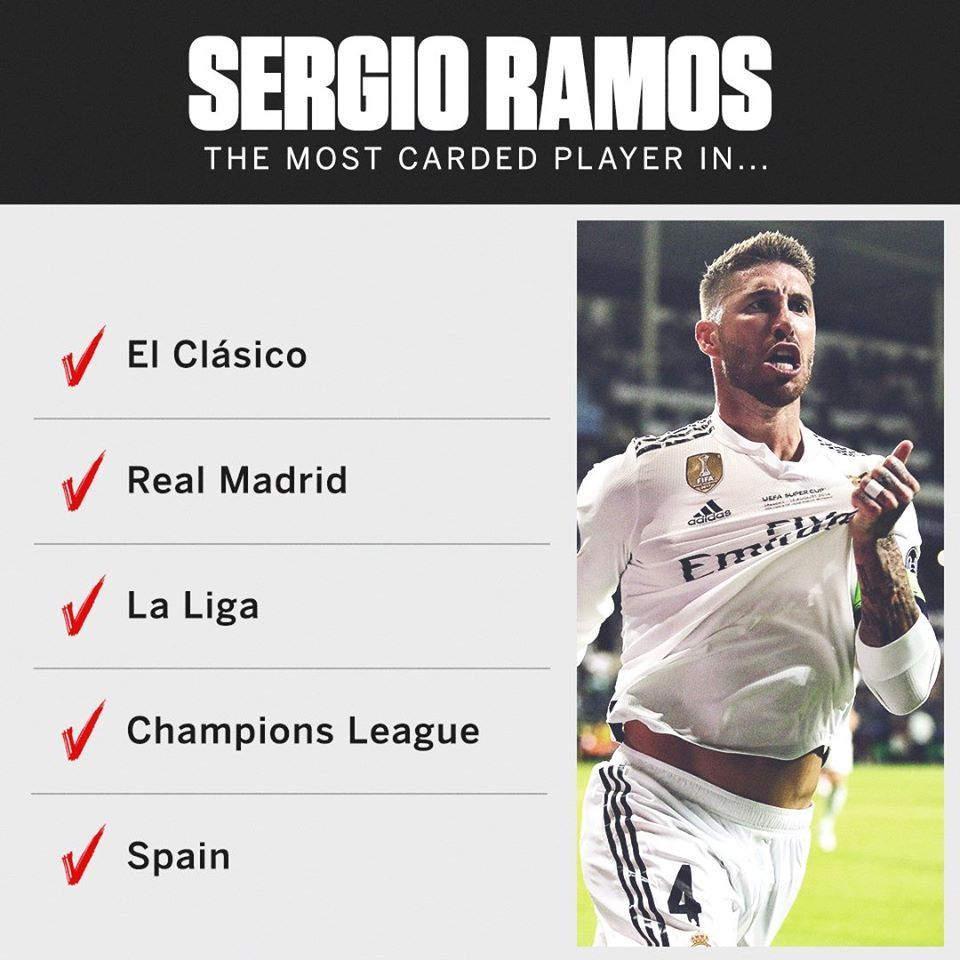 However, while Ramos' infamous disciplinary record may be heaving with dismissals, it's not a patch on the very worst.
That dubious honour belongs to Colombian enforcer Gerardo Bedoya, whose formidable haul of 46 red cards during his 20-year career is recognised as the most ever by the folks at Guinness World Records.
Between 1995 and 2015 across more than a dozen clubs in his homeland, Argentina and Mexico, the man they fittingly called "The Beast" managed nearly a half-century of reds for club and country.
Video "highlights" are scarce, but this clip of Bedoya kicking a grounded opponent in the head during the Bogota derby should serve as a good indicator of his general approach to the game.
Bedoya was also sent off on his coaching debut, lasting just 21 minutes of his first game in charge of Independiente Santa Fe before being sent off for constantly haranguing the match officials.
Indeed, the fact that Ramos — already 18 years into his senior career — still needs 21 red cards to surpass Bedoya should tell you all you need to know about him.
Still, at least Ramos has managed to stay focused, tweeting on Thursday: "After a very difficult night, there are two options: We can think about yesterday's defeat or work on tomorrow's win. I choose the latter. Head and heart already on El Clasico."
Our heads and hearts are already on No. 27, Sergio …
Bon Jovi reveals Bayern beat Chelsea "on the power of whiskey and beer"
🍺 "I was in the bar the night before last & the Bayern team were there."

🥃 "They overpowered Chelsea on whiskey & beer!"

😳 "The Bayern guys had a good old time & then shellacked Chelsea!"@JonBonJovi shared a hotel with Bayern this week & had some insider gossip 👀 pic.twitter.com/zUmHWgWvSJ

— talkSPORT (@talkSPORT) February 26, 2020
As unlikely as it may seem, the secrets of precisely how the Bayern Munich team geared up for Tuesday's Champions League drubbing of Chelsea have been revealed by none other than Jon Bon Jovi.
Having shared a hotel in London with the Bayern entourage, Bon Jovi visited the TalkSport studio the day after the game to dish the dirt on the Bavarian squad's tremendously casual preparations.
"I was minding my own business in the bar, and the team were in there the night before last," the 57-year-old rock legend said.
"How on the power of whiskey and beer they overpowered Chelsea last night, doesn't say much for Chelsea's drinking habits, I imagine!"
Bayern went on to win 3-0 at Stamford Bridge without much of a problem, so it would appear that their relaxed approach was definitely effective.
"The Bayern guys were certainly sipping whiskey and having a good ol' time, and then they went and shellacked Chelsea," Bon Jovi added. "And now I'm going to get everyone in trouble!"
Goalie scores dramatic late winner in CONCACAF Champions League
Goalkeeper Nahuel Guzman saves arguably the region's most expensive squad with a late, late goal vs. @AlianzaFC_sv #cclfever #ligamxeng

(🎥 vía @TheChampions) pic.twitter.com/7mBoYO0GZy

— Tom Marshall (@mexicoworldcup) February 27, 2020
There are few things more spine-tingling in football than the sight of a maverick goalkeeper going rogue in the opposing penalty area in the desperate search for a late goal.
While conversion rates are extremely low, every once in a while it all pays off — as Tigres 'keeper Nahuel Guzman proved in the 94th minute of Wednesday night's CONCACAF Champions League tie against Alianza.
With the aggregate score level at 4-4, Guzman ventured forth for a last minute free kick and duly headed his side into the quarterfinals, sending the entire stadium into raptures.
Indeed, Tigres were mere seconds from suffering an embarrassing elimination against the Salvadoran minnows, so they really do owe their galloping goalie an extra debt of gratitude.