The VAR Review: Was Kiwior fouled before Brighton scored?
Video Assistant Referee causes controversy every week in the Premier League, but how are decisions made, and are they correct?
After each weekend we take a look at the major incidents to examine and explain the process in terms of VAR protocol and the Laws of the Game.
– How VAR decisions affected every Prem club in 2022-23
– VAR in the Premier League: Ultimate guide
In this week's VAR Review: Should Brighton & Hove Albion's first goal at Arsenal have been disallowed? And should Manchester City's Erling Haaland have been awarded a penalty at Everton. Plus, why it was a correct decision to award a VAR penalty to Tottenham Hotspur's Harry Kane at Aston Villa and more.
---
Possible disallowed goal: Ferguson foul on Kiwior
What happened: Brighton took the lead in the 51st minute when Julio Enciso headed home Pervis Estupinan's cross from close range. However, Jakub Kiwior had dropped to the ground shortly before the goal was scored, and there were questions of a foul in the buildup.
VAR decision: Goal stands.
VAR review: The VAR, Peter Bankes, looked at this incident for some time to try to determine whether there was a foul by Evan Ferguson.
There does seem to be boot-on-boot contact on Kiwior, though it didn't seem to be enough to make the Arsenal defender stop right in the middle of an attacking move by the opponents.
It would be very difficult for the referee, Andy Madley, to see an incident like this. It leaves the question of whether it's a clear and obvious error to miss it.
Arsenal fans will definitely want the free kick, especially as it came at such a crucial point with the game goalless. But based on the example of other similar situations this season, and the high threshold for intervention, it's difficult to conclude it would be an error for the VAR not to intervene.
File this as a situation that could have been given as a foul but is an unlikely VAR intervention.
Possible red card: Martinelli on Mitoma
What happened: In the fifth minute, Gabriel Martinelli jumped into a challenge with Kaoru Mitoma, and the Brighton & Hove Albion attacker was knocked to the ground. Referee Madley gave only the free kick.
VAR decision: No red card.
VAR review: There is an argument that Martinelli endangers the safety of an opponent in the way he jumps into Mitoma. But unlike other sports, football just doesn't seem to judge these kinds of challenges as a red-card offence unless the player directly leads with his elbow. Martinelli jumps into Mitoma with the weight of his body rather than with a leading elbow.
The VAR decided the challenge was reckless, which should be a yellow card, rather than violent conduct, which is a red. Madley chose to show no card, and the VAR cannot intervene to advise a yellow.
Madley was in charge of Arsenal's home game against Newcastle in January, and he approached that match in a similar manner, allowing a number of strong challenges early into the match. The lenient approach to the Martinelli incident so early in this game directly led to Moises Caicedo's challenge from behind on Martinelli. It was retribution, but Madley again chose to keep his cards in his pocket.
Both should have been yellow cards, and Madley backed himself into a corner on the Caicedo tackle by not booking Martinelli for the first foul.
In the Newcastle match, although it took him 27 minutes to produce the first card, he eventually had to caution nine players. In this match, only three players were booked.
---
Possible penalty: Pickford foul on Haaland
What happened: In the 74th minute, Riyad Mahrez played in a deep cross. The ball looped up after Nathan Patterson attempted an interception, and as Jordan Pickford came out to try to claim the ball, he collided with Erling Haaland. Referee Anthony Taylor allowed play to continue with no real appeals for a penalty.
VAR decision: No penalty.
VAR review: This incident could have resulted in all three possible outcomes: a penalty to Man City, a free kick to Everton or play on. Referee Taylor chose the last option, and there isn't enough definitive evidence to say that was incorrect.
Pickford checks on Haaland's position, while Haaland looks at Pickford twice before stopping his movement toward the ball to block the goalkeeper's path. Pickford's arm catches Haaland as the keeper appears to reach for the dropping ball. Whether Pickford was trying to get to the ball or just to Haaland will be open to personal interpretation.
Had Haaland not looked at Pickford and continued his natural run to play the ball, there would have been a stronger case for a penalty; but both players were equally culpable in trying to "game" each other.
If Taylor had given the spot kick, it'd be unlikely to get overturned; whatever he decided on this wouldn't be clearly wrong.
---
Possible penalty: Martinez challenge on Kane
What happened: With Tottenham Hotspur looking for a way back into the game in the 86th minute, Harry Kane beat the offside trap from a pass by Pedro Porro. He chased the ball with goalkeeper Emiliano Martinez, with both getting to it around the same time. Kane went to ground as Martinez made a sliding challenge, and referee Peter Bankes felt the Aston Villa player got to the ball and awarded a corner. The VAR, Jarred Gillett, checked for a possible penalty (watch here).
VAR decision: Penalty, scored by Kane.
VAR review: It was clear after a couple of replays that it was in fact Kane who played the ball, rather than Martinez. Once that had been established, it was a straightforward intervention for the VAR.
Some might believe Kane has initiated the contact, but that requires the striker to place his leg into an opponent to give the impression of a foul without a challenge having been made; anticipating contact isn't the same thing as initiating it. Kane plays for the penalty by getting a toe to the ball and then taking the contact from sliding Martinez.
As with the penalty Kevin De Bruyne was awarded at Southampton, an attacking player doesn't have to get out of the way of a player making a sliding challenge; if that tackle is unsuccessful in getting the ball, the forward player doesn't have to take evasive action and is quite within his rights to simply continue his own path.
There was a check for offside in the buildup, but the England captain was clearly onside with only the defensive pitch line required to show this.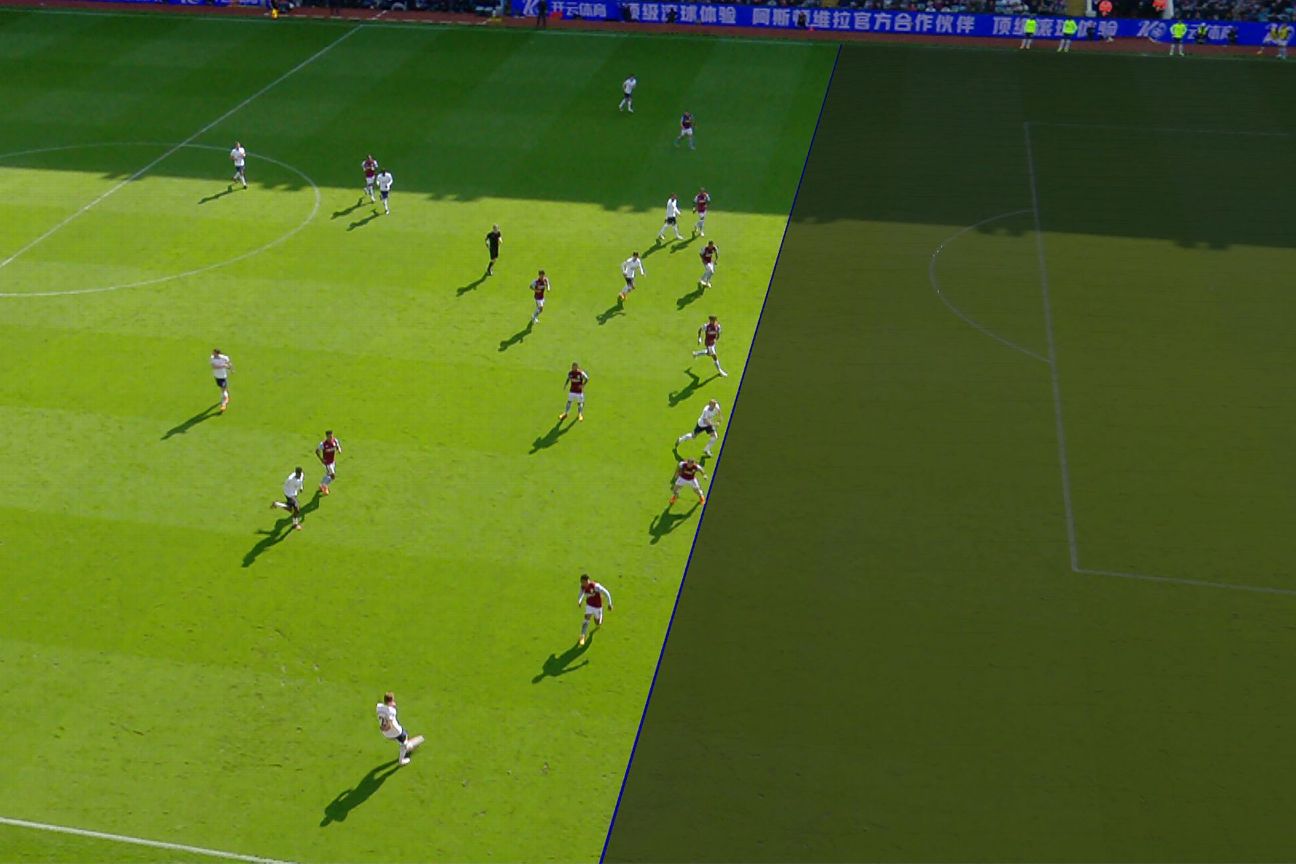 ---
Possible red card: Andersen on Lerma
What happened: AFC Bournemouth had a corner in the 28th minute with the score goalless, and as players jostled for position, Jefferson Lerma went to ground holding his face. The VAR, Andy Madley, began a review for a possible red card for violent conduct by Joachim Andersen.
VAR decision: No red card.
VAR review: Andersen had his arm on Lerma's shoulder, and as he brought his arm across the front of Lerma he closed his hand and caught the face of the opponent. At full speed it's difficult to spot, but slowed down the contact with Lerma's nose is clear.
Although referee Michael Salisbury had a good view from the edge of the area, he surely couldn't have seen the reason Lerma was on the floor. So this comes down to the VAR making his own subjective judgment on violent conduct, and Madley decided there was not as there was no swing of the arm and only a small movement.
But the clenched fist is the evidence of violent intent, and it's effectively a little jab into the face by Andersen.
With a lower threshold for intervention, Salisbury would surely have been invited to visit the monitor to make his own appraisal of the situation.
---
Possible disallowed goal: Handball by Mubama
What happened: West Ham United thought they had clawed a goal back in the 67th minute through Danny Ings. Divin Mubama had attempted to head home a deep cross from Said Benrahma, but he couldn't reach the ball. It came back off the post, hit Mubama and then fell to Manuel Lanzini, who created the goal for Ings. But there was a VAR review for a possible handball by Mubama.
VAR decision: Goal disallowed.
VAR review: If you're a Brentford fan, it's clearly handball. If you're a West Ham fan, it obviously came off the shoulder. Was there definitive evidence either way? It's difficult to tell from the television pictures, though the VAR is working with higher-quality, synced cameras.
Whereas the Lerma incident appeared to be a case of the VAR trying to find a reason not to intervene on a subjective decision, this was the VAR applying the handball law too strictly.
As Mubama wasn't the goal scorer, there can only be a handball offence if it's a deliberate act or if a player has his arm in an unnatural position for his movement. It certainly wasn't deliberate, and as Mubama was jumping and trying to avoid the goalpost, he shouldn't be expected to have his arms low.
When the hand is raised, there is a much higher chance it will be judged an offence. But the ball comes at Mubama from very close range off the post, which he cannot be expected to react to.
Earlier in the season, the VAR awarded a penalty against Aston Villa defender Lucas Digne when an attacker headed the ball against his hand from a similar distance; the Independent Key Match Incidents Panel ruled that was an incorrect intervention on proximity. Is the post any different to an opposing player? If Mubama were a defender in this exact same situation, would a penalty have been awarded? That seems unlikely.
Referee Michael Oliver did have the chance to reject the review at the monitor, and he is one of only four referees to do so in the Premier League this season. The VAR will tell the referee that the ball did hit the arm, so Oliver is judging the nature of the handball offence itself. He clearly indicated that the goal was disallowed because of the height of the hand, but it's still very harsh on West Ham.
On a similar theme, there was an offside check on Nottingham Forest's equaliser against Chelsea. The VAR had to be sure the ball didn't touch the head of Ryan Yates as Orel Mangala's ball floated through to Taiwo Awoniyi. The goal scorer would have been offside with an additional touch by his teammate, but there was no definitive evidence.
---
Possible red card: Firpo challenge on Guimaraes
What happened: In the 59th minute, Bruno Guimaraes moved away from a challenge by Junior Firpo, with the Leeds United defender jumping into the challenge. Referee Simon Hooper showed the yellow card to Firpo, with the VAR, Neil Swarbrick, checking whether it should be upgraded to a red card.
VAR decision: No red card.
VAR review: It's only the first incident from which Firpo can consider himself lucky to just receive a booking, with the defender already off the ground when Guimaraes flicked the ball to his right.
Firpo made only a small amount of contact on the Newcastle player, and the studs were not fully leading into the challenge. However, as he went in with a lunging motion, the red card wouldn't have been overturned had Hooper chosen to show that colour. A yellow card is just about acceptable as a disciplinary outcome, so Swarbrick won't intervene.
Possible penalty: Handball by Firpo
What happened: Newcastle were on the attack in the 65th minute when a cross was lofted into the six-yard area by Joe Willock. Alexander Isak headed wide under pressure from Firpo — with the striker immediately appealing for handball against the Leeds defender. Referee Hooper had awarded a goal kick, and the VAR began a check for a possible penalty.
VAR decision: Penalty, scored by Callum Wilson.
VAR review: The first question for the VAR is whether Firpo's fingers touch the ball — if he finds evidence of this, it's a certain handball offence. It took a few angles to be sure, but the ball definitely flicks off the top of Firpo's hand, which inexplicably is stretched high above his head.
Once the referee has been sent to the monitor, he has all options open to him — including assessing a possible push by Isak on Firpo. While the Newcastle striker does have his hand on Firpo, it doesn't appear to influence the arm being in this position.
The final decision for Hooper is whether Firpo should get any card, remembering that he was booked only six minutes earlier for his challenge on Guimaraes.
A deliberate handball in itself is not a yellow card, the offence has to satisfy conditions within the law. If the handball had denied Isak an obvious goal-scoring opportunity, Firpo should be sent off; if he is only stopping a promising attack, it's a caution. However, he got such a slight touch on the ball that it wouldn't have made much of an impact on Isak's ability to get a better header on goal.
Would this have been a second yellow card in European competition? Most probably, yet that strict application doesn't really follow the law. Last month, the newly created UEFA Football Board of former players and coaches urged UEFA to relax its approach to some bookings on handball in the penalty area.
Firpo did eventually receive a straight red card in the closing moments after he brought down Anthony Gordon on the edge of the area, catching the Newcastle player on the boot and pushing him in the back.
---
Possible penalty: Handball by Lyanco
What happened: Fulham won a free kick on the right flank, and it was played short and crossed into the area by Harry Wilson. Lyanco jumped to head the ball, but missed it and it hit his left arm. The ball ran through to goalkeeper Alex McCarthy, and referee Thomas Bramall waved away penalty appeals from Fulham players. The VAR, Tony Harrington, checked for a possible penalty.
VAR decision: No penalty.
VAR review: Another classic example of a handball situation that would almost certainly be given as a penalty in European competition but isn't with the Premier League's more relaxed application of the law.
As Carlos Vinicius gets a flicked header just before the ball reaches Lyanco, the VAR has judged that the Southampton defender couldn't be expected to move his arm from the position it was in. It certainly isn't extended fully away from the body, and this is in line with other VAR handball rulings in the Premier League.
Information provided by the Premier League and PGMOL was used in this story.