Tottenham Hotspur's Jose Mourinho says don't blame club on Christian Eriksen transfer drama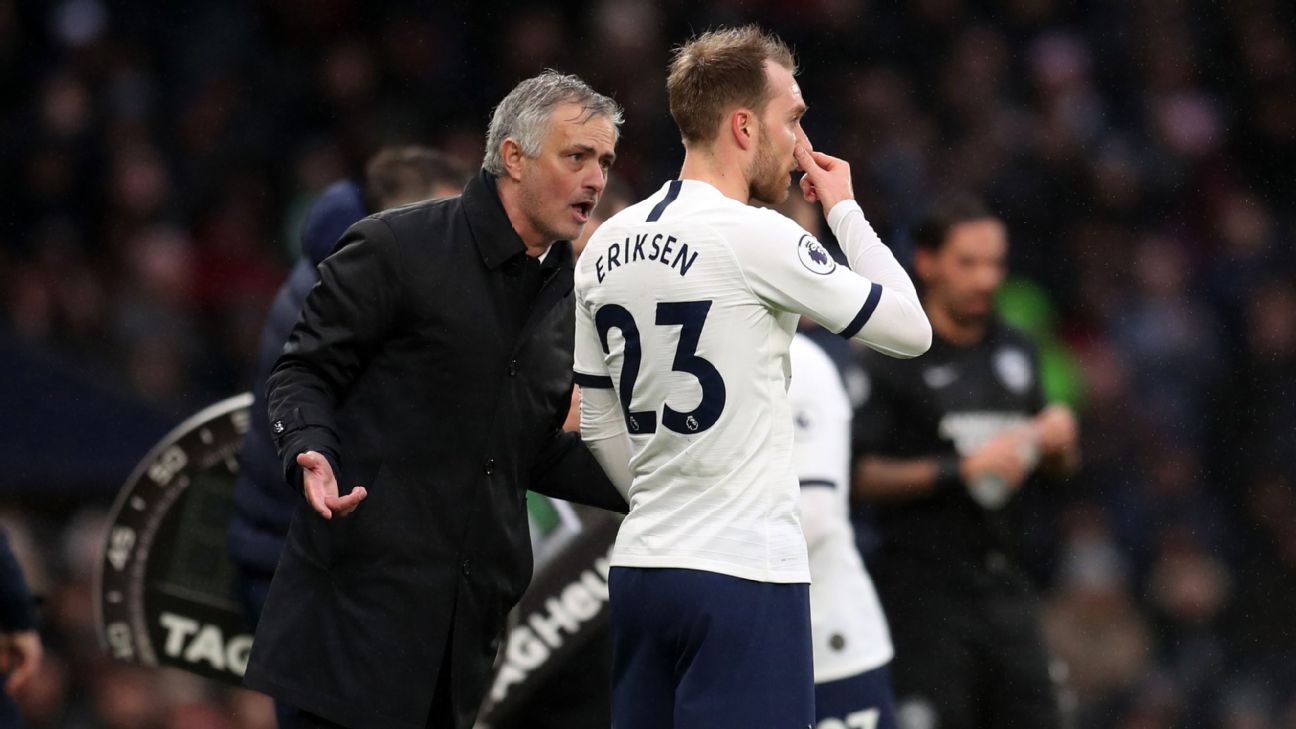 Tottenham Hotspur Jose Mourinho said that the ongoing Christian Eriksen transfer drama doesn't lie at the feet of the club nor the player.
The Danish midfielder has been in the middle of a saga that would see him leave London for Inter Milan. He is expected to Italy and have a medical early next week with a fee of around €20 million reportedly agreed.
Following Spurs 1-1 draw at Southampton in FA Cup action on Saturday, Mourinho was irked when asked by the imminent Eriksen deal — but was careful to not cast blame.
– Stream FA Cup matches and replays on ESPN+
"You can read what you want to read, I don't want to say anything. I just want to say that this situation shouldn't happen on the 25th of January," Mourinho said. "And it is not Tottenham's fault that on the 25 of January we are in the situation."
The Portuguese manager later lauded Eriksen — who was not part of the squad on Saturday — for the way the player has handled the situation, although Mourinho has critcised him for recent underwhelming performances.
"The only thing I can say is Eriksen, since I arrive, he is behaving in a very, very professional way, with me and the team," Mourinho said. "Tottenham is the last one to blame for this situation, but to be on the 25th of January in a situation like this is not nice."
Eriksen has been a playmaker for Spurs since joining from Ajax in 2013. He helped the club reach the Champions League final last season under Mourinho's predecessor Mauricio Pochettino.
Saturday's draw at St. Mary's saw Spurs loanee Giovani Lo Celso make a strong impression on Mourinho, who remained coy on whether the Argentine will make the permanent transfer from Real Betis.
"It's not an obligation, it's an option," Mourinho said about Lo Celso. "I think the boy is earning the decision. He's making an easy decision for the club to execute the option. Incredible evolution since I arrived."
On out-of-favour defender Danny Rose's future with the club, Mourinho would say he didn't know and that it is not his decision. A bevy of clubs such as Watford, Bournemouth and Newcastle United are reportedly keen to sign the fullback this month.