World Cup 2018 Argentina preview Lionel Messi under pressure to deliver 32 teams in 32 days
The 2018 World Cup is just over a month away, and all 32 teams are preparing in earnest for their shot at the trophy in Russia. ESPN FC is previewing every team ahead of the opening game on June 14. Find all 32 teams here.
Who they are
Captain: Lionel Messi
Manager: Jorge Sampaoli
Nickname: La Albiceleste
FIFA rank (as of April 12, 2018): 5
How they qualified
Though Argentina finished third in CONMEBOL qualifying, the road to get there was full of bumps. Namely, unexpected defeats at home against Ecuador and Paraguay, a draw against Venezuela, a hard 3-0 loss when visiting Brazil and three different managers (Gerardo "Tata" Martino, Edgardo Bauza and Jorge Sampaoli). To make matters worse, Lionel Messi's absence from several matches confirmed once more that the team relies unconditionally on his participation. In fact, it wasn't until the captain's hat trick in the final qualifier against Ecuador in Quito that Argentina finally found a sense of calm and secured qualification.
Biggest strength
Besides having the best player in the whole world, Argentina boast a plethora of other offensive players who are able to disrupt opponents with ease. Even though they are part of the group that has been harshly criticized after their losses in the finals, the credentials of players such as Angel Di Maria, Sergio Aguero and Gonzalo Higuain, just to name some forwards who excel in Europe, are undeniable. If they are on and if they finally understand how to play around Messi, the Albiceleste should feel enthusiastic.
The mental aspect and their will to end their drought are also very important factors in the face of the last chance several members of the squad will have to finally win a major tournament.
Biggest weakness
A few days prior to Russia 2018, nobody knows who will play in the key positions. This, in part, is because Sampaoli has tried different names and systems but is also due to injuries suffered by several key members of the team. The constant swaps by the manager, with very different styles and formations, had a negative impact on the team.
Lucas Biglia and Aguero, undisputed starters for Sampaoli, will arrive in Russia with little playing time. Ramiro Funes Mori and Marcos Rojo, formerly irremovable in defense, have both been sidelined for extended periods. In midfield, there are more doubts than certainties. Until the World Cup starts, the real state of this team remains unknown. By the way, Argentina were badly beaten by Spain (6-1) in their last friendly match.
Star player
What can we say about Lionel Messi that hasn't already been said? In addition to his great season with Barcelona, leading Barca to the Copa Del Rey and La Liga titles, he has been resting in order to face his main challenge: the World Cup. When he announced his exit from the national team after the loss in the Copa America Centenario 2016, a general cry for his return was massively heard. Luckily, he ended up changing his mind and has become, once more, the face of the Argentine team. Heading into Russia 2018, Argentina's hopes rest heavily on the shoulders of their No. 10, captain and superstar.
Projected XI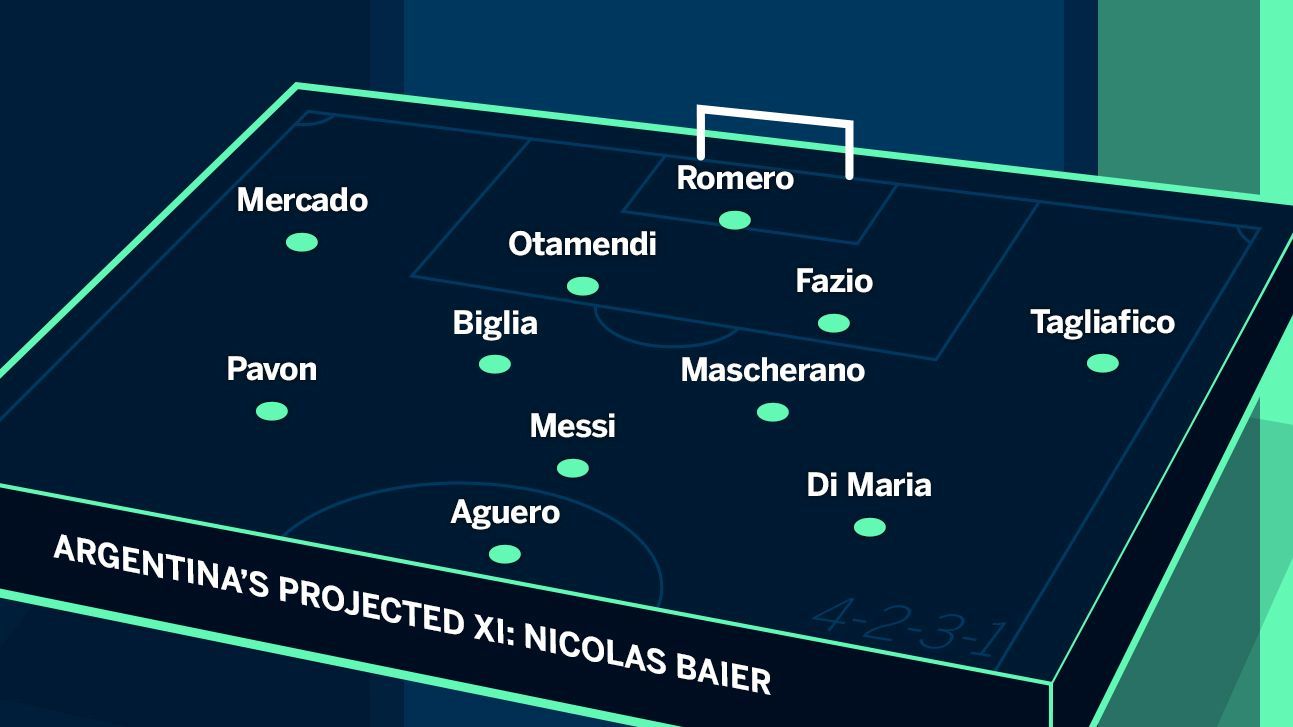 What the local media says
"Argentina will be World Cup champions, guided by Lionel Messi, the best player in the history of the game." — Carlos Bianchi (winningest coach in Argentine soccer history, now an ESPN analyst)
What the stats say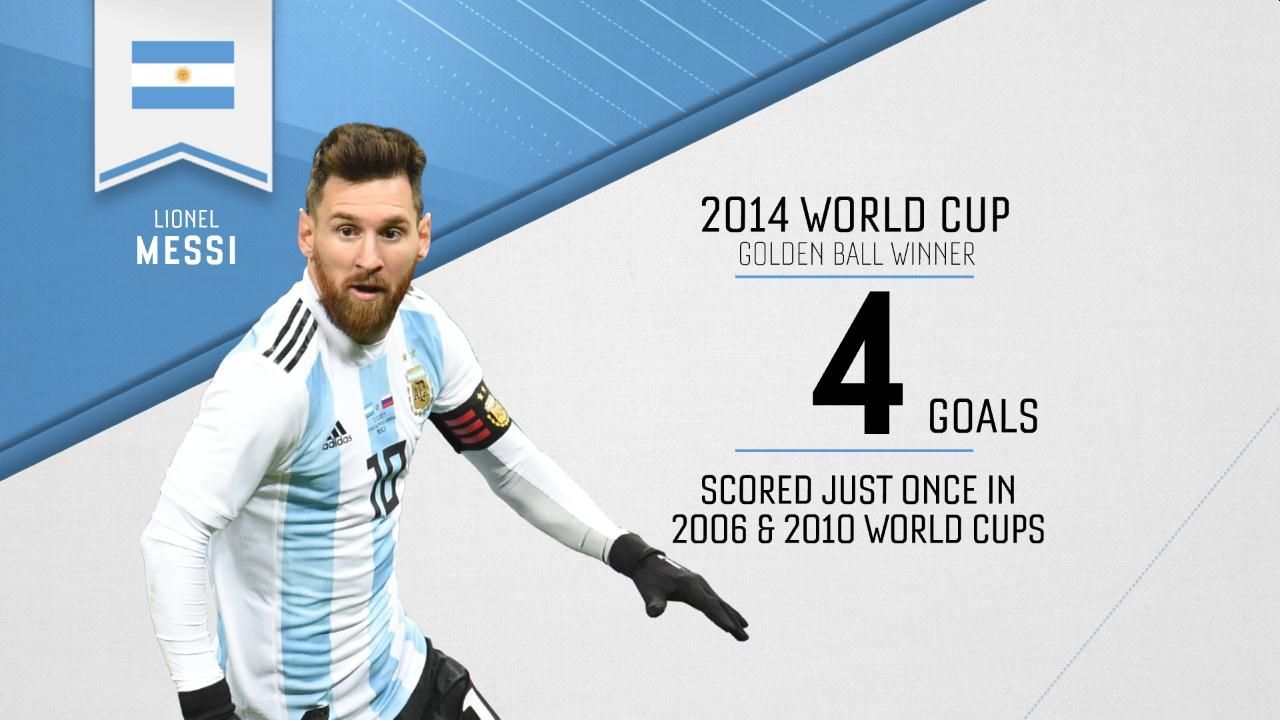 Prediction
A good 99 percent of predictions are useless when talking about a World Cup. There could be as many as seven games in a month and the truth is that anything can happen. The draw left Argentina in Group D, with surprising Iceland, dangerous Croatia and a very familiar face in Nigeria.
It won't be easy but Argentina are the favorite to win the group. If things happen as expected, the team should advance to the round of 16 and then, to the quarterfinals. But unlike in Brazil 2014, where the path to the finals was relatively easy, in Russia the Albiceleste could end up facing Spain, Brazil and Germany once more. Messi and co already know this: this time around, they have to become the champions.
Nicolas Baier is senior editor based in Buenos Aires at ESPN.com/ Latin America. Nico is in charge of coverage of the Argentine National Team. Follow him on Twitter @NicolasBaier