World Cup will reward good defence How do Brazil France Germany and Spain rate
Footballing history is recalled through individual moments rather than all-round team performances, and those moments tend to feature attacking brilliance. From Johan Cruyff's turn to Pele's dummy, from Diego Maradona's slalom to Marco van Basten's volley, it's the genius of attackers that lingers longest. Our memories of great players, and great teams, flow from those snapshots.
But winning international tournaments has become, more than ever, about something else entirely: not conceding. It's not the sexiest thing about football, but when it comes to major international tournaments a good defence is a prerequisite for lifting the trophy.
That might sound obvious, but it's worth outlining how important good defending has become, particularly in the knockout stage. Take the winners of the last four World Cups and the last four European championships, from World Cup 2002 to Euro 2016, and the victorious winning side has played a total of 29 knockout games en route to victory. Extraordinarily, those sides kept clean sheets on 24 occasions. On the other five occasions, they conceded only a single goal. Five concessions in 29 games. There's very little margin for error, and seemingly no place for conceding multiple goals in the same match.
Half of those sides — Greece in 2004, plus Spain in 2008, 2010 and 2012 — played the entire knockout stage without conceding a goal. Brazil shipped only once in 2002 (to Michael Owen in the quarterfinals), and Italy only once in 2006 (Zinedine Zidane's cheeky penalty in the final). Germany conceded twice in 2014, but they were last-minute consolation goals to Algeria and Brazil respectively. And Portugal conceded an early goal to Poland's Robert Lewandowski two years ago. That's it.
The figures are quite striking. Once you consider several extra-time periods (and a single "silver goal" half in Euro 2004), the victorious side has conceded a goal in the knockout stage once every 579 minutes. The first priority in knockout football is keeping a clean sheet. Therefore, our assessment of the major contenders should begin with the defence, rather than the attack. Where might there be a weakness among the favourites at this summer's World Cup?
---
World Cup 2018 must-reads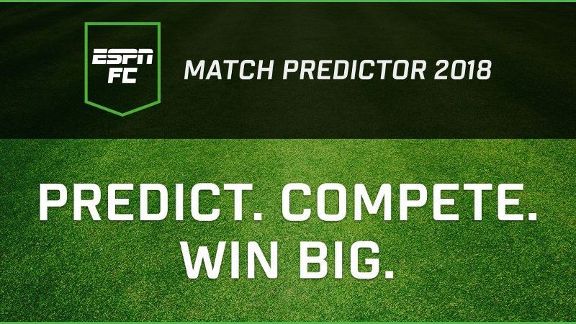 – Make your picks with ESPN FC Match Predictor 2018!
– Welcome to the Alternative 2018 World Cup Fans' Guide
– ESPN FC's experts make their picks
– Marvel's amazing World Cup spoilers
– Revealed: World Cup 2018 Ultimate XI
– Fixtures, results and full coverage
– Team-by-team previews of all 32 nations
---
Begin with Brazil. They started the last two tournaments as favourites but crashed out at the quarterfinal stage in 2010 and the semifinal stage four years ago, with meltdowns which involved conceding two goals against Holland and seven against Germany, respectively. Conceding more than once, as we've discovered, essentially ends your chances.
Brazil again look solid, but there are some defensive question marks — probably more so than ahead of 2010 or 2014. The absence of Dani Alves means a choice between Danilo and Fagner at right-back, neither the most solid of options. On the opposite flank Marcelo is capable of brilliance but also makes needless defensive lapses; indeed, he was Brazil's worst performer in that infamous 7-1 defeat four years ago. There's also a question about Thiago Silva's level of pace, and if Tite opts for a more attacking tilt to his side, with Philippe Coutinho in midfield, the defence might be exposed more regularly.
On paper, Germany have an extremely strong defence, helped by the fact three of the four defenders — Mats Hummels, Jerome Boateng and Joshua Kimmich — play together for Bayern Munich, in front of Manuel Neuer too. But there are injury concerns over Boateng and Neuer, who missed the majority of the past season and has only just about made this tournament. Germany like defending high up the pitch, and therefore Boateng's pace and Neuer's sweeping will be required to help the less-mobile Hummels. It remains to be seen whether they're up to speed.
It's also worth considering the limitations of Jonas Hector, the left-back who has just suffered relegation from the Bundesliga with Cologne. He's an upgrade on Benedikt Howedes, who deputised manfully four years ago but could barely use his left foot, and will help Germany going forward. Defensively, though, Hector might be targeted.
Individually France look excellent, with the composure and speed of Samuel Umtiti and Raphael Varane at the heart of defence, and the overlapping of Benjamin Mendy and Djibril Sidibe out wide. N'Golo Kante, too, is arguably the best ball-winner in the competition. France's weakness, though, might be Hugo Lloris, the elder statesman in goal. He just completed a below-par season for Tottenham Hotspur and was beaten at his near post by the United States' Julian Green in a friendly at the weekend. It's also worth considering that Didier Deschamps' first-choice defensive quartet hadn't played together until last week.
Spain have the competition's best goalkeeper in David De Gea, plus a formidable centre-back pairing in Sergio Ramos and Gerard Pique, who have put personal and political differences aside to play excellently together. Jordi Alba has enjoyed a return to form at Barcelona, while Dani Carvajal is probably the best right-back in the competition, and has recovered from an injury suffered in the Champions League final. As a unit, too, they play excellently together, led by Ramos with his constant shouting and whistling to move the backline up and down in turn.
More than anything else, however, Spain defend as a team. Sergio Busquets might be less mobile these days, but Spain are excellent at pressing, with the attacking midfielders pushing forward quickly to start the defensive pressure, and the defence happy to play an aggressive offside trap in turn. Combined with their possession play, they starve the opposition of opportunities to attack.
Of these favourites, it feels like Spain have the best chance of keeping three or four clean sheets in the knockout phase — and that remains the best way to triumph at a major international tournament.
Michael Cox is the editor of zonalmarking.net and a contributor to ESPN FC. Follow him on Twitter @Zonal_Marking.