Arsenal's lucky escape from Burnley shows just how big a job Arteta has to fix what's broken
BURNLEY, England — To build a great football team, or even just a decent one, you need some luck. And if the amount of luck eventually correlates to the quality of your team, then you could say that Arsenal, going by their 0-0 draw against Burnley on Sunday, will be the best team in the world before too long.
Quite how they escaped from this one with a point is a mystery that could potentially make for an in-depth, 12-part Netflix documentary, the sort that people say you should watch (and you probably should), but really, who has the time?
By the end of the game, it was tricky to work out which was greater: the number of chances Burnley missed, or the number of different things their fans booed during the 90 minutes. A non-comprehensive run-down of the latter included: David Luiz for saying this week they play "anti-football;" Matteo Guendouzi, possibly because he looks a bit like Luiz from a distance; the referee, for miscellaneous reasons; assorted Arsenal players for going down injured; their own players for kicking the ball back after one of those injuries; finally, everyone as they walked off at half-time, possibly just to ensure all bases were covered.
But the one thing they probably should've been booing was their own team's finishing. After an opening 20 minutes in which Arsenal were on top and probably should have taken the lead, Sean Dyche's side were the more threatening by a distance over the rest of the match, peppering the Arsenal box with crosses (often from the terrific Dwight McNeil on the left) but failing to convert any of them.
They missed several chances, the most egregious being when Jay Rodriguez met a cross at the far post, six yards out with nothing but the cool Lancashire air between him and Bernd Leno, only to hammer a shot against the bar and down onto the line. Dyche seemed satisfied in his post-match analysis — "We did enough to score a goal, but we'll take the clean sheet and a point" — but considering their chances, this has to go down as a missed opportunity for Burnley.
Mikel Arteta wasn't quite so content, admitting Arsenal's fortune after the game though not without archly noting that the Turf Moor grass was long and unwatered, therefore not "helpful" to playing the football he wants his side to play. "We started really well, we could've scored at least two, we dominated how we wanted. But after 20-25 minutes, we conceded a lot of free-kicks, throw-ins and corners, and if you do that you can't find any continuity in our play.
"I'm very disappointed with how we started the second half: in the first 15 minutes we didn't control any aspect of the game and we were lucky not to concede a goal. The positive thing was the reaction in the last 20 minutes."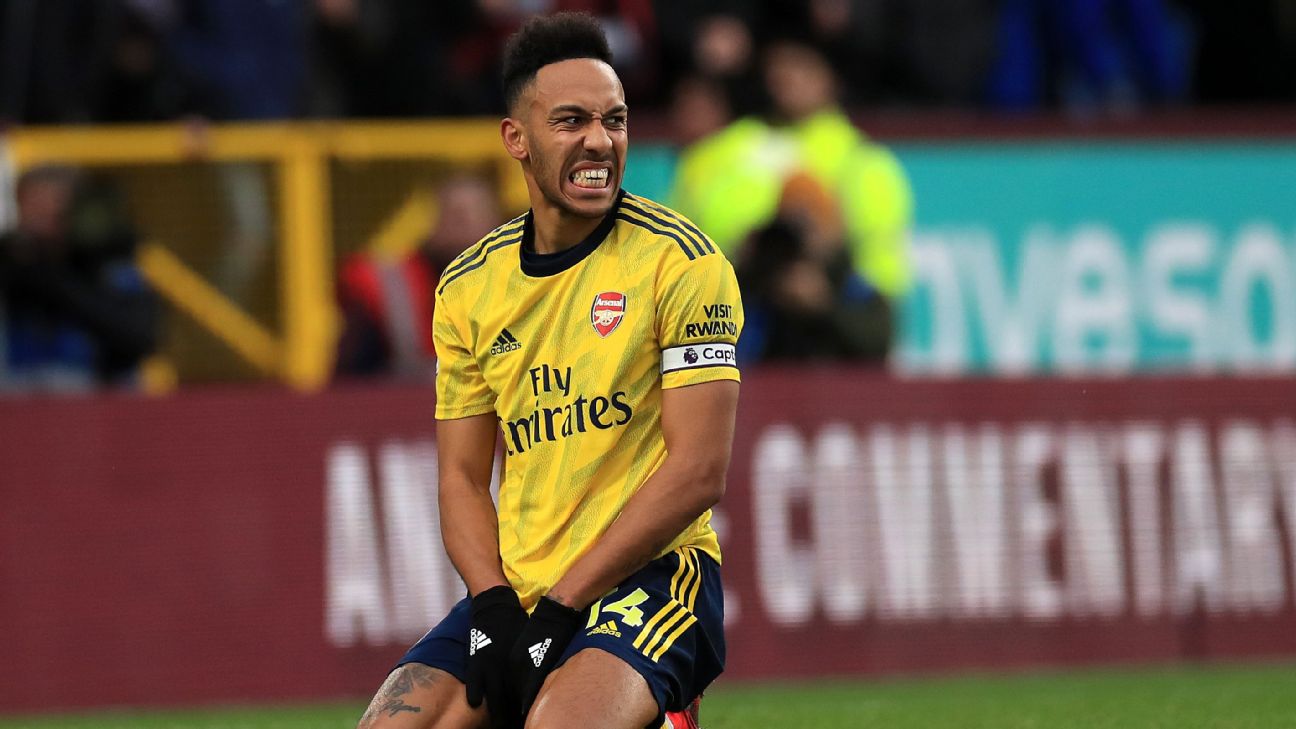 Therein lies the problem for Arsenal. A good 20 minutes and a decent 20 minutes sandwiched 50 minutes in which they were outplayed: not perhaps in the traditional sense of their opponents dominating possession or picking them apart, but this was a perfect example of one side doing what they do much better than the other side doing what they do. Or, at least, what they are trying to do.
This game, perhaps more than any other under Mikel Arteta, displayed just how far Arsenal have to come under his leadership, which has so far featured five draws and only one win in the league. There have been signs of progress, little moments where you could see what he wants them to do. But there weren't many of those in this game: even in that opening 20 minutes, they didn't move the ball as quickly as they have, and they didn't create space as effectively as they can.
It almost feels too easy and too much of a cliche to point to Mesut Ozil in games like this, the German's languid style making him a prime target for people that think he's not really doing much. But when he plays like this, it's easy to see where those easy and cliched conclusions have come from. Ozil slowed the ball down far too much, stopping Arsenal from doing what Arteta wants them to, and stymied or wasted the attacking runs of Pierre-Emerick Aubameyang and Alexandre Lacazette ahead of him. Of the varied attacking talents available to Arsenal, Ozil appears to offer the least at the moment: perhaps it's time to try a more dynamic option as No.10, like moving Nicolas Pepe inside and giving Gabriel Martinelli a longer run in the side.
Whatever option Arteta chooses, it will inevitably take some time. "I hope it doesn't [take a long time]," he said. "There have been different circumstances: two of the last four games we've played with ten men, which is not easy. We need more consistency, with the ball as well. We were fantastic in some moments, but we were so sloppy, and put ourselves in big trouble with a lot of unnecessary situations. We have to improve that a lot."
Arsenal do have time. They're tenth, a whopping 10 points away from the top four, making qualification for the Champions League (through the league at least) a long shot, but perhaps that will be freeing for them. Maybe Arteta can spend the next few months finessing his side and working out what he needs in the longer term, rather than trying only to chase results in the short-term. They will have to get used to games like this, though.
You wonder if Arteta knew how long the job of fixing Arsenal would take before he arrived. He should know now.