Barca's Alba to Messi, City's Sane to Sterling among the most unstoppable combos in world football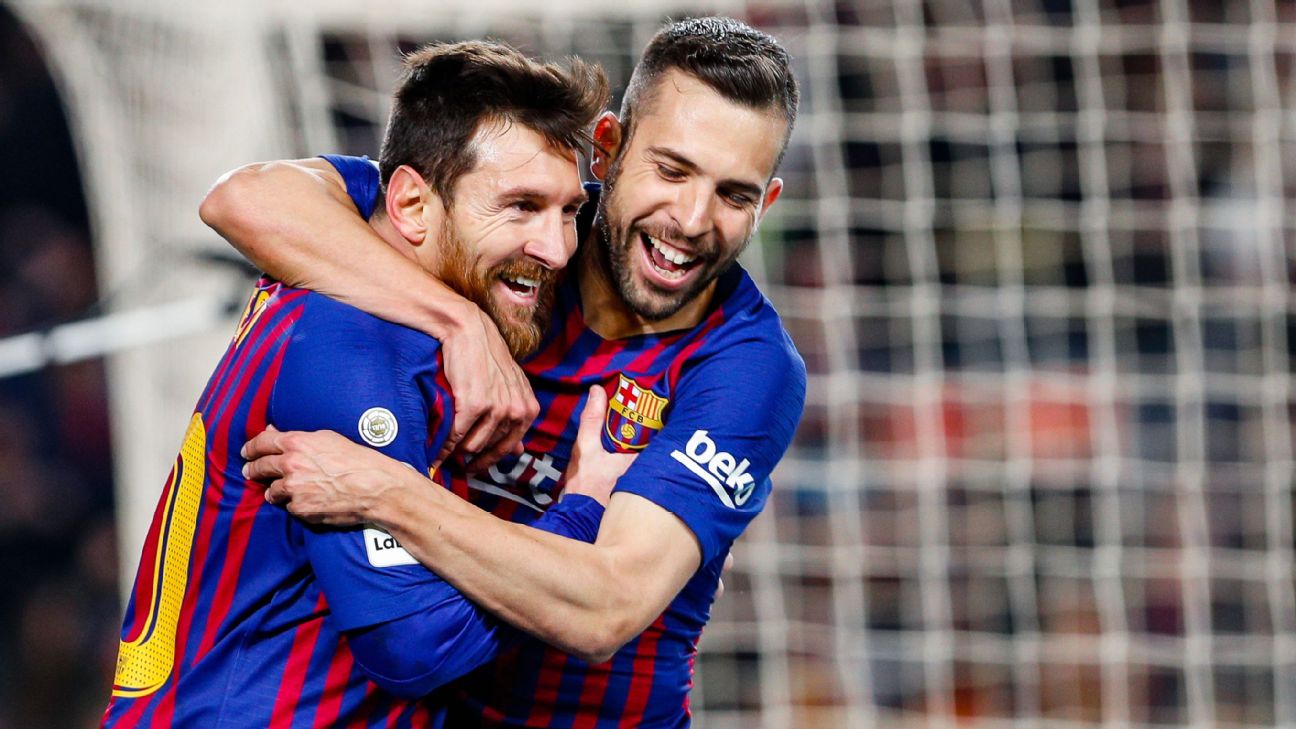 Do you ever get a sense of deja vu when watching football?
Not just when your side throws away a lead in stoppage time yet again, or loses another derby, or concedes to an ex-player for the third straight game.
But more literal deja vu — when you watch a side scoring a goal they've scored again and again. Whether it's through a deliberate strategy, or because two players' natural characteristics fit together neatly, some teams have a very familiar type of goal. Here are four examples from Europe's major leagues over the past couple of seasons…
Barcelona: Messi sweeping home an Alba pull-back
Lionel Messi is such a wonderful all-round attacker that he's capable of developing a good partnership with almost anyone, but he particularly likes combining with quick runners out wide. Pedro might not have been the most talented forward to play as a wide forward for Barcelona over the last decade, but he's arguably the one who combined best with Messi.
The closest thing since Pedro's departure, somewhat surprisingly, has been Jordi Alba. He might be a left-back rather than a wide forward, but Ernesto Valverde has moved away from the typical Barca 4-3-3 and depends upon width from full-back.
It was Alba who provided the cut-back for Messi's famous late winner at the Bernabeu in 2017, when he celebrated by removing his shirt and raising it to the home supporters, while in a thrashing of Espanyol, Alba provided Messi with two assists.
This partnership works both ways. Sometimes Messi provides pinpoint balls to bisect the opposition and get Alba in behind, and sometimes Alba gets himself into a pull-back position and allows Messi to dart to the near post. The combination works best, of course, when both things happen in the same move, and they played a classic one-two for the opener in a 2-0 victory at Athletic Bilbao last season.
The most typical example this year came in Barcelona's victory away at Tottenham. Messi collected the ball between the lines, whipped a pass out wide to the onrushing Alba, who advanced with the ball, sent in a low cross which Luis Suarez dummied, allowing Messi to convert. At the weekend, meanwhile, they combined for Messi's goal in a manner that wasn't simply a one-two, but actually a three-four, the duo ignoring their teammates and bisecting Leganes' defence themselves. It was, unusually, a right-footed finish on this occasion, but Alba remains Messi's most frequent provider.
Tottenham Hotspur: Eriksen crossing for a far-post Alli header
For Sunday's trip to Craven Cottage, Tottenham Hotspur had a problem. Harry Kane was out injured, and his deputy Son Heung-min was away on international duty. Mauricio Pochettino was forced to deploy the misfiring Fernando Llorente, a traditional centre-forward who depends on crosses. Sure enough, Spurs sent plenty of crosses into the middle — and scored from two of them.
It wasn't, however, Llorente who provided the finishing touch. While the late winner came from the head of Harry Winks, it was Spurs' first goal which was more typical. Christian Eriksen received the ball outside the box, in an inside-right position, and curled a far-post cross towards Dele Alli, making a late run to head home. It's a combination we've seen many times before.
Most notably, this was the approach that beat Chelsea two years ago, the first time the eventual champions suffered a defeat since Antonio Conte switched to a 3-4-3 formation. The goals were almost identical, with Spurs exploiting Gary Cahill's reluctance to move forward from left-centre-back to shut down Eriksen, and Cesar Azpilicueta's vulnerability in the air.
The same move brought Spurs' opening goal of last season at Newcastle, and Alli scored the winner in Spurs opening game of this season, also at Newcastle , albeit this time from a Serge Aurier cross. An Eriksen free kick and an Alli header also brought a goal in Spurs' impressive victory over Chelsea earlier this season. The loss of Kane is a serious blow to Pochettino, but Alli's absence robs Spurs of a crucial goalscoring weapon too.
Juventus: Mandzukic towering over the full-back at the far post
Mario Mandzukic has always been a curious player. On first glance he feels like a traditional old-school No. 9 who comes into play solely inside the opposition box. But Mandzukic boasts more mobility than you'd expect for a player of his build, which made him a crucial part of Bayern Munich's aggressive pressing during their 2012- 13 treble-winning campaign, and convinced Atletico Madrid to sign him because of his work rate.
Since moving to Juventus, Mandzukic has almost invented his own position; rather than playing up front, the Croatian is fielded out wide. Plenty of modern-day forwards become accustomed to starting wide and cutting inside, of course, but Mandzukic plays the wide role like he's a centre-forward, determinedly charging into the box to head home. His ability to become a second striker means Juventus often switch between two systems — 4-4-1-1 and 3-4-1-2, for example, with one of the wing-backs pushing forward and the other tucking inside, in the tradition of Catenaccio.
Sometimes, the reliance upon deep crosses to Mandzukic becomes the most obvious tactic in top-level football. In Dec. 2017, Juventus welcomed Inter — then top of the table — to Turin, and played out a goalless draw. The only approach that looked like leading to a goal was Juventus hitting deep crosses to Mandzukic, who would run inside and outjump the opposition's full-back. This happened at least five times, and one occasion he headed against the bar.
The signing of Cristiano Ronaldo provided Juventus with a similar player: a powerful aerial weapon, somewhere between a striker and a wide player. But Massimiliano Allegri has asked Ronaldo to lead the line with Mandzukic still operating wide, and because opposition defenders are so concerned with Ronaldo, Mandzukic has become even more prolific in his favoured manner.
Three of Mandzukic's last four goals — against Roma and Inter in 1-0 victories, and the opener against Milan in a 2-0 win — have seen Juventus launch a cross over the waiting Ronaldo, and Mandzukic nod home. Interestingly, he does this from either flank, often varying his position to take advantage of the weaker opposition full-back. They know it's coming, but they can never quite stop it.
Manchester City: Sane fizzing the ball across the six-yard box for a Sterling open goal
Pep Guardiola has used his wide players in very different manners when in charge of Barcelona, Bayern Munich and now Manchester City.
At Barcelona, they were wide attackers running in behind onto through balls, generally from the left foot of Lionel Messi. At Bayern Munich, they were wingers who collected the ball out wide, before cutting inside to shoot. Now at Manchester City, they're somewhere between the two: wide forwards who maintain the width — and combine in behind.
Whereas previously Guardiola has deployed "inverted" wide players, now left-footed Leroy Sane is a regular on the left, and right-footed Sterling is a regular on the right. It means both are inclined to speed down the outside of the opposition defence, before delivering low crosses into the six-yard box. It's remarkable how often Manchester City's goals are struck from point-blank range, and the most frequent combination features Sane driving towards the byline, and delivering a low ball for Sterling.
It's happened three times this season, in almost identical circumstances. Against Brighton in September, Sergio Aguero launched a break from deep, fed Sane, and his driven ball allowed Sterling to convert into an open goal from three yards. In November at West Ham it was an identical combination that brought City's third goal, this time Sterling tapping home from four yards. And against Huddersfield on Sunday there was only a slight variation: this time an aerial cross into the six-yard box and a rare Sterling header.
The addition of Riyad Mahrez at the start of the season seemed set to change City's approach, with the wingers drifting inside and the full-backs overlapping to provide the width. But Guardiola has returned to this tried-and-tested approach, because it regularly creates unmissable chances.