Bayern Munich are back: how they got back on track for an eighth straight Bundesliga title
On Nov. 2, 2019, a new world began in the Bundesliga. Eintracht Frankfurt ran rampant over a cranky, short-handed Bayern Munich, scoring three second-half goals to win 5-1.
After seven consecutive league titles — only one of which featured any sort of title race — it appeared that some combination of age, injury and poor hires had finally brought the Bayern dynasty to a halt. After the match, goalkeeper Manuel Neuer told media, "We have to think things over," and "It was foreseeable somewhat… something definitely has to change."
Stream Bayern Munich vs. TSG Hoffenheim, Feb. 5, 2.45 p.m. ET, ESPN3 (U.S. only)
Having had virtually no title drama for most of the 2010s, it seemed the Bundesliga was making up for lost time. After Frankfurt's big win on Matchday 10, there were nine teams, half the league, within five points of the top of the table and a 10th only seven points back. It seemed we were destined for a title race for the ages.
Said new world may have lasted about two days. On Nov. 4, Bayern fired manager Niko Kovac and appointed assistant (and former German national team assistant) Hansi Flick as caretaker manager. After a couple of tight losses early in Flick's tenure, Bayern have hit a level almost unprecedented even for them.
Bayern have won their last six league matches by a combined score of 23-3 and outscored Hertha Berlin and Schalke 04 by a combined 9-0 to begin the second half of the season. They have been so dominant that Saturday's 3-1 road win over Mainz felt underwhelming. With RB Leipzig dropping five points in its last two matches, Bayern has suddenly climbed back into first place in the table. There are also now only four teams within seven points of the top.
Standings through 20 matchdays:
1. Bayern Munich (42 points)
2. RB Leipzig (41)
3. Borussia Dortmund (39)
4. Borussia Monchengladbach (39)
Technically this is still very much a race! But it's hard to ignore how well Bayern are playing, and it's fair to wonder how many more points these teams will be allowed to drop without falling out of contention.
It's easy to look at Bayern's bankroll and roster and assume that they have rebounded by simply asserting the advantages they've had for all of recent history, and you wouldn't be entirely wrong to do so. But it's still interesting to dive into the specific changes that have reversed Bayern's trajectory.
They (mostly) stopped getting unlucky
On Oct. 1, in Champions League group play, Bayern handed Tottenham Hotspur a 7-2 pasting in London. It was one of the strangest, luckiest performances of the season — from an expected goals perspective, Bayern's seven goals were almost impossible. According to Opta, the shots taken in this game (19 by Bayern, 15 by Spurs) would have produced a total of 1.7 goals for Spurs and only 1.5 for Bayern. In other words, Bayern just couldn't miss.
If each team begins the year with an allotment of good fortune, Bayern used most of its stock that evening in London. Meanwhile, domestically its production was not aligning with expected production.
Expected goal differential (xGD) in Bundesliga play, as of Nov. 4:
1. Bayern +10.7
2. Borussia Monchengladbach +8.1
3. Leipzig +7.4
4. Dortmund +6.5 8.
Goal differential and expected goals are more predictive of full-season performance than any season-to-date point totals, and overall, Bayern had created much better opportunities than their opponents, even though the table didn't say so. If Kovac hadn't been canned, the odds of Bayern rallying were high. But make no mistake: The team has improved dramatically since Flick was promoted.
xGD since Nov. 4:
1. Bayern +22.8
2. Leipzig +16.2
3. Dortmund +7.2
4. Leverkusen +6.3
5. Borussia Monchengladbach +5.2
Bayern still suffered a couple of unlikely losses — a pair of 2-1 defeats to Gladbach and Leverkusen despite a combined xG count of 4.2 for and 3.0 against — but Bayern's possession-for-possession superiority has been obvious.
The lineup stabilized
Bayern's biggest issue during the first half of the season was that their breakdowns weren't just breakdowns: they were nuclear-grade catastrophes.
Lucas Hernandez, a recent addition from Atletico Madrid, and 6-foot-5 behemoth Niklas Sule are Bayern's defensive future, but both suffered significant injuries in the fall. Hernandez is working his way back toward fitness, but Sule's return before the end of the campaign is still uncertain. Without them, and without full-back David Alaba for a brief period too, the defence was static. There was no defined pathway for their slow attacking buildup, and opponents were both winning lots of possessions in the attacking third and creating quality opportunities in transition.
Even with a recent knock to injury-prone winger Kingsley Coman, the churn has slowed of late. The new lineup, more or less: Neuer, Alaba and either Jerome Boateng or Javi Martinez, Alphonso Davies, Benjamin Pavard; Joshua Kimmich and two of Thomas Muller, Thiago, Leon Goretzka, and Philippe Coutinho; Serge Gnabry and Ivan Perisic and Robert Lewandowski.
This lineup meshes Bayern's past and future in an interesting way. Neuer, Boateng, Martinez, Alaba and Muller all played major roles on the 2013 Champions League winning squad (plus, Lewandowski played against Bayern in the finals). Meanwhile, Davies, Pavard, Kimmich, Goretzka and Gnabry are all 24 years old or younger, as are Sule, Hernandez and Coman.
More importantly, though, it's also been a pretty stable lineup, though a recent injury could threaten that stability  (more on that in a minute).
Is David Alaba Bayern's most important player?
Stability has helped, but it's impossible to ignore a certain correlation/causation relationship here: (1) Alaba moved to center-back amid all the injuries, playing all 900 league minutes for Flick's Bayern, and (2) opponents have gone from winning 5.2 possessions per match in Bayern's defensive third to winning just 3.6.
Alaba has been the lynchpin in the back. He's gone from averaging 81 passes per 90 minutes to 94, and from 38 to 50 in the defensive half. His defensive actions have increased dramatically as well: from 4.9 ball recoveries per 90 minutes to 9.1, and from 0.2 clearances to 1.5. He has stabilized Bayern's defense, in both his defending and controlled possession work. Alaba's partnership with the ultra-fast Davies — who has himself moved to more of a defensive role, for now — has occupied opponents as well, freeing up players like Thiago and Kimmich to play more offensive roles and giving players on the right side (namely, Pavard and Muller) more space to create.
Via Opta, here are cloud charts for Bayern's touches before and after Kovac's firing. They include approximate positioning, and the larger a player's name is, the more involved he is in the team's passing game.
First 10 matches: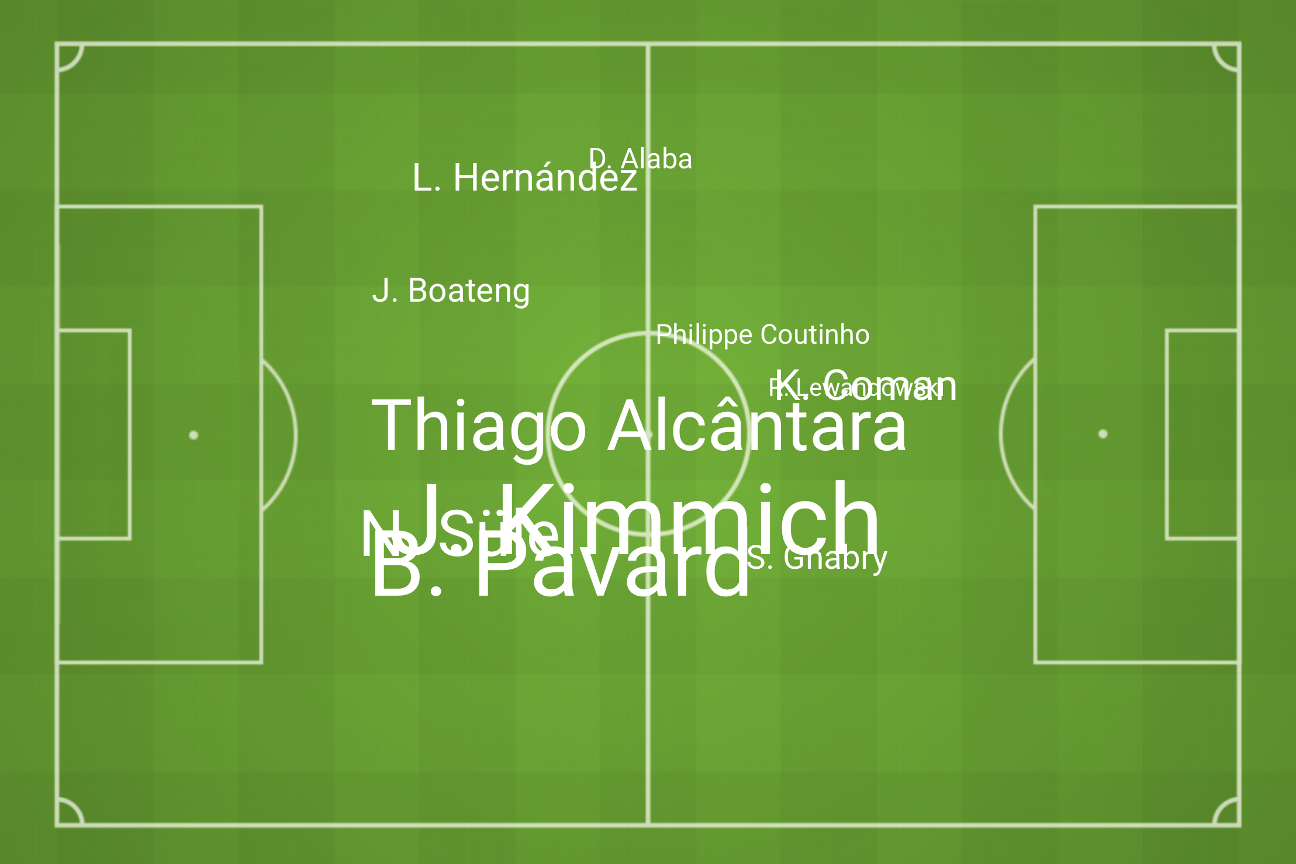 There was neither a concrete plan nor a concrete lineup in place.
Last 10 matches: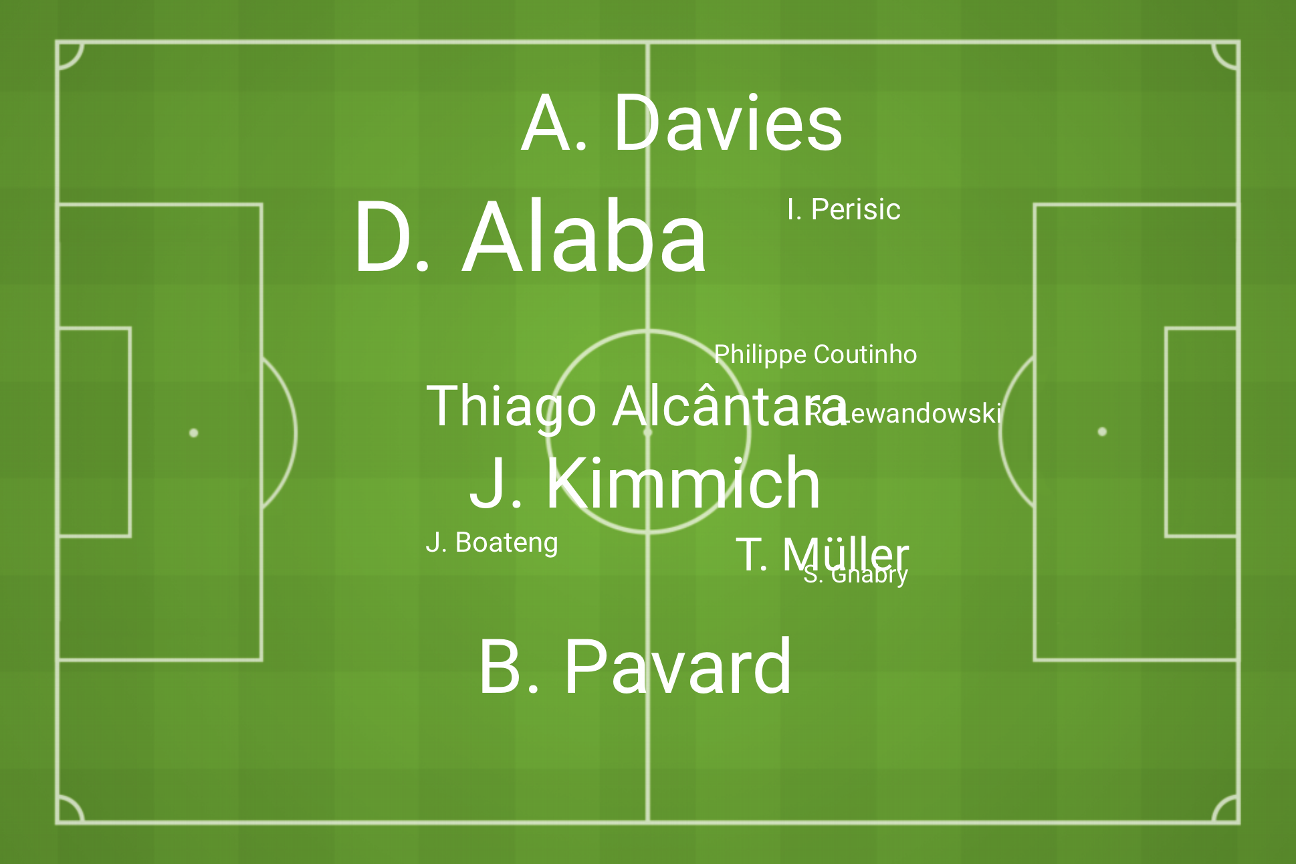 Lineup stability, combined with Alaba's incredible play, have created a structure that didn't previously exist.
A festival of crosses
In early August, it appeared that Bayern were about to sign Manchester City winger Leroy Sane as a replacement for recently departed legends Franck Ribery and Arjen Robben. (Robben retired and Ribery moved to Serie A's Fiorentina.)
In what was likely to be his final City match, however, Sane tore his ACL in the Community Shield against Liverpool. While the odds of an eventual Sane move to Munich remain decent, Bayern needed wingers immediately and quickly procured a loan-to-buy deal for Inter Milan's Perisic. Perisic's addition was not a long-term solution (he'll turn 31 in February), but he has proven immensely helpful, especially under Flick. So has another 30-year-old: Muller.
Muller and Perisic combined to play just 746 minutes in 10 league matches under Kovac, but they've played 1,406 in 10 for Flick, and they are absolutely peppering opponents from the perimeter.
• Perisic has gone from 39 passes received per 90 minutes to 44, from 4.3 open crosses per 90 to 6.8 and, for good measure, from 1.8 shots per 90 to 3.9. He is involved in more solo sequences, as well, and is drawing twice as many fouls.
• Muller has gone from averaging 2.6 open crosses per 90 to 6.0, from 43 pass attempts to 50, from 38 passes received to 48, and from 5.2 touches in the opponent's box to 6.8. His form has improved so much that there's a push to get him involved again with the German national team.
Muller has filled roles on both the inside and outside. So too has Gnabry, who's gone from averaging 0.3 goals per 90 in league play to 0.8. Bayern's increasingly dominant outside presence, combined with the continued otherworldly form of Lewandowski — the 31-year old is on pace for 37 goals in league play — has shifted this offense from dangerous to unstoppable. But now we get to find out just how valuable Perisic has been to this equation: he suffered an ankle injury in practice and is expected to be out for about a month.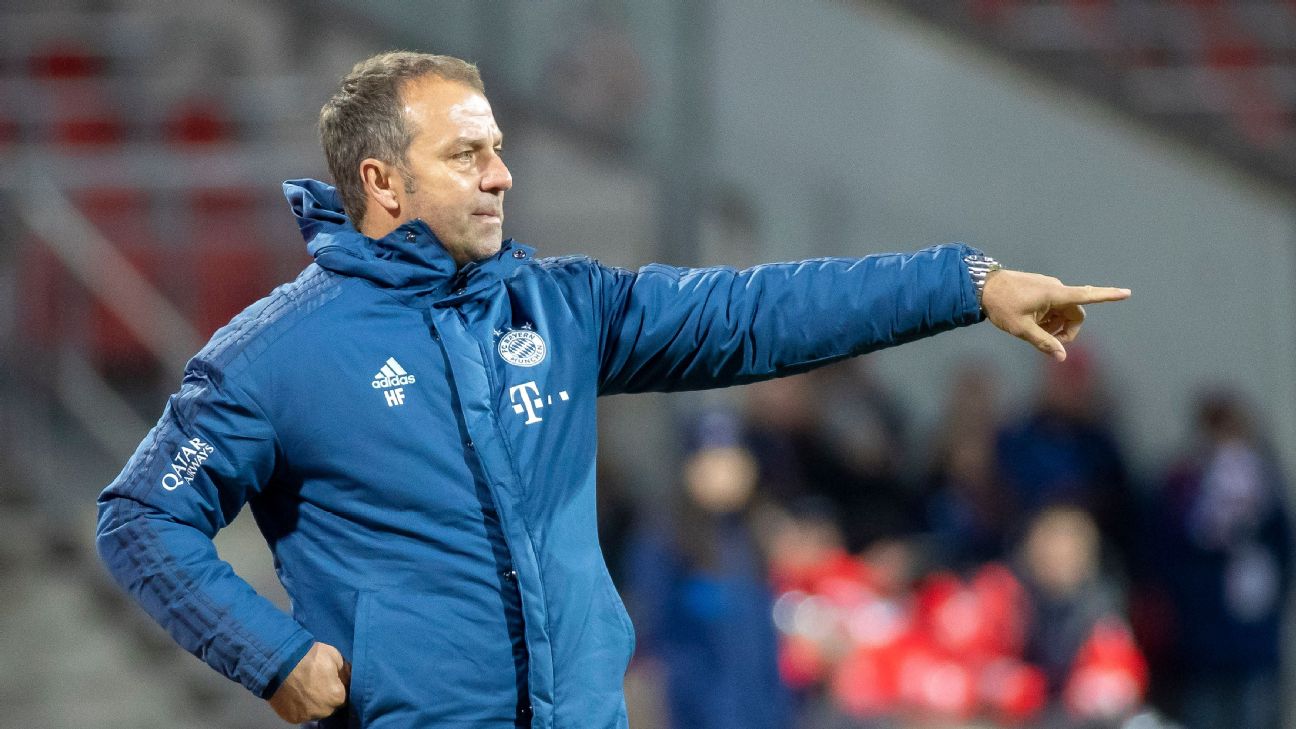 Opta defines a "big chance" as "a situation where a player should reasonably be expected to score, usually in a one-on-one scenario or from very close range when the ball has a clear path to goal and there is low to moderate pressure on the shooter." Since early-November, only four teams in Europe's Big Five are creating at least three big chances per 90 minutes: Gladbach (3.0), Borussia Dortmund (3.5), Paris Saint-Germain (3.6), and Bayern (5.3!).
Meanwhile, only four teams are averaging at least 27 cross attempts per 90: Napoli (27.1), Frankfurt (27.8), Sevilla (27.9) and Bayern (30.9). Bayern have the highest open-cross rate and completion percentage of those teams as well. Crosses can sometimes be seen as an act of desperation. Open crosses are deadly.
This offense is on an entirely different plane of existence than anyone else's in Europe. Barring injury, there was little reason to think this is particularly unsustainable either. But Perisic's injury is an opportunity for regression. Coman is not yet 100% healthy, nor is Gnabry after a recent knock, so Flick might have to improvise, either placing Coutinho or Müller out wide left or moving Davies up and putting someone else at left back. (With Hernandez still out, there's no telling who that left back might be.) Both stability and depth will get a test, beginning with Wednesday's match at Hoffenheim in the German Cup's round of 16.
Who can keep up?
Because it's the seven-time defending league champion doing these things, it becomes easy to overreact to small sample sizes. We've seen this before, right? Just last year, Bayern fell as far as seven points behind Dortmund in the table, then finished the year losing just one of their final 22 matches. And after a pair of shaky draws early in the 2017-18 season, they dropped just eight points in their next 26 matches. When they need to get hot, they get hot, and they win the league. It's how this typically goes.
Still, there's work to be done, and not just because of Perisic's ankle. Leipzig had dropped two points in nine matches before this recent mini-swoon and could find its form again quickly. As good as Lewandowski's been this season, RB Leipzig's Timo Werner has matched his form.
Meanwhile, Dortmund have scored at least three goals in six of their last seven league matches. They added Norwegian wunderkind Erling Braut Haaland over the winter break, who has scored seven goals in just 136 minutes of play. Their defense is fragile, to put it diplomatically, but they have more raw offensive potential than maybe any club in Europe. And while Gladbach's peripheral numbers don't quite back up their current standing — they're three points out of first place — their offense has recently snapped out of its own mini-funk.
Over the course of three months, the Bundesliga race has gone from feeling less certain than ever before to experiencing a Bayern-related case of deja vu. The season is far from over, but we'll see if anybody can damage both Bayern's recent form and the aura of inevitability they have again begun to impart.