Can Pablo Mari fix Arsenal's defence after fixing Flamengo?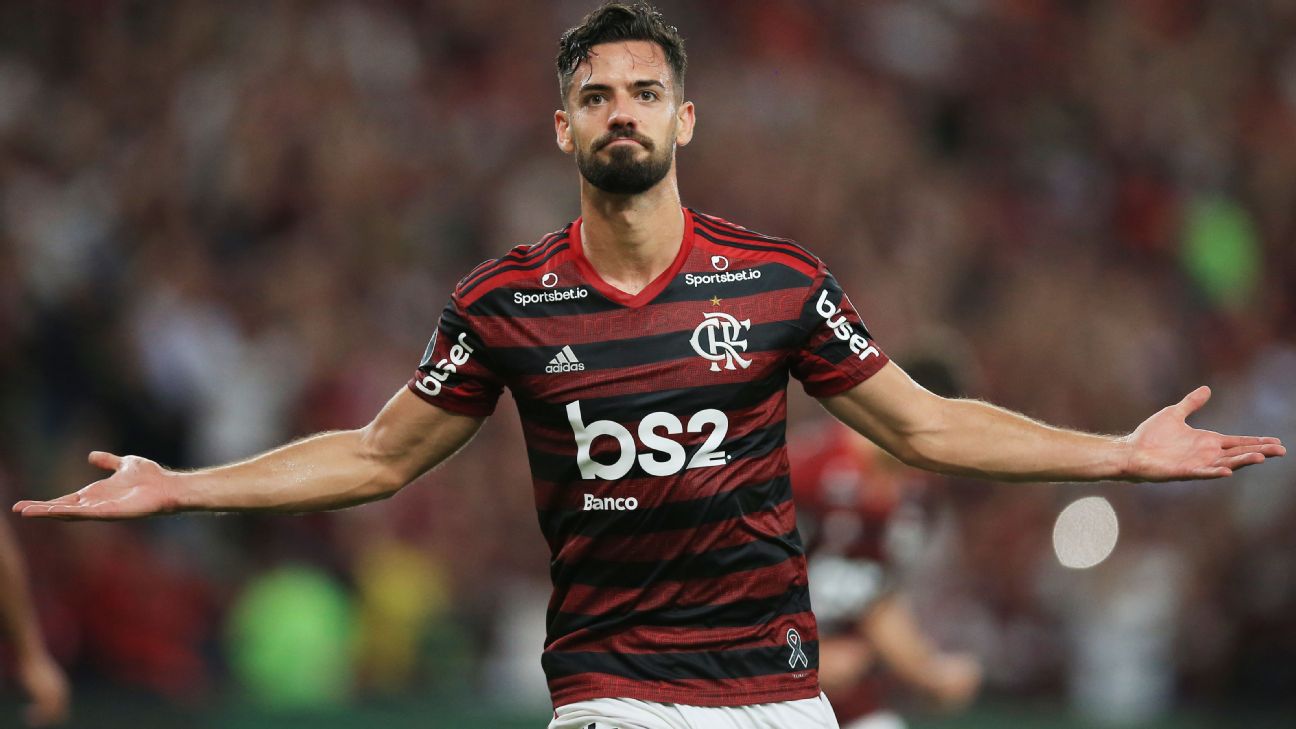 Considering their centre-back problems this season, maybe Manchester City missed a trick when they let Pablo Mari go to Brazil last summer. Mikel Arteta, City's former assistant boss, certainly seems to think so. Now in charge at Arsenal, Arteta was in a hurry to bring in the 26-year-old Spanish defender, making him his first signing since taking charge at the Emirates.
After coming through the ranks at Valencia, Mari played for Mallorca and Gimnastic before being picked up by City in 2016. He spent one season on loan at Girona, another with NAC Breda in the Netherlands and a third with Deportivo La Coruna in the Spanish second division. Then, last July, came the call to cross the Atlantic and join Rio de Janeiro giants Flamengo. They had a new coach, the veteran Jorge Jesus, who used his European contacts to help build one of the best club sides South American football has seen in years.
Flamengo cruised to their first Brazilian league title in a decade, racking up the goals along the way and turning their matches into a joyful celebration. They won the club's first Copa Libertadores, South America's Champions League, since 1981 — and they gave Liverpool a game before going down 1-0 in the Club World Cup final last month. The front four gained most of the plaudits, especially the goal-grabbing feats of strike duo Gabriel Barbosa and Bruno Henrique. But there was reason to believe that the most important member of the side all along was Mari.
Underpinning Flamengo's style of play was Jorge Jesus' insistence in playing a high defensive line. This is common in Europe but proved revolutionary in Brazil, where defences tend to sit very deep. Pushing up enabled Flamengo to stay on the front foot, strangle opponents in their half of the field and keep the sectors of the team close enough for the ball to flow. Without that high defensive line, Flamengo would not have enjoyed the same attacking prowess.
– Transfer Grades: All the big moves rated
– When does the transfer window close?
– All major completed transfer deals
Yet it's a method of play that entails considerable risks. For a start, it leaves a lot of room in behind the centre-backs, which makes domestic Brazilian defenders very nervous. They do not want to be caught in open space. They would rather retreat to their own penalty area and look to head or kick the ball away from danger, thus leaving the team stretched out and obliging the midfielders to run back almost the full length of the pitch. In Mari, Jorge Jesus found someone who was used to playing in a high line. While he's not blessed with outstanding pace, he's quick enough and has the positional sense to operate in the way that his coach needed.
Mari was thrown right into the deep end straight away after signing for Flamengo in July. Without a proper preseason he was expected to immediately slot into a new team in an unfamiliar league and carry out a high risk role. It could have gone wrong, and an early blunder or two might have turned the fans against him and undermined his confidence. Instead he looked instantly at home. He organised the high line, made possible its effective implementation, defended soundly and passed the ball crisply out from the back with his dependable left foot.
From being a virtual unknown in European football, he quickly became a Flamengo idol despite only playing 30 games for the club. But it was a glorious time to pull on the red and black shirt and he will certainly be sorely missed.
There was some haggling over the price, but after picking the player up for a reported €1.7 million, Flamengo will be making a healthy profit. And Mari can hardly turn the chance down, either. He will not stand out in the Premier League as much as he has done in Brazil. But, 3 1/2 years after being signed by Manchester City, Arsenal are poised to give him the chance to show that he belongs in world class company.