Champions League quarterfinal second legs: Predictions and key battles
Last week's first legs in the four Champions League quarterfinals offered up a contrasting of games that all entertained in their own way and, crucially, kept the ties alive into their respective second legs.
Can Manchester United come back to upset Barcelona? Will Cristiano Ronaldo deliver yet more heroics for Juventus? Can Liverpool hang on at Porto? Will Manchester City thrash Tottenham? We get you ready for the second legs.
Jump to: Juve-Ajax | Porto-Liverpool | Man City vs. Tottenham
---
Barcelona vs. Manchester United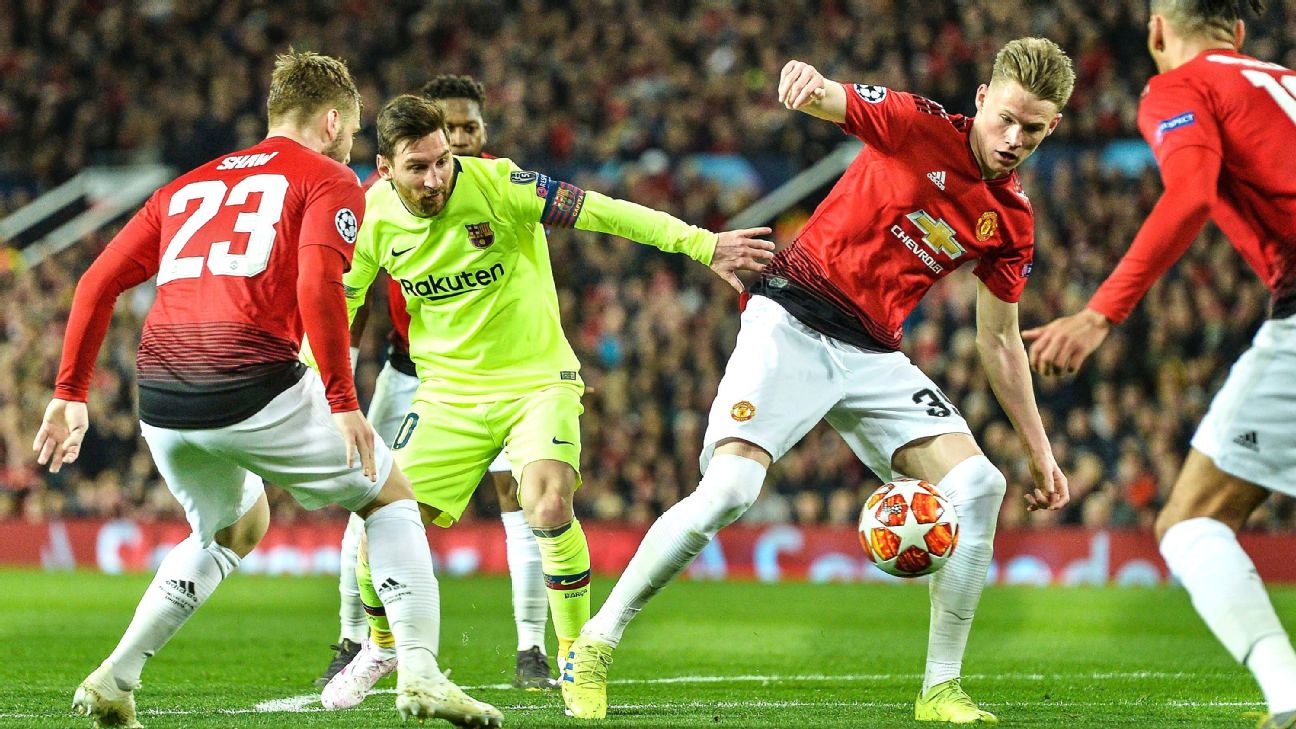 AGGREGATE SCORE: Barcelona lead 1-0
WHEN: Tuesday 4/16, 3 p.m. ET / 8 p.m. BST
WHAT WE LEARNED FROM THE FIRST LEG: Ole Gunnar Solskjaer got creative with his tactics in an effort to thwart and surprise Barcelona, but they weren't flummoxed in the least by his back three. Even a sub-par Barca — who admittedly got a bit fortunate with the Luke Shaw own goal — managed to stop United from enjoying a single shot on target.
WHAT WE CAN EXPECT FROM THE RETURN LEG: Barcelona will be rested, as Ernesto Valverde left out nine regulars against Huesca, while the minutes are adding up for Manchester United, as Solskjaer himself admitted after the poor performance against West Ham. Barcelona will have the luxury of being able to pick their spots (and keep the ball) and be patient.
WHAT UNITED HAVE TO DO TO QUALIFY FOR THE SEMIFINAL: Score, obviously, and you can gamble a little because away goals count double, meaning a 2-1 win would see United through. They did a good job of disrupting Barcelona's midfield at Old Trafford, but failed to turn that into clear-cut chances. With Nemanja Matic likely to return, they may be better served sitting and trying to hit on the counter or via set pieces.
WHAT BARCELONA HAVE TO DO TO QUALIFY FOR THE SEMIFINAL: Essentially, manage the game. If they can limit Paul Pogba's creative impetus and exploit what is likely to be an unfamiliar defensive system for United, given Luke Shaw's absence, they will be halfway there. If, as expected, United sit off them a bit, they will need to do a much better job at keeping possession than they did at Old Traford.
BATTLE TO WATCH: Luis Suarez vs. Chris Smalling/Victor Lindelof. Valverde's Barca is more pragmatic than past versions. They know when they need to be patient and they're happy to rely on experience and guile. Suarez has plenty of both. You may not see him for long stretches and suddenly he's in your face.
WILD CARD/STORYBOOK SCENARIO: Many United fans would love to see Alexis Sanchez and his wages ride out of town. What better way than to come off the bench and score the key goal against his old club after six weeks on the sidelines?
FINAL PREDICTION: Barcelona 2-0 Manchester United (Barcelona advance 3-0 on aggregate). There is just too much of an imbalance here in terms of form, quality and experience.
---
Juventus vs. Ajax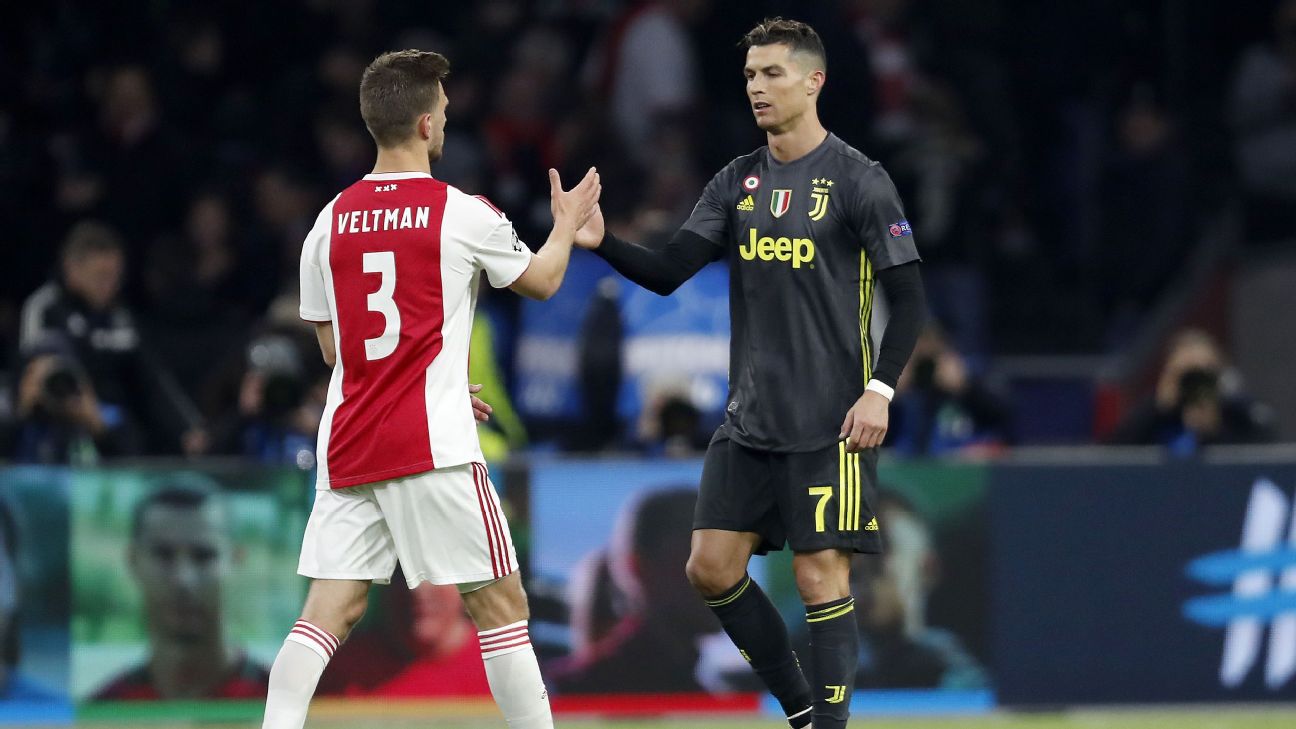 AGGREGATE SCORE: 1-1
WHEN: Tuesday 4/16, 3 p.m. ET / 8 p.m. BST
WHAT WE LEARNED FROM THE FIRST LEG: The Ajax performance we saw against Real Madrid was anything but a fluke. Juventus showed them plenty of respect and Ajax still found a way through, grabbing an equalizer early in the second half and controlling the match for a good stretch after the break, until Max Allegri settled things down again.
WHAT WE CAN EXPECT FROM THE RETURN LEG: Juventus' away goal means they advance with a 0-0 draw on the night and that gives Allegri the option of inviting Ajax forward and looking to hit on the break. It also gives Juventus the luxury of congesting the middle and trying to control the tempo, a task made easier by the likely absence of stand-out Ajax midfielder Frenkie De Jong, who limped off with a muscular injury at the weekend.
WHAT AJAX HAVE TO DO TO REACH THE SEMIFINAL: Exploit the wide areas and deliver crosses into the box, particularly if Joao Cancelo (wonderful going forward, less so defensively) is playing on the right. If you allow Juve to congest the middle and try to play through them, especially without De Jong, it can turn into a long night.
WHAT JUVENTUS HAVE TO DO TO REACH THE SEMIFINAL: Allegri can approach this many different ways, but a key is not to leave Ronaldo isolated. By now we've learned he's at his best when you commit runners around him, whether it's Federico Bernardeschi or Douglas Costa, along with Mario Mandzukic. Go for the jugular and test Matthijs de Ligt and Daley Blind.
BATTLE TO WATCH: Noussair Mazraoui vs. Juve's wing. He can be, and has been, devastating down the right flank. Whether it's Ronaldo, Blaise Matuidi or, behind them, Alex Sandro, it's critical that he be contained.
WILD CARD/STORYBOOK SCENARIO: Moise Kean isn't expected to start, though perhaps he should. The teenager has notched six goals in his past six appearances for club and country, plus he has the legs and intelligence to shock Ajax's back line if the visitors get a little top-heavy.
FINAL PREDICTION: Juventus 2-0 Ajax (3-1 aggregate). De Jong's absence is simply a game-changer and Allegri has a range of permutations and approaches that Ajax will struggle to match.
---
Porto vs. Liverpool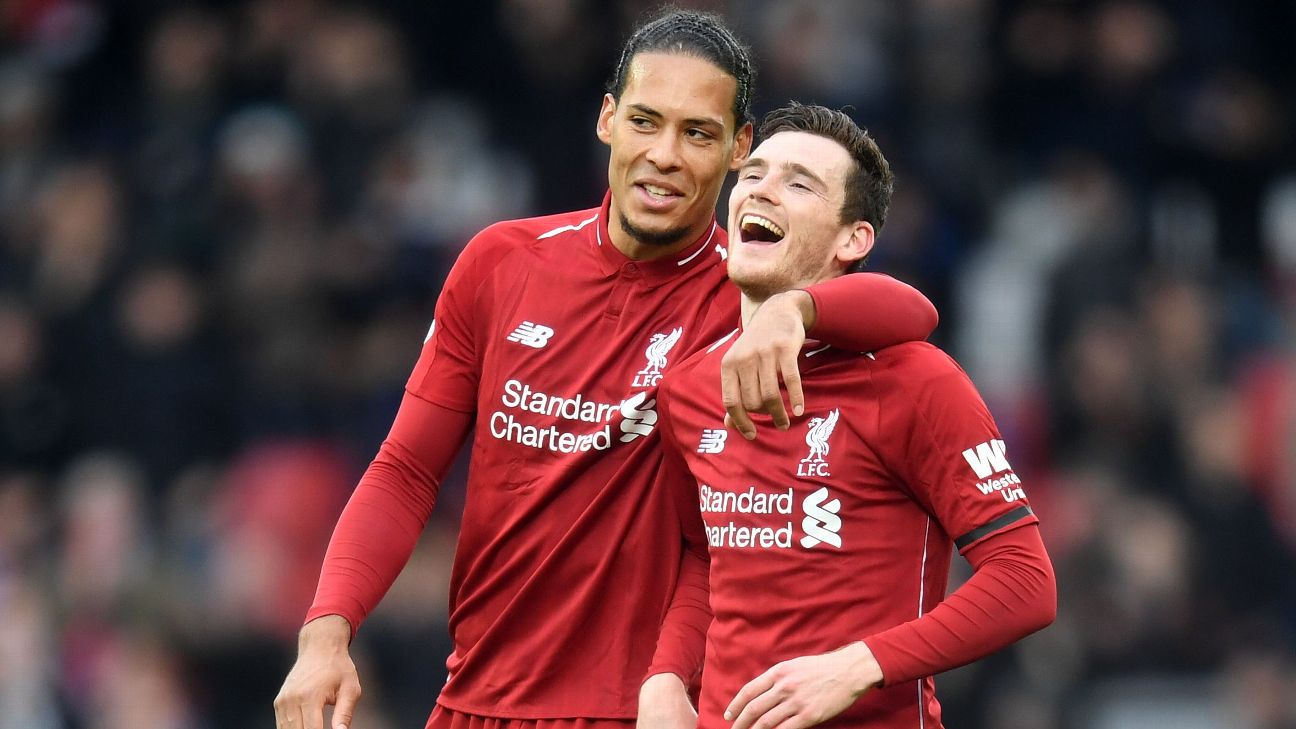 AGGREGATE SCORE: Liverpool lead 2-0
WHEN: Wednesday 4/17, 3 p.m. ET / 8 p.m. BST
WHAT WE LEARNED FROM THE FIRST LEG: Porto never quite go away. While Liverpool scored two first-half goals and saw out the tie, the visitors fought back gamely and came close to scoring an away goal, despite key absentees Hector Herrera. Liverpool also aren't the type of side who are at their best when they manage leads.
WHAT WE CAN EXPECT FROM THE RETURN LEG: Porto attack with speed and precision, so it will be tempting for Liverpool to unleash their vaunted front three on the counter. But Jurgen Klopp has talked repeatedly about the threat they pose, so we should see more of a toe-to-toe contest.
WHAT LIVERPOOL HAVE TO DO TO REACH THE SEMIFINAL: If they find the net at any point, Porto would need to score four times to advance and you simply can't see that happening. That's something Liverpool can't lose sight of. Be aggressive in midfield, push the full-backs up and remember who you are.
WHAT PORTO HAVE TO DO TO REACH THE SEMIFINAL: Yacine Brahimi was a problem for Liverpool in the second half and with Herrera back to stiffen up the middle of the park, Porto can dictate play. Moussa Marega will need to have his finishing boots on: Alisson twice denied him one-on-one at Anfield.
BATTLE TO WATCH: Virgil van Dijk vs. Pepe. We'll likely only see this one on set-pieces but it will be a proper, old-school clash between two defensive heavyweights. Few players are as disruptive as Pepe; few are as commanding as van Dijk.
WILD CARD/STORYBOOK SCENARIO: Iker Casillas was winning Champions Leagues when Robert Firmino, Mohamed Salah and Sadio Mane were still in elementary school. Porto can't afford to concede and it would be Disneyesque if "San Iker" preserves a victory.
FINAL PREDICTION: Porto 2-2 Liverpool (Liverpool advance 4-2 on aggregate). Porto can score when they need to but Liverpool have tons of firepower and this has the hallmarks of an open game.
---
Manchester City vs. Tottenham Hotspur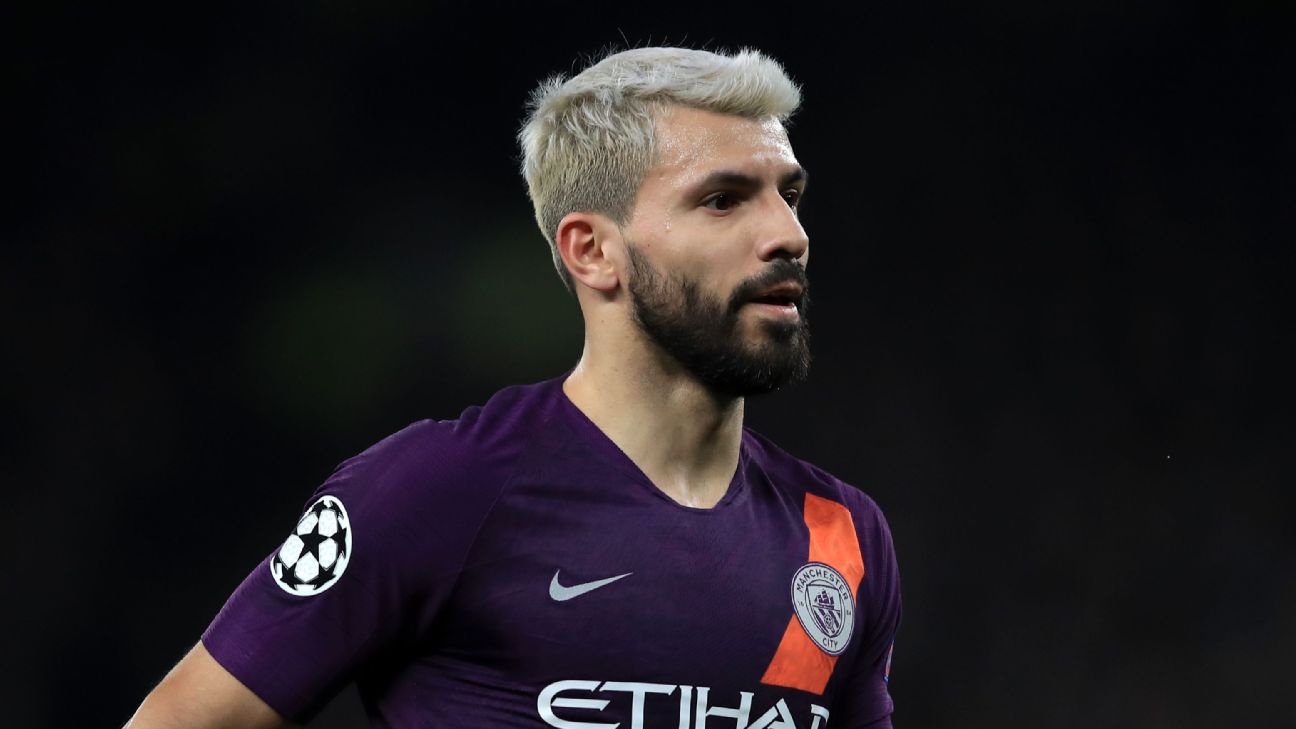 AGGREGATE SCORE: Tottenham lead 1-0
WHEN: Wednesday 4/17 , 3 p.m. ET / 8 p.m. BST
WHAT WE LEARNED FROM THE FIRST LEG: Pep Guardiola's tinkering — leaving out Leroy Sane and Kevin De Bruyne for Riyad Mahrez and Ilkay Gundogan — probably did him no favors and when City go the unfamiliar route of focusing on defending, they're not very good at it. (Witness the time and space allowed Christian Eriksen for Spurs' goal.) Heung-Min Son is a big-game player whose hunger is relentless and who poses match-up problems.
WHAT WE CAN EXPECT FROM THE RETURN LEG: Tottenham will be without Kane, and though their record in his absence is freakishly good, it's obviously a huge loss. Expect them to defend their aggregate lead and try to exploit the counter, while City try to conjure up one of those possession-heavy, old-school Guardiola performances.
WHAT TOTTENHAM HAVE TO DO TO REACH THE SEMIFINAL: Nicking a goal would force City to score three, which is a tall order even for them. Lucas Moura and Son have the quickness and athleticism to provide a first line of high pressing and a threat behind against City's back four.
WHAT CITY HAVE TO DO TO REACH THE SEMIFINAL: Stick to what they're good at: keeping possession, committing men forward and going vertical with intelligence and creativity, which they can do since Bernardo Silva is fit again and De Bruyne, hopefully, won't be on the bench.
BATTLE TO WATCH: Sergio Aguero vs. Tottenham's defense. When the supply of chances is good, he's likely to score. When it's not, he can struggle to create his own. If Tottenham can stifle him, it may lead City to force things, either through individuals or shots from distance.
WILD CARD/STORYBOOK SCENARIO: He turned 34 last month and has scored all of two league goals in more than a season and a half at Tottenham but Fernando Llorente is intelligent, an aerial threat and a hugely underrated passer. Imagine him coming off the bench to score the goal that sends Tottenham through.
FINAL PREDICTION: Manchester City 3-1 Tottenham (Man City advance 3-2 on aggregate). City are the better team, so you have to pick them to advance. But I'm not confident here. At all.