Frank Lampard to manage Chelsea? He could be the perfect replacement for Sarri
Maurizio Sarri has endured a difficult first season at Chelsea. Although they play Eintracht Frankfurt in the semifinals of the Europa League and sit in fourth place in the Premier League, with their top-four hopes in their own hands, it has been a disappointing campaign.
Sarri, like Jose Mourinho and Antonio Conte before him, has been frustrated by a lack of impetus in the transfer market and an uneasy relationship with many of his squad. The 60-year-old reportedly favours a return to Italy in the summer, and few would be surprised if he stays at Stamford Bridge for just one season.
So Chelsea need a solution, and that could be Frank Lampard. The 40-year-old has kept Derby County in contention for a Championship playoff place during a largely successful first campaign as a manager, but the chance to go back to the Bridge might suit all parties.
Watford's Javi Gracia and Nuno Espirito Santo of Wolverhampton Wanderers have been touted as replacements for Sarri, but Chelsea's reputation as a graveyard for managers might make them pause. The club also faces a two-window transfer ban imposed by FIFA for breaches of regulations concerning the signing of players under the age of 18. Chelsea challenged the decision earlier this month and are awaiting a response to their appeal — but FIFA has already rejected an application to pause the ban.
If the embargo is upheld and the team fails to qualify for the Champions League the nightmare really begins. This would create a situation in which any new manager would need to begin a rebuilding process without access to the market and with a shortfall in revenue, not to mention players such as Eden Hazard looking for a way out.
Sources close to the situation told ESPN that Lampard would not be scared off even in the event of this worst-case scenario. Lampard won every trophy possible in his 13 years at the West London club and knows the club intimately. Chelsea have won six of the past seven FA Youth Cup finals, though the academy has produced disappointingly few first-team graduates. There are also 42 players on loan, among them Mason Mount, who has flourished under Lampard at Pride Park. The Derby manager believes that the 20-year-old can step up to the Premier League. Other loanees, such as 19-year-old Reece James at Wigan Athletic, also have the ability to make a mark in the top flight.
Even though Lampard has had a promising first season at Derby, the future in the East Midlands is uncertain. The team is in a fight, most prominently with Middlesbrough and Bristol City, for the last playoff place. They play City at Ashton Gate on Saturday, and defeat would knock them out of the top six.
Failing to reach the Premier League will have huge ramifications at Pride Park. Melvyn Morris, the owner, has been looking for extra investment — or even a possible sale — for more than a year. The 2017-18 accounts showed that Derby spent £137 on wages for every £100 of turnover.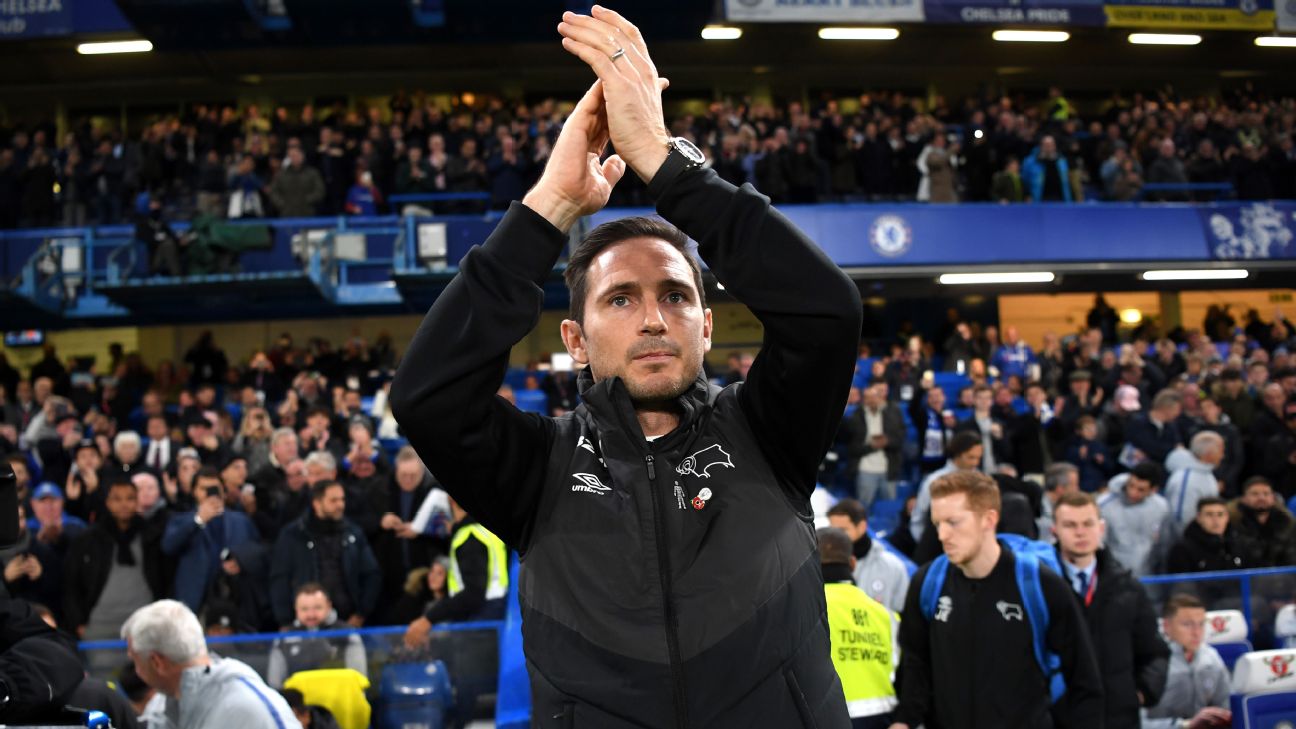 The club sold the stadium to one of Morris' companies for £80 million to ensure that they did not breach the Football League's spending rules. This year's salaries are even higher, and a source close to the club told ESPN that, in the event they remain in the Championship, they "can manage, but there is not a lot of leeway."
The basic fact is that if Derby do not go up, they may not be able to afford Lampard.
Lampard's salary is said to be "in seven figures" and extremely high for a Championship manager. At least two of his Premier League counterparts are paid less. A new owner or investor who needed to tighten the belt might consider these wages to be way beyond an unproven manager's worth.
Unless Derby are promoted, there will be cost cutting across the board. That will make Lampard's job much harder, even if the club is happy to carry the expense of his wages.
But if the Chelsea job were to become available, it could be the perfect solution if things have gone wrong for both clubs. Lampard has the inside knowledge and authority to help reset a broken system at the Bridge.