Ibrahimovic: 'If United need me, I'm here'
LA Galaxy forward Zlatan Ibrahimovic has joked about returning to Manchester United after claiming he is still good enough to play in the Premier League.
Ibrahimovic, 37, has scored 46 goals in 49 games for Galaxy since arriving from Old Trafford in 2018 but after United sold Romelu Lukaku this summer with Alexis Sanchez set to follow, he hinted at a comeback.
– ESPN fantasy: Sign up now!
– Ibra unveils LA Galaxy 'reinforcements': The Simpsons!
"I could play easy in the Premier League, so if United need me, I'm here," he said. "But Galaxy has me, so I'm sorry.
"Nah, I did my job in Europe. I enjoyed it, I have 33 trophies that I brought with me here and hopefully I can get something here. And then we will see where that adventure finishes."
The former Paris Saint-Germain, AC Milan, Barcelona and Juventus striker added that he still checks for United's results and was aware of the 2-1 defeat to Crystal Palace on Saturday.
"I look, I look, I look," he added. "I saw the last game and I think they were unlucky. If they score the penalty, it's a different game but a game in England is not finished until its finished.
"Anything can happen, especially in the last minutes where everything is in the heat of the moment."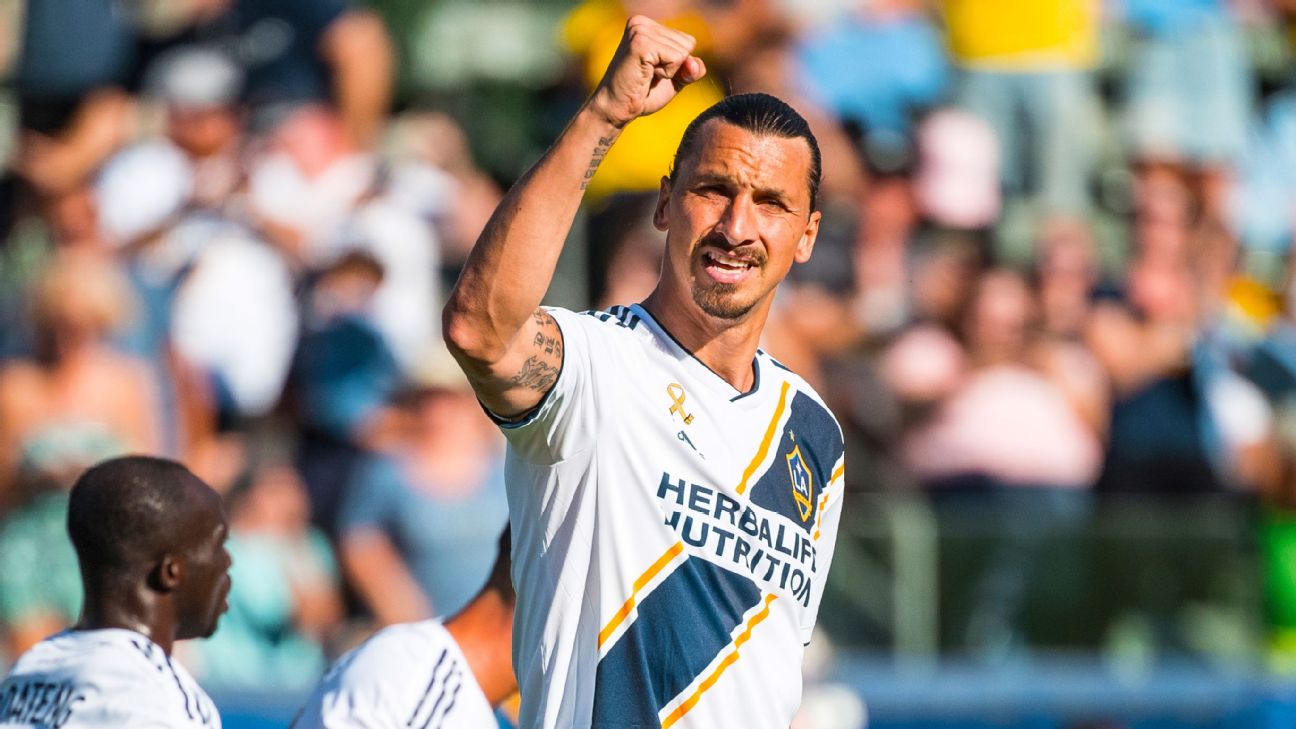 Ibrahimovic said he is not surprised to see Wayne Rooney depart Major League Soccer but is not sure what he will do when his own contract is up at the end of the year.
"No, I'm not surprised [that he's going back]," Ibrahimovic said. "Absolutely not.
"I think he came, he tried, he did his best and, yeah, he had patience. You need a lot of patience and it has finished, the patience. I mean, my deal is until December 31. What happens afterwards I don't know.
"I'm in a different position than Wazza. Wazza is much younger than me. I am old but still dominating, still making the difference. Let's see what happens. I have to be feeling good physically."
Rooney and Ibrahimovic have both made headlines in recent weeks for criticising MLS and he called on the league to make improvements.
"I think MLS is an exciting league," he said. "It's a growing league — a lot of things to come in place.
"New teams coming in. I mean, you have teams playing away for half the season and then they play at home because the stadium was not done. There's a lot of things happening.
"I enjoy it but there is a lot of things to become better, to come up in level, which it will time by time. We're in the U.S., where nothing is impossible.
"I think it will take time [to become a major soccer force] but they have all the possibilities they can.
"But there is a lot of rules here with the budget. I mean, you saw Rooney, he tweeted something with the travelling. It's not easy all those things."