If Liverpool go on to win the Premier League Salah's goal to beat Chelsea will be the defining strike
LIVERPOOL, England — There have been some special goals that have gone on to define a title-winning campaign, and only time will tell whether Mohamed Salah's unstoppable left-foot strike for Liverpool against Chelsea earns its place alongside those scored by the likes of Eric Cantona, Sergio Aguero and Robin van Persie during the Premier League era. But on a day that felt like being a momentous one in the race for the title before a ball had even been kicked, Salah's goal, which sealed a 2-0 Anfield victory just hours after Manchester City had reclaimed top spot with a 3-1 win at Crystal Palace, arrowed into the top corner of Kepa Arrizabalaga's net with an extra sense of purpose and defiance.
"I had the best view [of Salah's goal]," Jurgen Klopp said. "I saw earlier than most people that it would go in. What a finish, what a shot. But the whole move around it. Wow, brilliant!" Sadio Mane's far-post header, two minutes earlier, might have been the goal that broke Chelsea's resistance, but Salah's was the one that will had the greatest effect on the spirit of their rivals, City.
Pep Guardiola had claimed after City's win at Selhurst Park earlier in the day that he would only be half-concentrating on events at Anfield due to his focus instead being drawn to events at The Masters in Augusta. But he will have heard about Salah's goal just as quickly as any of the putts holed by Tiger Woods. It was one of those goals that will have announced itself on trains, buses and in supermarkets simply by the gasps or shouts of "Wow!" as it hit the back of the net.
Having cut inside and onto his left foot, the Egyptian's shot from 20 yards was so powerful and straight that Kepa had no chance of keeping it out. Anfield rose as one, partly through relief that the points were now safe and also because the crowd began to believe that this team would never give up and throw in the towel with players like Salah involved.
It was a moment that showed Liverpool are playing with the confidence and freedom to try such audacious efforts on goal, and unless Klopp's team slip over their final four games, it could be the one that goes on to define this title race.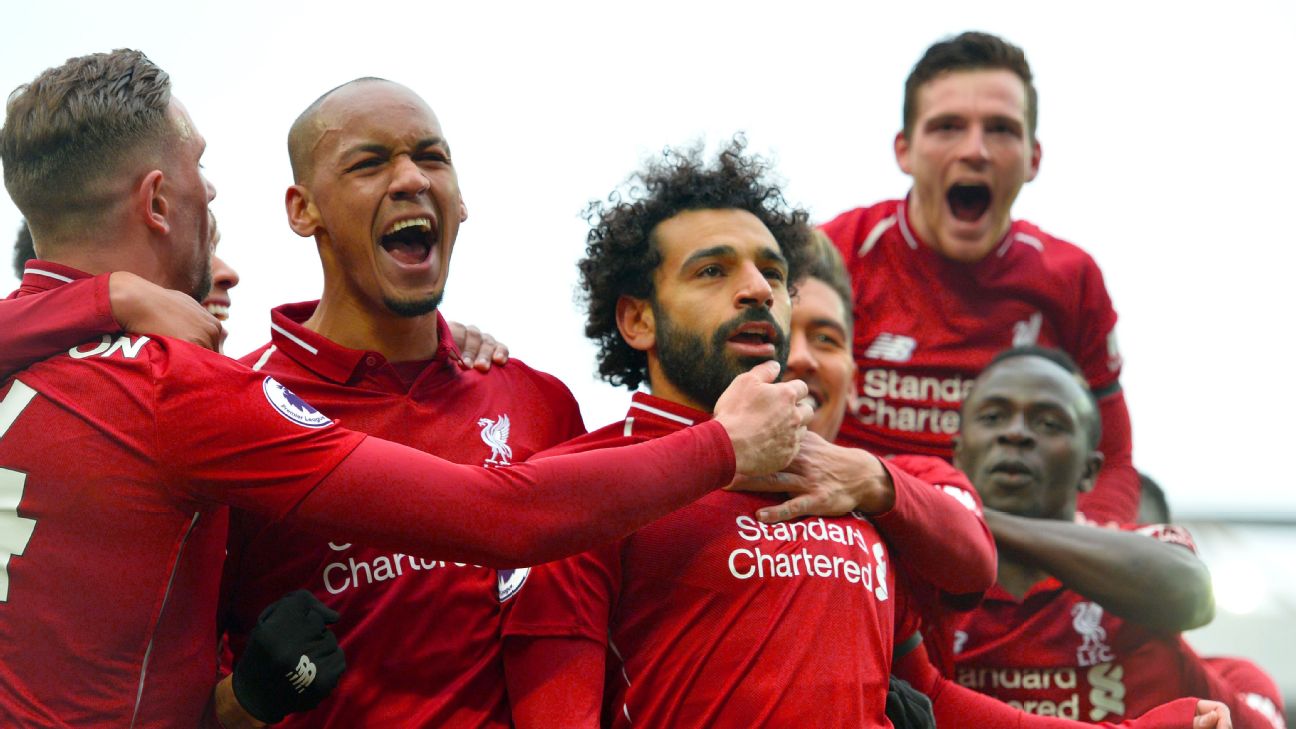 Cantona's goal for Manchester United at Newcastle in 1996 was nowhere near as spectacular, but it delivered a huge psychological blow for United against their closest rivals and remains a goal that, to this day, marks the turning point in that race. Aguero's winner for City against Queens Park Rangers, with 93 minutes and 20 seconds on the clock, has become an iconic reminder of the club's first title win in 44 years, which denied neighbours United another championship.
Then, Van Persie's stunning volley for United against Aston Villa the following season, when he netted Wayne Rooney's long-range pass from 20 yards, was another goal to define a title win. Salah's goal was in the same class, and Liverpool will now enter their final four games in control of this title race because of the former Chelsea forward's strike.
City have five games to play — their game in hand is against United at Old Trafford on April 24 — but at this stage of any title race, points on the board are always more important than games in hand.
When asked after the game whether four more wins would be enough for Liverpool, Salah said, "yes, I think so. I think it will be."
Liverpool must travel to Cardiff and Newcastle and host already-relegated Huddersfield and then Wolves at Anfield. City, on the other hand, play Spurs for a third time in less than two weeks next Saturday at the Etihad — their Champions League quarterfinal, second leg, happens first in midweek — before travelling to United. They then travel to Burnley before an awkward home game against Brendan Rodgers and Leicester, followed by a trip to Brighton on the final day of the season.
Liverpool's win against Chelsea restored their two-point lead, ensuring that City must win their game in hand to reclaim top spot. In short, City have no margin for error, and although they have won 12 of 13 league games in 2019, the pressure on them to keep winning is becoming more and more intense. Their energy levels, both mentally and physically, are being drained by the heavy fixture demands of chasing the Quadruple, and they must somehow beat both Spurs and United in their next two games to tilt the title race back in their favour.
Guardiola's team are capable of doing that, of course, but the pendulum has now shifted back towards Liverpool. The screw has been tightened once again, and Salah's goal turned it a few more notches — enough to give Guardiola and his players sleepless nights in the best title race for years.