Liverpool boss Jurgen Klopp on title pressure I don't need help I'm fine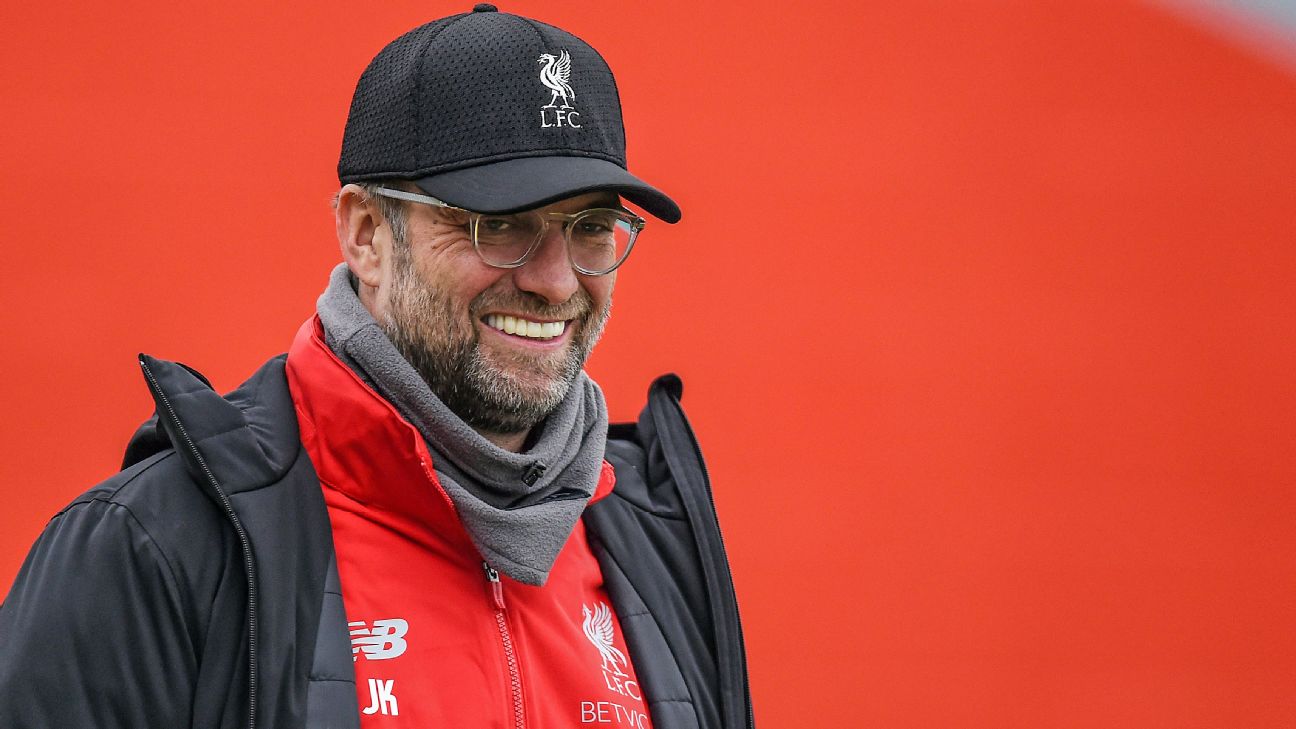 LIVERPOOL, England — Jurgen Klopp insists he is entirely relaxed about Liverpool's situation in the Premier League title race, despite Manchester City reclaiming top spot earlier this week.
Liverpool trail the reigning champions on goal difference after back-to-back draws in the league, although they do have a game in hand on City.
But Klopp has stressed that the mood of Liverpool's title charge on the outside is much different to the one inside Melwood.
"The funny thing about that is I didn't read it, I didn't watch it and I still know it," he told a news conference on Friday. "You feel it, with the questions you get asked, the messages I get even from friends.
"Something obviously changed in their view, but it was always clear that it would happen. It's not important when it happens, it's that it can happen.
"It's normal. It was kind of predictable. If you want to be top of the table and a champion at the end of the season, you have to show in situations like that — and there are worse situations — real passion, real desire, you have to fight. You cannot come through with passing a little bit around, you have to go through.
"I got a message this week, another sign that people think I need help — I don't need help, thank you very much, I'm fine — [that] in the last 10 games, City dropped 12 points and we dropped seven. I didn't know that.
"Is it interesting for me? Not really, but the view from outside is completely different. Then it was something that City lost three outside the top six teams, we drew twice.
"That's the world outside, and we live in that world. I know that people are confronted with things like this, the players are too. The only tool we really have to sort our situation is football, passion, a proper fight, being aggressive in the most legal way. Be hard, put your foot it.
"That's what we will do, that's what we did last year in a similar situation with a different target, where Chelsea were chasing us like crazy. We wanted to go to the Champions League, we had a pretty small squad in that situation and we had to play Champions League, all that stuff, and win each Premier League game, which is a difficult job to do. We are used to that. Now we have to show we can do it still."
Liverpool take on Bournemouth at Anfield on Saturday and then have a 10 day wait for their next fixture — the first leg of their Champions League rouhd-of-16 tie with Bayern Munich.
Sources have told ESPN FC that the squad are set to use the break by heading to Spain for warm-weather training.
"We will go away for a couple of days, so we can really focus on training, we don't have to drive between sessions, things like that," Klopp said. "A little change of scenery again. It always worked out pretty well for me as a manager when I had the opportunity to do it — to be 100 percent focused, a couple of meetings.
"We'd have done it if we were 10 points up. We do it because have time, and we can do it because we play the Champions League game a week later."
Meanwhile, Joe Gomez is set to be ruled out for up to six weeks after he underwent surgery this week to further aid his recovery from a lower leg fracture.
"Joe's surgery worked pretty well," Klopp said. "Timeframe is always pretty difficult, but [it's] four to six weeks in terms of return to play."
However, Liverpool have been boosted by the return of Trent Alexander-Arnold, Jordan Henderson and Georginio Wijnaldum to full training.
Alexander-Arnold has not featured since injuring his knee on Jan. 12, while Henderson and Wijnaldum missed Monday's draw at West Ham United due to minor issues.
Dejan Lovren will not be available for Saturday's game, with Klopp unsure on an exact return date for the centre-back.