Liverpool's new midfield of Keita, Fabinho and Henderson proving decisive in the club's title charges
By definition a first leg is about preparing the ground for a forthcoming fixture, but Liverpool's 2-0 victory over Porto at Anfield isn't just significant in relation to the second leg in Portugal next week, but in relation to their title run-in too. Five games from the end of a potentially title-winning season, Jurgen Klopp has suddenly stumbled upon a new midfield: Fabinho, Naby Keita and Jordan Henderson.
None of the three have enjoyed consistent campaigns. Fabinho, after arriving from Monaco and Ligue 1, initially struggled to get into Liverpool's side amongst concern over his fitness levels, and only truly established himself after three months of training in Klopp's system. Keita, has largely been a disappointment since his long-awaited move from RB Leipzig, while Henderson was partly a victim of Fabinho's improvement, losing his place to the Brazilian in the holding role.
Yet Friday night's come-from-behind victory at Southampton featured an equaliser from Keita, bursting forward to nod in at the near post, and then after Mohamed Salah had put Liverpool ahead, Henderson — a game-changing substitute who injected fight, tenacity and energy — stormed into the box to convert a Roberto Firmino pull-back, and spark the sort of celebrations that make you feel like it might just be Liverpool's season.
For this match with Porto, then, Klopp's midfield didn't feature Georginio Wijnaldum, Liverpool's most consistent midfielder this campaign. It didn't feature James Milner, who was forced to deputise for the suspended Andy Robertson at left-back. It didn't feature Xherdan Shaqiri or Adam Lallana, the playmakers who have occasionally provided more magic. This was Fabinho-Keita-Henderson, the midfield that — to borrow a Jose Mourinho expression from his Real Madrid days — represented Klopp's high-pressure triangle.
In an open contest with chances at either end, Liverpool completed the scoring within 25 minutes, with both Keita and Henderson crucial in the two goals. The first was fortunate, with Keita's shot from the edge of the box deflecting off Oliver Torres and looping past Iker Casillas. The second was magnificent. Keita spread the ball from the left channel to the right, where Henderson waited for the run of Trent Alexander-Arnold on the outside, slipped a threaded ball between defenders into his path, before the right-back drilled the ball across the six-yard line for Firmino to tap-in at the far post.
It was the type of goal Manchester City have made a habit of scoring this season, and Liverpool can't quite escape that comparison. Liverpool are arguably their equals — or better — in goal, in defence and in the front three, but in midfield, Manchester City have the edge. Kevin De Bruyne and David Silva provide attacking contributions that Liverpool's midfielders simply aren't capable of.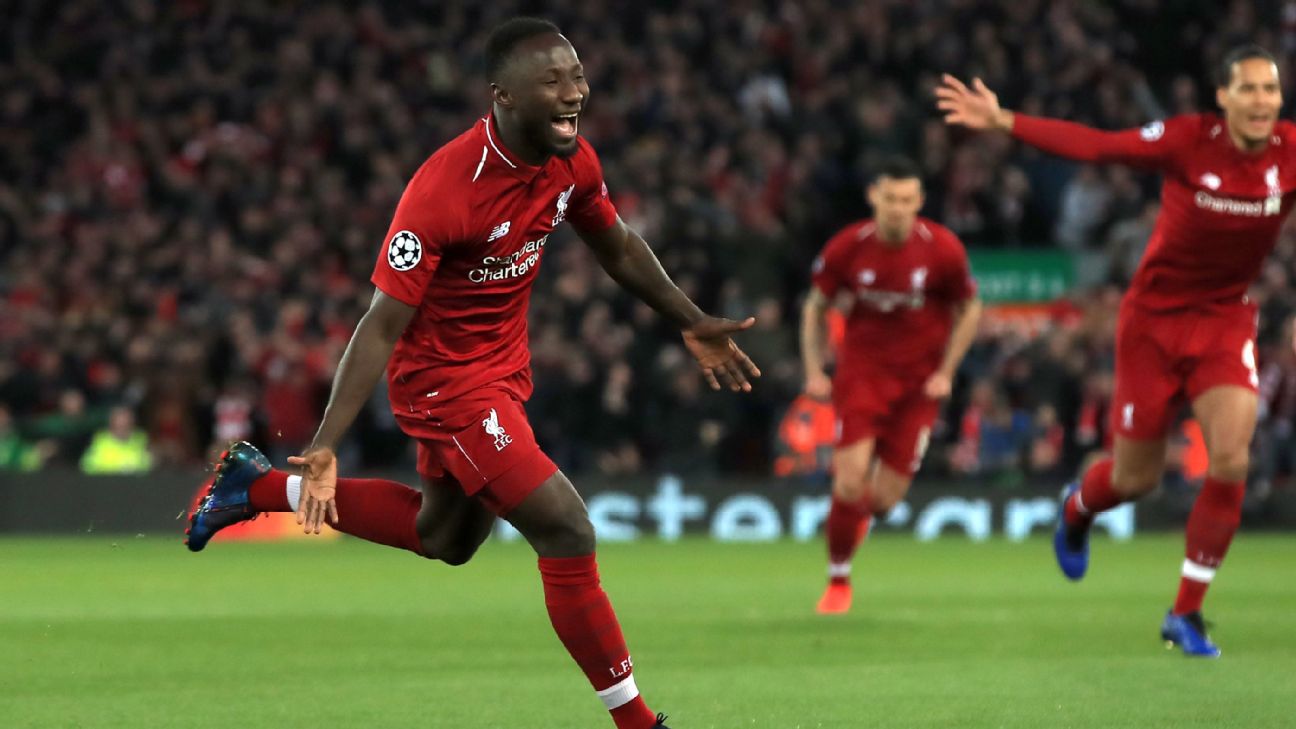 And, while Klopp would argue that the creativity instead comes from the full-backs — evidenced by another assist for young Alexander-Arnold here — Liverpool's lack of goals from midfield is nevertheless a weakness. We're long past the stage where you might set double-digit goal targets for the central midfielders. Now, just one crucial run and finish might be the difference between glorious failure and genuine glory.
Both Keita and Henderson were excellent here. The former was everything Liverpool thought they'd purchased last summer, a mixture of combative tackling in deep-lying positions and slaloming runs past opponents into the final third. He made 11 tackles, five more than anyone else on the pitch. 
"Today he [Keita] was immediately there," Klopp said afterwards. "In the last game he got better and better and better every minute, so we wanted to build on that. Today he looked really good. His goal was lovely. It was deflected, yes, but the boys worked the situation really well, and that was the half-space we wanted to use." In stoppage time, with Liverpool looking fatigued after their efforts throughout the game, it was Keita still charging forward, bursting past a couple of opponents into the box.
But it's Henderson who has been Liverpool's greatest beneficiary of the last week. As well as his contribution in the build-up to Firmino's goal, he played a wonderful cross that was finished smartly by Sadio Mane from a narrowly offside position, and continually made bursts into the space between Firmino and Salah, often breaking beyond the Porto defence. 
"Hendo's a brilliant player and I'm really happy he can show that again," grinned Klopp in his post-match news conference. He obviously likes that position, so it was my fault that he played for one and a half years as a [No.] 6. Sorry, but we needed him there." And now they need him elsewhere.
Henderson, Liverpool's skipper, is the only first-teamer who was around for Liverpool's last title challenge in 2013-14. Yet, in a sense, he wasn't there. Dismissed late in the then seemingly decisive 3-2 victory over Manchester City at Anfield in April, 2014, he was therefore suspended for the run-in, notably the infamous 2-0 home loss to Chelsea and the remarkable three-goal collapse at Crystal Palace. You suspect he's desperate to make amends.
This victory was the 44th game of Liverpool's campaign, but the first time that Fabinho, Henderson and Keita have started as a conventional midfield three — they'd only previously played together in a 4-2-3-1, with Keita playing from the left. It's been a long time coming, but, if things go Liverpool's way over the next few weeks, Fabinho-Henderson-Keita must just be the midfield trio that is remembered at Anfield for years to come.