Man City face tough summer of rebuilding. PLUS: How Zidane won Madrid derby, Mbappe drama for PSG
Missed any of the action around Europe this weekend? Have no fear: Gab Marcotti is here to catch you up with all the talking points in the latest Monday Musings.
Jump to: Crossroads for Man City? | Fiorentina fury at Juve | Zidane wins Madrid derby | Liverpool keep coasting | Plea's costly error vs. Leipzig | Big win for Barca | Man United blank vs. Wolves | Mbappe drama for PSG | Could Lazio win Serie A? | Haaland, Sancho star again | Are Chelsea done with Kepa? | Milan win streak ends | Muller back to Bayern best? | Conte, Inter win again
Guardiola, Man City face some big decisions after this season
Pep Guardiola reminded us of that age-old mantra after Manchester City's 2-0 defeat away to Tottenham: this isn't basketball, it's a low-scoring game, sometimes you can do everything right, create tons of chances and still not win. He's undeniably correct, and that's why performances matter more than results. The problem is that this isn't quite what happened against Spurs.
Yes, City's dominance in terms of possession and chances created was overwhelming, but there were also two critical mistakes — Ilkay Gundogan had his penalty saved and Oleksandr Zinchenko picked up a second yellow for a pretty needless tactical foul — that hugely influenced the match. (If Mike Dean had been a little more stern and sent off Raheem Sterling for that early foul on Dele Alli, it would have been three.)
No team can be expected to be flawless, but those two incidents are evidence City did not do everything right and perhaps, rather than talking about how proud he is of his players, he ought to focus on what he can do to limit mistakes further, to the point that they mitigate days like Sunday.
Players miss penalties — it's a fact of life. But City have missed five of nine in all competitions this season and three of six in the Premier League, where they're bottom of the conversation table. For a guy supposedly maniacally obsessed with detail, not to mention having so much talent at his disposal, it's a weirdly uncomfortable statistic.
As for Zinchenko, he obviously had a mental lapse. Maybe he forgot he was already on a yellow. Maybe he didn't realize that the guy he was chasing was not some speedster like Heung-Min Son, but the rather more deliberate Harry Winks. Stuff happens. But you wonder, again, if making tactical fouls such a key element of stopping breakaways is a good idea. Yellow cards pile up and it leaves you exposed to set pieces, which isn't exactly your forte.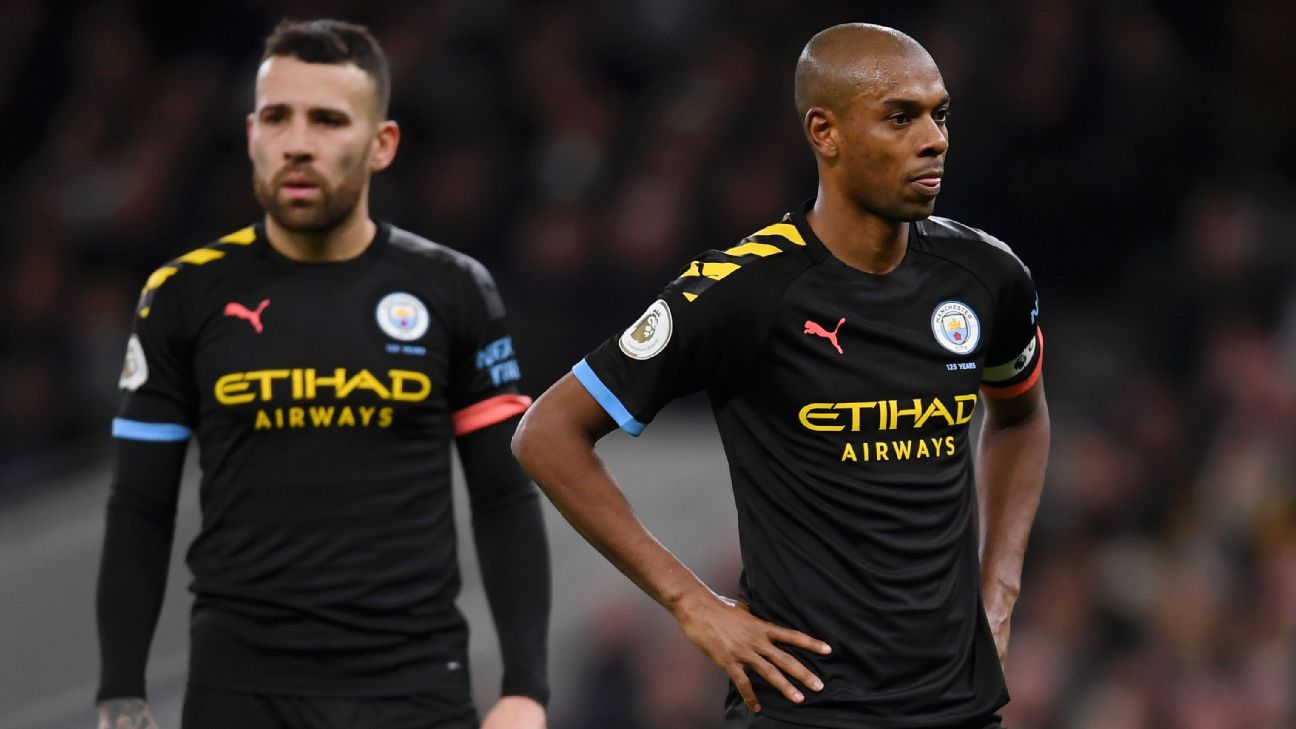 Others may be tougher on City, predicting all sorts of doom and gloom. Sterling is overworked, David Silva (who didn't play) is "past it," Nicolas Otamendi and John Stones never had it, teams have figured them out, Pep's message is getting stale after three-and-a-half years. I don't buy that. In the Premier League table, with regard to points, they are roughly where they've been every season for the past seven years, barring the last two when they broke records. And lest we forget, they're still among the favourites to win both domestic cups and the Champions League. All this without Leroy Sane and Aymeric Laporte, who were supposed to be key cogs in Guardiola's machine this year, and while losing his assistant, Mikel Arteta, to Arsenal halfway through the campaign.
Ogden: Man City have lost their way
– Man City ratings: Gundogan 5/10
– Spurs ratings: Lloris 9/10, Bergwijn 8/10 on debut
Things look worse than they are because Liverpool are so far ahead. If it really was a doomsday scenario, they would be losing ground across the board and not dominating games. That said, there are some big decisions ahead. Both fullback positions appear problematic in the long term. Even assuming Laporte gets back to his pre-injury levels, he'll still need a legitimate partner. Sane is an even bigger question mark and while Aguero has a couple years left, it's by no means certain Gabriel Jesus will be able to fill his sizable shoes. But in the here and now, there's no reason to go all Chicken Little.
As for Tottenham, it's easy to paint this as a Mourinho smash-and-grab masterclass. It was no such thing. Had his plan been to sit and soak up pressure, he likely wouldn't have gone with two ball-playing midfielders in Giovani Lo Celso and Winks, but would have opted for a more physical ball winner instead. We don't know — and he won't tell us — but looking at the XI, it looked more like a set-up designed to alternate spells of possession with through-balls for the pacy front men.
Still, there are plenty of positive takeaways beyond the result for Spurs. Steven Bergwijn scored a peach of a goal and appears to have understood exactly what Mourinho wants. Winks and Lo Celso held their own, while Hugo Lloris had his game since returning from injury. What's more, fourth place no longer feels quite that distant.
Fiorentina's Commisso takes calculated shot at Juventus
The rivalry (mostly one-way) between Fiorentina and Juventus is one of the most bitter and acrimonious in Serie A. Fiorentina owner Rocco Commisso added another chapter Sunday with his post-match comments following Juve's 3-0 win.
Juventus were awarded two penalties — both converted by Cristiano Ronaldo, who has now scored in 11 of his last 12 appearances — but the second one in particular upset Commisso. He did the rounds on TV after the match, calling the officiating "disgusting" and "shameful" and saying that a club with the revenue and wage bill of Juventus didn't need "gifts" from match officials. Commisso added that if the league wanted to fine him, they were more than welcome to do so.
There are a few points to make here. First and foremost, this wasn't a guy raging with adrenaline immediately after the final whistle. He said it postgame and then went on TV, hours later, to reiterate his views. Then there's the fact that while Juve's second penalty, for a foul by Federico Ceccherini on Rodrigo Bentancur, may have been contentious, it was by no means daylight robbery: I wouldn't have given it, but it falls squarely in the "seen them given" camp. Finally, you normally talk like this after a close, hard-fought game where you feel you deserved more. This wasn't it: Fiorentina were comprehensively outplayed by a Juve team that actually performed very well.
Commisso himself said that it was the first time in the seven months since he acquired the club that he'd spoken about match officials, which is true, and he wasn't referring only to this game. But given the history between the two clubs and the perception of Juventus over the years, you assume he knew exactly what he was doing, and it felt like he was playing to the crowd.
There's no question Commisso has had a tremendous impact on Fiorentina since his arrival — not just financially — and he's given both the club and the city a shot in the arm. He's the sort of owner Serie A wants — and needs — if they are going to continue their comeback. But unless he wanted to put Juve on trial for past crimes against humanity (and no doubt there are many who would love to do that) then, on this occasion, his timing was seriously off.
Credit to Zidane for how Real won Madrid derby
I said it last week but heck, I'll say it again because it's true. Zinedine Zidane is proving folks wrong. All those guys who said he was a turnkey boss, a man-manager who whispered to his Galacticos and stared them down with his frigid gaze, a guy whose tactical handbook amounted to "our guys are better than theirs, so don't screw it up."
He showed it again in the Madrid derby. With no Eden Hazard, no Gareth Bale and no Rodrygo, Karim Benzema played on his own up front with a five-man midfield. And guess what? It didn't quite work. Atletico, despite the absences of Joao Felix and Koke, whipped up the old Diego Simeone pride, hit the post and growled their way to an impasse. (And, in fact, they might have had a decent penalty shout when Casemiro brought down Alvaro Morata). So what did Zidane do? He yanked Toni Kroos (which takes guts, even if your initials are ZZ) and Isco at half-time, sent on Vinicius and Lucas Vazquez and went 4-3-3. Suddenly, the momentum shifted and Diego Simeone had no answers. It finished 1-0 and could have been more.
Kirkland: Madrid teams going in different directions
Those are the hallmarks of a manager who reads the game and makes the right decisions. Sure, he has plenty of options off the bench, but with all due respect, Vinicius and Vazquez are probably fourth and fifth in the depth chart. If Madrid hang on to win La Liga this season, it might be (for Zidane personally) as big an achievement as his Champions League crowns, if not greater.
As for Atletico, the absentees (and the failure to sign Edinson Cavani) can't be an alibi. Sure, you don't expect them to win at the Bernabeu but in their last five outings, they've scored one goal… and that was against third-tier Cultural Leonesa in the Copa del Rey.
Liverpool keep coasting in Premier League
Liverpool are in the zone as they head off for their winter break. It's like in NBA2K when the player catches fire and sinks all his shots. Southampton put them through the wringer for a half, the Reds awoke from their torpor and scored four goals. You didn't even notice that Sadio Mane wasn't playing.
Liverpool ratings: Salah 8/10 in rout
The gap between them and second-place Man City is 22 points and, unless Jurgen Klopp is kidnapped by little green men, the Premier League decide to suddenly award 15 points for a win the rest of the way or the first-team resigns en masse to go follow BTL on tour, they will win the title for the first time in three decades. Never before in the history of the English game has a team enjoyed such a massive lead at any point, let alone early February.
Klopp's choice may soon be whether to rest players for the Champions League and, if they somehow overcome Shrewsbury with their U-23 side in Tuesday's fourth-round replay, the FA Cup.
What was Plea thinking vs. Leipzig?
Leipzig hosting Borussia Monchengladbach was the clash of upstarts hoping to upend the existing order in the Bundesliga. It was also a meeting of two of the more interesting bosses in Europe: Julian Nagelsmann and Marco Rose. What did we learn from the 2-2 draw?
First and foremost, that sometimes a difference in quality can be measured in propensity for error. Three of the four goals — including the two that gave Gladbach a two-nil lead in a first half where they nevertheless had the upper hand — were the result of (relatively) unforced individual errors. Leipzig battled back to 2-1 before Alassane Plea's double yellow, which left Gladbach down a man. Without him, they struggled to get out of their own half and eventually succumbed to Christopher Nkunku's 89th minute wonder-strike.
A word on Plea, who was booked for berating the referee and then, after his yellow, continuing to jaw in his direction. Some, including Leipzig boss Nagelsmann, thought it was harsh. I'd choose another word for when you get two bookings in the space of a minute for dissent: stupid. Too often, players view a yellow card as a licence to get away with something, since refs are usually loath to send somebody off. This was one of the most avoidable ones you'll see all year.
A good weekend for Setien, Barcelona
Quique Setien stuck to Barca's "old school" possession approach on Sunday but fielded a more orthodox back four (Nelson Semedo at right-back, Clement Lenglet in the middle) rather than the weird hybrid we'd seen in recent outings. The upshot was a 2-1 win over Levante that keeps Barcelona within three points of the top.
Beating Levante at the Camp Nou is nothing to write home about and, in fact, the final minutes were far too nervy and uncomfortable, with Marc-Andre ter Stegen again required to keep them safe. But there are two things that bode well. One is Ansu Fati's two goals. The wunderkind only turned 17 in October and hadn't scored (or played much) in La Liga following his blistering start. He stepped up at the right time on Sunday and, with Luis Suarez out, is probably the front man who meshes most naturally with Lionel Messi.
The other ought to be obvious, but it can't be a coincidence that Barca's opener came from the kind of sudden, north-south long pass that had been missing from Setien's playbook. It wasn't a hoof; it was surgical and accurate (heck, it was Messi delivering it) but it caught the opposition defence flat-footed. It's not hard to see how mixing in the occasional vertical play makes Barcelona's possession game more purposeful and more effective.
Man United should have beaten Wolves
After his scoreless draw Saturday, Ole Gunnar Solskjaer talked about how difficult it was to score against Wolves and then cracked a joke about how "somebody must have moved the goalposts."
Dawson: Fernandes shows he will improve Man United quickly
Yuk yuk. In fact, Wolves have only kept a clean sheet away from home twice this season — weirdly against quality opponents, Leicester and Manchester City — and the xG (a measly 0.80) tell their own story. There's no point in dwelling on it: without the injured Marcus Rashford and with this tame version of Anthony Martial, it was always going to be tough for them. Roll on Odion Ighalo, who might not set the pulses racing but at least is a live body who will prevent them from running Mason Greenwood into the ground (and, perhaps, help him avoid the wear and tear at a young age that certainly hasn't helped Rashford.)
Bruno Fernandes (finally!) made his debut and there's some encouragement to be derived from that. He may not be the second coming of Bryan Robson (as his fee would suggest) but he has loads of courage and personality and is willing to put himself on the line. He seemed to understand what United needs straight away and tried his best to provide it.
Mbappe's frustration is bad news for Tuchel, PSG
Paris Saint-Germain beat up Montpellier 5-0, but Kylian Mbappe was making headlines for the wrong reasons. He was seriously angry at coming off with 20 minutes to go and let Thomas Tuchel know. The PSG boss tried to calm him down, to no avail, and there is talk of Mbappe getting fined.
It's not the first time this has happened — it actually happened in the reverse fixture against Montpellier, too — and Tuchel needs to play his hand right here. Forget the dumb cliche of how you want your players to be angry at coming off. That's a given. But Mbappe is 21 and if he hasn't learned that going off when you're leading by five goals so your teammates can get a run-out is part of the game, then he'd better start now. Tuchel can't afford to have his authority questioned time and again in public.
Could Lazio sneak up and win Serie A?
Lazio continue to prove the doubters (including me) wrong, smacking SPAL 5-1 this weekend. If they win their game in hand this week, they'll be two points off the top of Serie A, which seemed unthinkable in the summer. Ciro Immobile is up to 25 goals, more than anybody in Europe's Big Five leagues and right now it feels as if he could shoot blindfolded and it would hit the back of the net.
Their pursuit of Olivier Giroud in the transfer window, while ultimately unsuccessful, also suggests they're starting to believe too. With no European football commitments to get in the way (unlike Juventus and Inter), they're ideally placed to take this down to the wire and maybe — whisper it — even make history.
Haaland, Sancho sensational again for Dortmund
Borussia Dortmund continue to ride the hype and momentum generated by Erling Haaland. The man-child started his first game and scored twice in the 5-0 battering of Union Berlin, while also winning a penalty. That's seven goals in his first three games though for those keeping score at home, his strike rate keeps falling: it's now one goal every 20 minutes or so.
Jadon Sancho also had a monster game becoming the youngest Bundesliga ever to reach the 25-goal mark. In the league, he's now up to 12 goals (same as last year) and 13 assists (one fewer than last season), with 14 games to go. Oh, and he doesn't turn 20 until March, which is downright scary.
Are Chelsea done with Kepa?
A point away to Leicester, who are one place above them in the table, is not a bad result for Chelsea, though they could have done without the many chances conceded. I wrote about them last week, and I stand by it: it's a transition season, and if they finish in the top four, well, that's gravy.
More interesting — and courageous — is Frank Lampard's decision to drop Kepa Arrizabalaga for Willy Caballero. The latter's contract expires in the summer and if you saw him play, you'll know why he won't be back. Kepa may be the world's most expensive keeper, but he's not having a great season. You can only assume Lampard knows what he's doing and has read his possible reaction correctly.
When a guy like Kepa, who is 25 and still has plenty of market value, gets dropped, it usually ends one of two ways: either with a swift reconciliation or with a summer move. Chelsea may not get their full fee back, but given amortisation, they'll still recover the outlay. Watch this space.
Milan's winning run comes to an end
Milan were held at home by Verona 1-1, ending a run of five straight wins in all competitions. The stock explanation is to point to the absence of Zlatan Ibrahimovic, who had the flu, but just as important was the fact that Ismael Bennacer was suspended. Without him, Milan's midfield simply can't function right now.
Late in the game, we witnessed the debut of Daniel Maldini. Unless you live under a rock, you'll know that his grandfather, Cesare, and his dad, Paolo, also played for Milan. In fact, both won European Cups and both captained Italy as well as Milan. That's the last you'll hear me mention this until he does something special. The three-generation thing is a neat story, but he's 18 years old (already two years behind dad, who made his debut at 16) and if not for his bloodlines, we wouldn't be talking about this. Let's sit back and let him write his own story, without layering on any more pressure. That name is enough.
Muller back to his best for Bayern?
Bayern leapt back to the top of the Bundesliga, winning 3-1 at Mainz, their seventh straight win in all competitions. They came out of the gate quickly, got their goals and managed the game from there.
One thing that appears evident is Thomas Muller's improvement under Hansi Flick. With Niko Kovac at the helm, Muller he was in and (mostly) out. Flick has regenerated him out wide and he's responding not just with performances, but goals too: he has six in Bayern's last nine outings. Not bad for a guy who, if rumours were to be believed, was going to be shown the door if Kovac had stuck around.
Conte actually leaning on youth as Inter win again
Inter kept pace with Juve at the top of Serie A, beating Udinese 2-0 thanks to two Romelu Lukaku goals which take his total up to 20 on the season in all competitions. They didn't play particularly well, but at least they didn't drop points, like they did in the previous three outings.
Credit though to Antonio Conte. Many, including yours truly, listened to his rants about needing more depth and more "winners" in his team and took it as a sign that he'd put veterans ahead of youngsters. There's no question he values experience, but against Udinese he started with Alessandro Bastoni (who is 20 and has by now supplanted Diego Godin in Inter's first-choice XI) and Sebastiano Esposito (who is 17). It's not something you imagine him doing even just two or three years ago.