Newport's incredible revival gets them taste of FA Cup magic against Man City
NEWPORT — Pep Guardiola has probably never experienced anything quite like Rodney Parade, the home of FA Cup fifth-round opponents Newport County, during his gilded career with Barcelona, Bayern Munich and Manchester City.
Opened in 1877 — it hosted a Wales rugby union international against Scotland as far back as 1884 — the old ground is lacking the amenities that Premier League stars take for granted. Don't expect underfloor heating, mood lighting or individual lockers in the visitors' changing room.
At Rodney Parade where Manchester City come on Saturday to face League Two Newport in the FA Cup. A lot of talk about the pitch. It's pretty flat but a bit bald in places. Rain in the next couple of days could make it interesting. pic.twitter.com/ASnWXNaa6j

— Jonathan Smith (@jonnysmiffy) February 13, 2019
There might be a line of players waiting for their turn to take a postmatch shower, however, once this tie (live on ESPN+ on Saturday, Feb. 16 at 12.30 p.m. ET) is played out on Newport's threadbare pitch. A favourable weather forecast for south Wales ensures that the playing surface won't be the mudbath on which Newport defeated Middlesbrough 2-0 in their fourth-round replay, but with the League Two side sharing the ground with two rugby union teams, the pitch is anything but lush and even.
"I don't want it [pitch] like a bowling green, I'm not going to lie," Newport manager Michael Flynn told ESPN FC. "That would give them the advantage. It's not the standard that Premier League or Championship clubs are used to playing on every weekend, but we're a League Two club, we've got two rugby clubs sharing it and there have been over 60 games on there already this season."
And it's not quite the Etihad inside. pic.twitter.com/xwNc7eo0a3

— Jonathan Smith (@jonnysmiffy) February 13, 2019
It will be a culture shock for the Premier League champions, but it is a classic David vs. Goliath FA Cup tie and Newport are relishing the opportunity to share the same stage as Guardiola and his team of expensively assembled superstars.
It is potentially a career high-point for Flynn and his players, many of whom have overcome adversity to play at this level, including striker Robbie Willmott who recalls once rushing back from a shift stacking shelves in a supermarket to watch one of Guardiola's teams on television.
"He was at Bayern Munich at the time," Willmott said. "I was finishing a shift and he was lining his team up for a Champions League game when I was just finishing in Tesco. To go up against one of his sides is a real privilege."
As a club, Newport have come back from the dead to enjoy their day in the spotlight against City. Back in 1981, they reached the European Cup-Winners' Cup quarterfinal, losing narrowly to East German side Carl Zeiss Jena, before financial difficulties saw them go out of business in February 1989, six months after being relegated from the Football League.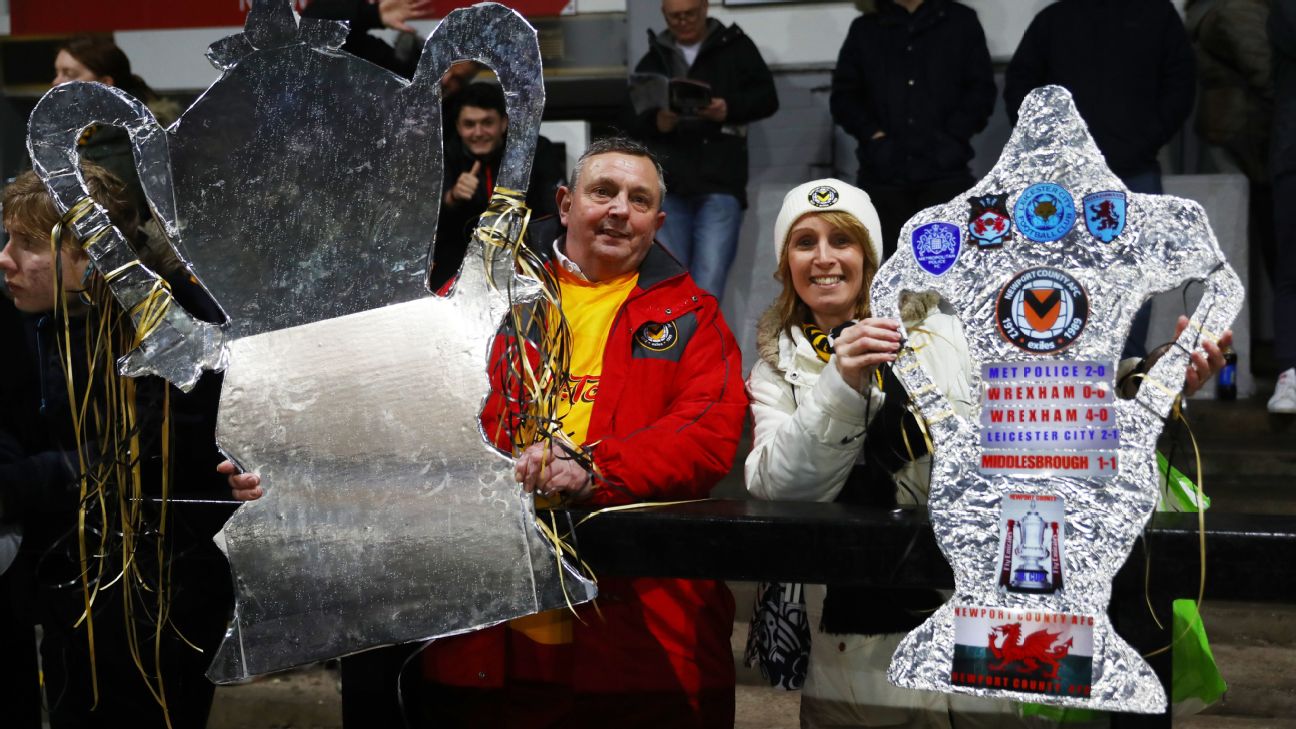 The road back has been long and strewn with obstacles. Their nickname of "The Exiles" — it was "The Ironsides" when the old club wound up in 1989 — stems from when they were reborn as Newport AFC and Newport Council refused to allow them to use their old ground claiming the club was County in all but name and still owed money from eviction for non payment of rent.
That led to the club playing in Moreton in Marsh, 85 miles from Newport, for one season after reformation before returning home.
But just two years later, the formation of the Welsh Premier League saw the Football Association of Wales (FAW) demand all Welsh clubs play in Wales. Newport refused and were once again exiled, this time to the English town of Gloucester for two seasons when the club successfully took the FAW to the High Court, citing Restraint of Trade. 
For almost 25 years, Newport were unable to play in Newport. They spent 18 years at Spytty Park in Lliswery, before moving back to the town to play at Rodney Parade seven years ago.
Newport climbed back through the non-league, winning promotion five times before reclaiming their place in the Football League in 2013.
"We were out of the league for 25 years," club chairman Gavin Foxall told ESPN FC. "Our president David Hando, and the people who were around him at the time, did a fantastic job to put the club back on the map and through the English pyramid system to get it back to where we were, in the Football League.
"To progress on and now become known as a bit of a cup team, it's fantastic. When you think about it, it is what dreams are made of because who would have thought we'd be playing Man City in the FA Cup fifth round?"
And aside from the romance of facing one of the most high-profile teams in world football, Foxall said there are also huge financial benefits, with the club on course to bank over £500,000 from gate receipts, television revenue and FA Cup prize money.
"The big thing it does, and I don't think people realise, is that when you run a football club, the close season months are a nightmare because of the fact that you don't have any income but you still have the same outgoings," he said. "First and foremost, this gets you through those months without having to make difficult decisions about season ticket prices or whatever it has to be."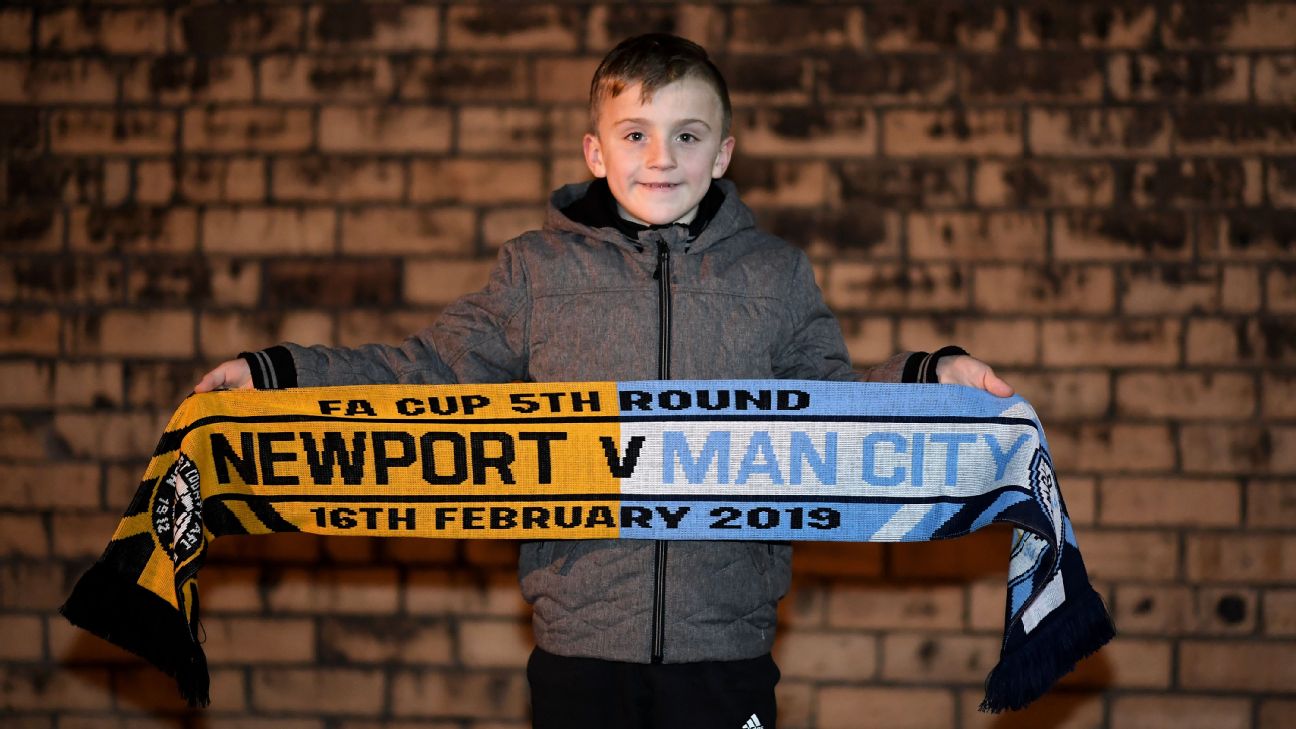 For Willmott, whose goal against Middlesbrough set Newport on the way to their victory earlier this month, facing City makes up for the hard times when he almost walked away from the game.
"I dropped into part-time, worked in Tesco and played locally," he said. "But I said to myself: 'Have one more season' and if it doesn't work out, I'll probably know myself that I'll not get back to the standard of football where I wanted to be.
"But that season in part-time probably made me learn to love football again. I went from training in the morning to training in the night. People won't think that's a massive change, but when you're sitting around all day and training at 7 p.m. and you've got half a team there because they're working late at work or their train hasn't come in, it's mad.
"For me it makes it so much more special because of what I've had to do to get back here. I was playing at grounds where there was no-one even there. There's no atmosphere, there's nothing. I've had to deal with a lot to get back in, so it's special for me."
Willmott and Newport have already created lifelong memories from this cup run — goalkeeper Joe Day missed the birth of his twins by playing against Middlesbrough — but a victory against City would top everything and project this small club into the hearts and minds of football supporters across the globe.
So can they overcome an 81-place gap between themselves and City in the football pyramid to pull off one of the FA Cup's biggest ever shocks?
"Let's not dress it up," Flynn said. "We've got to have the game of our lives and hope City have an off-day. I know it's going to be really, really tough. Anything against Manchester City would be monumental."
Additional reporting from Jonathan Smith was used in this report.