Rashford helps Solskjaer foil returning Mourinho, but have Man United found a way forward?
MANCHESTER, England — Ole Gunnar Solskjaer saluted all corners of Old Trafford after Manchester United had beaten Tottenham, and Jose Mourinho, with perhaps their best performance of the season in a 2-1 victory.
United's manager had gone into the game with the first noises emanating from around the club that his time at the helm could be running out, so the manner of the win, and the timing, may explain Solskjaer's uncharacteristic decision to milk the moment at the final whistle. After all, despite the victory, United are still only as high as sixth in the Premier League table and eight points adrift of fourth-placed Chelsea in the race for Champions League qualification.
Solskjaer celebrated as though his team had qualified for the Champions League final, but it was against Mourinho, his predecessor, and during a week when some headlines were claiming he had two games to save his job, so his celebrations were understandable.
It is too soon to suggest that this win, secured by two goals from Marcus Rashford, will prove to be a turning point for United, but it should certainly be a high watermark for the standards now expected of this team.
Under Solskjaer, they have been wildly inconsistent and the manager and his coaches have warned the United hierarchy that, with such a young and inexperienced team, there will be plenty of peaks and valleys throughout the campaign.
The battle for Solskjaer is to ensure that there are enough peaks to keep him in a job. Until this victory, the valleys were beginning to become a little too regular, hence the question marks over his future.
So far this season, United have lost four league games, with each defeat coming against teams currently below them in the table. No points against Crystal Palace, West Ham, Newcastle and Bournemouth and unconvincing performances, and draws, against Sheffield United and Aston Villa in recent weeks have contributed to a tale of woe that has seen United drop 12 points from winning positions.
But conversely, United are currently unbeaten against their Big Six rivals, with Solskjaer's men also beating second-placed Leicester and drawing with fifth-placed Wolves this season.
Beating Spurs was another tick in that box, but Mourinho said after this game that United's counter-attacking is currently better suited to playing superior opponents rather than supposedly weaker ones.
"Against the best teams, United have had results, like they did against Chelsea, Liverpool and Leicester," Mourinho said. "It's easier for them [against the top teams] with the way they play.
"They are not afraid to be at home and they have lots of young players with energy and a good mentality, so [they] are comfortable in this approach with a low block and a fast counter-attack."
When faced with opponents who are less inclined to take the game to them, United's approach has proven to be ineffective, but Saturday will be an acid test of their tactics when they travel across Manchester to face City. So far this season, United have played all of their Big Six rivals at home, so it will be an interesting examination of their approach when they face Pep Guardiola's men away from Old Trafford.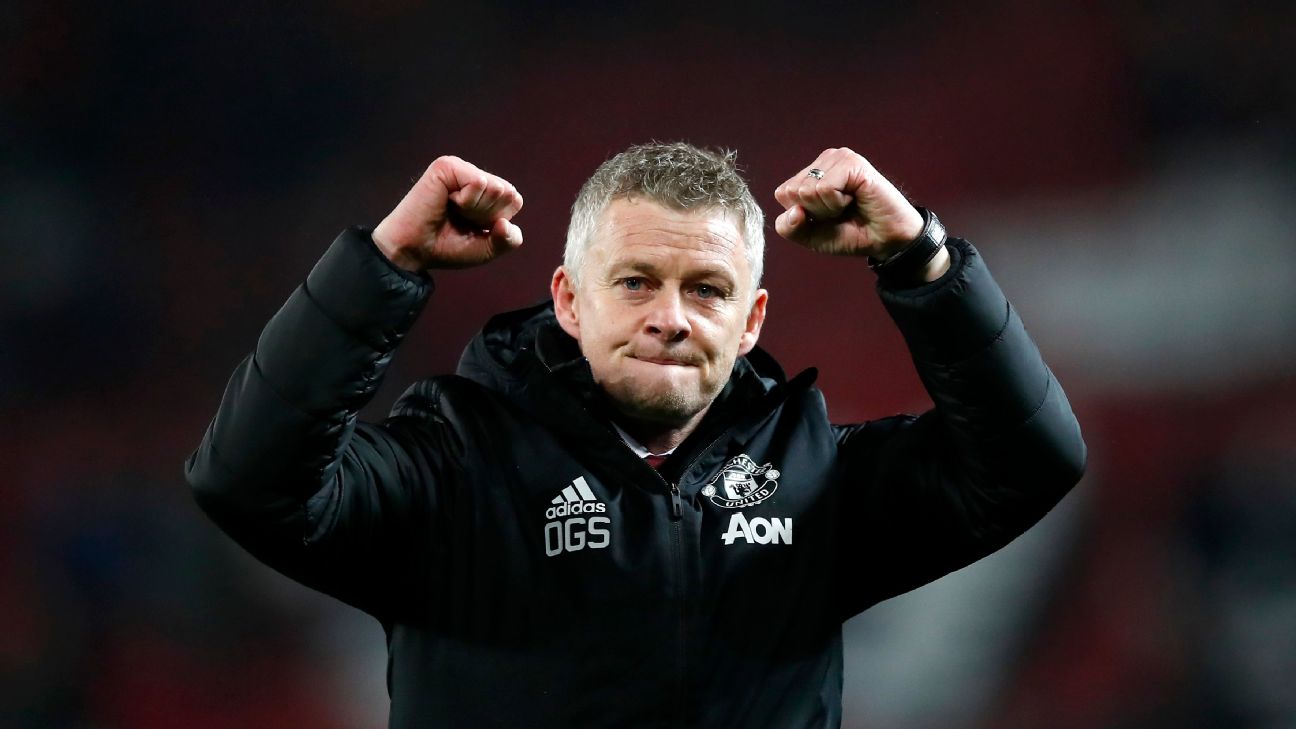 This game was all about United's pace on the break with Daniel James and Rashford, and the England forward deserved more than the two goals he scored.
His first, on six minutes, was a 20-yard effort which beat goalkeeper Paulo Gazzaniga at the near post. Rashford also had a 25-yard strike tipped onto the crossbar by the Argentine before he netted from the penalty spot three minutes into the second half.
Mourinho knew what to expect from Rashford, but it seems his Spurs players failed to heed their manager's warning.
"When he plays from the left he's really, really dangerous and I knew that and I gave the players the best possible information about it," Mourinho told the BBC. "The first goal is a typical Rashford goal, coming to the inside and shooting with the right foot and also the way he attacked our defenders in the second goal so, our boys, they knew it, they knew it clearly."
Rashford has enjoyed a resurgence under Solskjaer after struggling for form in the latter days of Mourinho's reign and his current manager admitted that the 22-year-old is now performing better than ever.
"It's the best [performance] he's had under me," Solskjaer said. "He was mature and strong against good Premier League players. His penalty was calm and composed, and his [first] goal, we know he's got those strikes in him and he had three or four chances.
"It's like he was back on the playground or in the back garden."
If all of his players had improved as much as Rashford has, Solskjaer would not be facing questions about his future, but this United team is still clearly a work in progress and they desperately need reinforcements in January.
But for now, Solskjaer is happy.
"You are always happy when you win," he said. "The boys are learning and improving all the time but tonight we were fantastic for long, long spells."
"The three points are massive for us. We've had too many draws this season and given too many points away from winning positions. It's a great lesson the last two games [Sheffield United and Aston Villa] and we came back in a great manner.
"We've started the rebuilding. We've made decisions that we had to and we're looking to build this club to be better again and I can't think short-term when I'm trying to do that.
"When we turn the corner and win three or four games on the run, they will get that Man Utd feeling again."