Sergio Ramos lucky to escape red in 4/10 showing as Madrid fall to Barca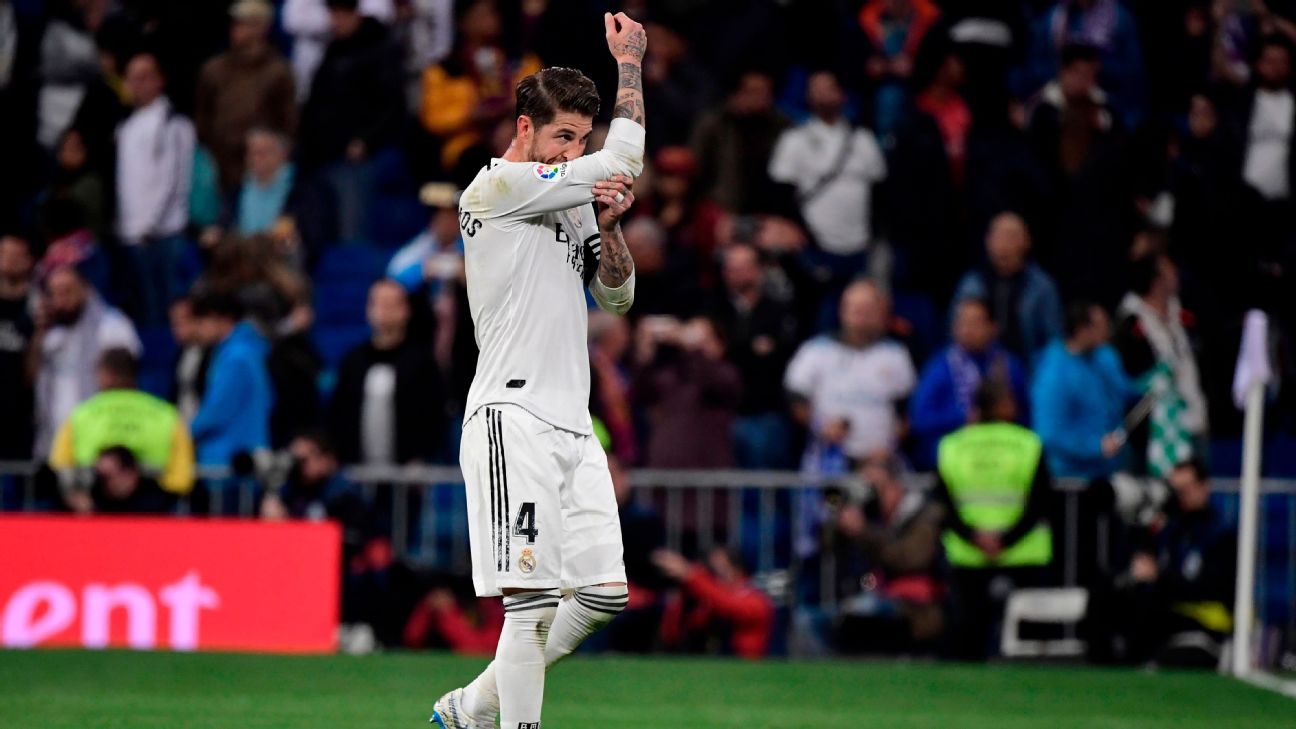 Real Madrid lost another Clasico as Barcelona eased to a more-comfortable-than-the-scoreline-suggests 1-0 victory in Saturday's La Liga clash at the Bernabeu.
Positives
Losing 1-0 is better than losing 3-0, as Madrid did on Wednesday. After two home Clasico defeats in four days — without even scoring — Madrid won't have to face their Catalan rivals again this season (barring a late-stage Champions League tie). Left-back Sergio Reguilon had a storming game at left-back, shaming some of his more-senior colleagues.
Negatives
There was no sign of a real emotional response from Madrid's players to Wednesday's 3-0 Copa del Rey loss, and they are now completely out of the La Liga title race. Santi Solari's side should have been fired up for revenge but had zero shots on target before Ivan Rakitic opened the scoring on 26 minutes. Squad depth is really a problem, with kids being asked to step in for established stars who look mentally and physically fatigued after years of success.
Manager rating out of 10
5 — Although the final score was only 1-0, Solari's team were again outplayed, completely, as so often in recent Bernabeu Clasicos. How much of the blame he personally deserves is debatable, and perhaps moot. Saturday's performance suggested big-name players, such as Toni Kroos and Gareth Bale, are not expecting him to be around much longer. Only a Champions League victory will now realistically keep the Argentine in the job for next season.
Player ratings (1-10; 10 = best. Players introduced after 70 minutes get no rating)
GK Thibaut Courtois, 7 — Rakitic's dinked finish was superb for the first goal, but Courtois still shouldn't really be beaten from that angle. Otherwise made a few solid stops from Luis Suarez, and one excellent spring from his line to deny Barca sub Philippe Coutinho late on.
DF Dani Carvajal, 5 — Did better than when roasted by Ousmane Dembele on Wednesday, but still came off worse in his personal battle with the flying Frenchman. Not having a good season, and confidence appears low.
DF Raphael Varane, 6 — Was quite easily outfought by Suarez in their personal battle. Being outpaced over 50 yards by the large Uruguayan, who was carrying the ball, suggests a knee hurt on Wednesday was hampering the lean Frenchman.
DF Sergio Ramos, 4 — Nobody has played more than Ramos' 42 Clasicos, but the Madrid captain still has not learned his lesson. Reacted too late to Rakitic's run for the opening goal, then could easily have been sent off for a series of attempts to rough up Lionel Messi — the gentlest of which brought his customary yellow card.
DF Sergio Reguilon, 7 — The young left-back again showed more pluck and commitment than more-senior colleagues. His persistence lead to one of Madrid's few second-half chances, while he himself came close before the break with a low 20-yarder that fizzed just wide.
MF Luka Modric, 7 — Overshadowed by fellow Croatian Rakitic as Madrid were outplayed in midfield. Broke into the box a few times in the first half but one shot was blocked and a header flew over. At least showed some wounded pride as he led Madrid's comeback late on.
MF Casemiro, 6 — Among those overrun as Barca's midfield bossed central areas, with Messi finding space between the lines very easily. Has not returned to full physical shape following injury in January.
MF Toni Kroos, 5 — One of the Madrid players most criticised after Wednesday's second-half collapse, Kroos was visible as his team pressed in the first half, but not really a factor on the ball. Did not appear to enjoy being first player replaced — for third time in his past four La Liga games.
FW Gareth Bale, 5 — Underwhelming performance from Bale, who was pretty anonymous when given a rare start and a chance to send a message to Solari. One early free kick blazed well over, and that was the closest he came before leaving on the hour mark to loud whistles from the crowd.
FW Karim Benzema, 6 — Tried to make things happen, but from very deep, and just one shot all game was well wide early on. Looks tired after playing almost every game this season — now just one goal in open play across his last seven outings.
FW Vinicius Jr, 6 — Much quieter than Wednesday, with Barca right-back Sergi Roberto sticking very close. One first-half moment when the youngster was surrounded by five defenders and meekly lost possession summed up his night.
Substitutes
MF Fede Valverde, 6 — Tough game for the 20-year-old Uruguayan midfielder to make an impression on, but he did pretty well. His place as first substitute seemed a really big statement on Madrid's transfer policy of last few years — and not a positive one for club president Florentino Perez.
FW Marco Asensio, 6 — Replaced Bale and was then similarly anonymous as most of the action took place elsewhere on the pitch. One penalty claim roused the Bernabeu but not the ref.
MF Isco, N/R — Turning to the previously out-of-favour playmaker was a real last throw of dice from Solari. First intervention was to lose ball where he should not, leading to a Barca break.