Sterling is keeping Manchester City winning, but the best of him is still to come
MANCHESTER, England — When Gabriel Jesus beat Tyrone Mings in the air to send Raheem Sterling racing towards Tom Heaton and put Manchester City ahead 1-0 against Aston Villa, not everyone saw it. It came so soon after half-time — just 19 seconds — there were some City fans still making their way back to their seats. Those that were in place didn't expect anything other than the ball to end up in the net. Sterling has always had the pace and the quick feet, but under Pep Guardiola, he has turned into a goal scorer.
Sterling's goal against Villa was his fourth in the space of five days after his Champions League hat-trick against Atalanta in midweek. He's got 17 in 18 games for club and country this season. He has become so confident that he has bought display cases for hat-trick balls in advance so they can quickly take pride of place at his mother's home in Jamaica. Where once his finishing might have let him down, it has become one of the strongest parts of his game.
– Report: Man City's second-half surge downs Villa
– Man City ratings: Gundogan 8/10 in big win
– ESPN Fantasy: Check your teams, scores and more!
Guardiola isn't shy about rotating his team, but he rarely leaves Sterling out. He has started 13 of City's 15 games in all competitions this season, and in one of only two fixtures he has missed — at home vs. Dinamo Zagreb — he was needed off the bench to turn the game in the second half. On Saturday, he exited in the 75th minute but with the score at 3-0 — the other goals coming from David Silva and Ilkay Gundogan — and the job all but done.
Guardiola refuses to take any credit for elevating Sterling from good Premier League player to one of the best in the world, although he has, in the past, given assistant Mikel Arteta a pat on the back for improving his shooting with drills on the training pitch.
"All the credit is for him," said the City boss after the 5-1 win over Atalanta on Tuesday. Asked again at a news conference on Friday, Guardiola likened himself to a star golfer's caddie.
"All we can do is help," said Guardiola. "We'll speak about Aston Villa, how they are as a team and tell them specifics about what is going to happen. Try to process that overnight before going to sleep, a quick breakfast tomorrow and then play. That is all we can do. We feel like a caddie in golf. We can give them a 7-iron but we don't hit the ball. We try to help and that's it."
With Sterling in this type of form, it's like Guardiola is handing a club to Tiger Woods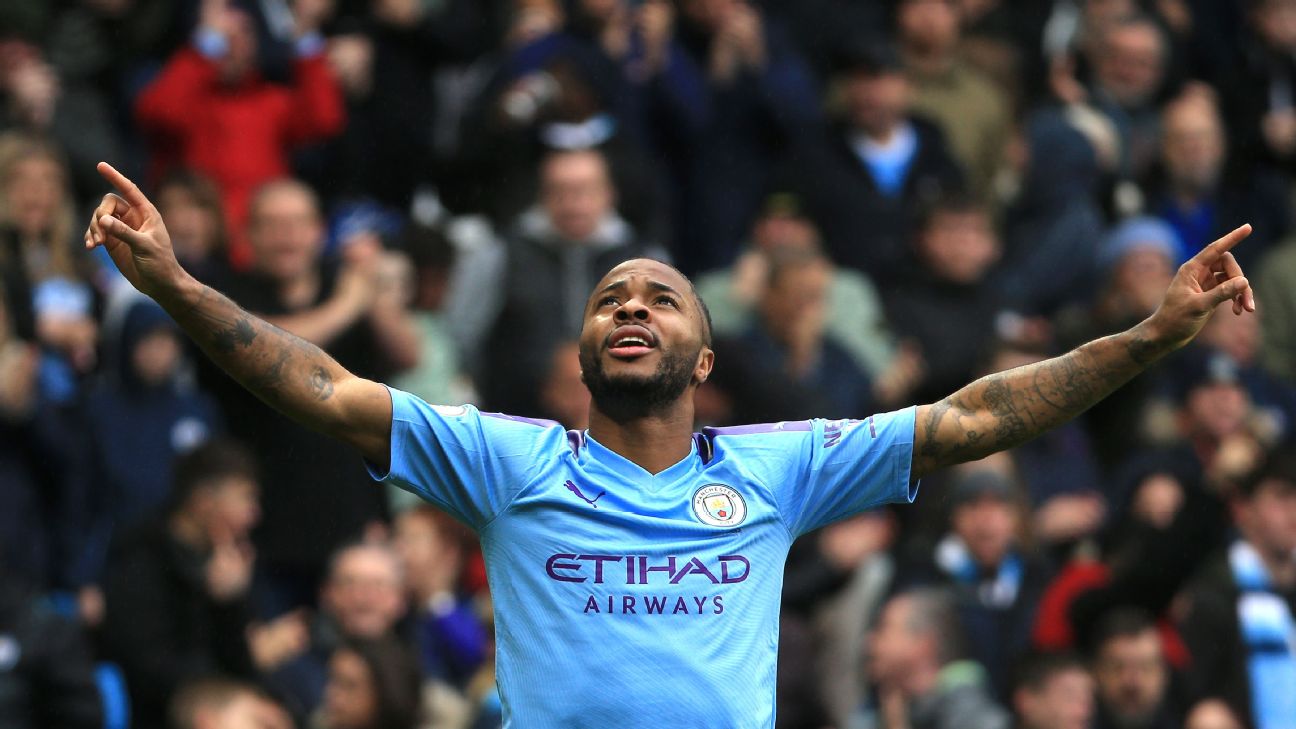 Former Spain midfielder Xavi knows a thing or two about what the world's best players look like, having won the Champions League three times alongside Lionel Messi. For Xavi, Messi and Cristiano Ronaldo are still the two outstanding players, but Sterling, only 24, is already next on the list.
"You look at young players who can be crowned the future best in the world and you still think of Neymar, [Kylian] Mbappe, [Mohamed] Salah, and of course Sterling," said Xavi earlier this season. I look at the moment and Sterling is winning that race."
Guardiola built his all-conquering Barcelona team around Messi's brilliance, and he is giving Sterling the same platform at Manchester City. His nonchalant flick over the Crystal Palace defence for David Silva's goal at Selhurst Park in last week's 2-0 win had all the hallmarks of the Argentine's flair. His bare numbers — directly involved in 52 goals in 48 games for club and country in 2019 — are getting up there as well.
Guardiola has never lost back-to-back home league games as a manager, and after losing to Wolves, it was no surprise that things were put right very quickly against Villa. It should have been no surprise, either, that after a tough first 45 minutes the catalyst again was Sterling.
Talking ahead of the game, Guardiola admitted he is "concerned" about a growing injury list that includes Aymeric Laporte, Leroy Sane, Rodri and Oleksandr Zinchenko, but the player he cannot do without is Sterling.
"Every press conference we talk about Raheem," said Guardiola after watching his team move to within three points of leaders Liverpool. "He is consistent. What I like the most about Raheem was one thing, after scoring three goals against Atalanta — make an assist and win a penalty — everybody speaks about how good you are, normally it is like 'How good I am' and today it was completely the opposite."
Guardiola is convinced that despite all the plaudits for Sterling and Man City, there is still more to come.