Steven Gerrard's Liverpool debut 20 years ago an oral history of his first game as a Red
LIVERPOOL, England — Liverpool's 2-0 victory over Blackburn Rovers on Nov. 29, 1998, 20 years ago on Thursday, is remembered for an event that was overlooked by most at the time.
Few could have predicted the 90th-minute substitution that saw Vegard Heggem replaced by a skinny, nervous-looking 18-year-old would kickstart the career of arguably Liverpool's greatest ever player. Two decades have passed since Steven Gerrard's Liverpool debut, and ESPN FC gathered five eyewitness accounts to look back on what is now considered to be a landmark moment.
The timing of Gerrard's debut
Liverpool were in a period of transition, languishing well away from Manchester United and Arsenal at the top of table. Gerard Houllier had taken sole charge of the club earlier in the month after the doomed partnership between him and Roy Evans was broken up.
It was during a reserve game away at Leeds United where Gerrard would catch the eye of the new first-team coaching staff and he was quickly drafted to Melwood, where he would leave his mark in a short space of time. The teenager was first part of a Liverpool squad at Celta Vigo in the UEFA Cup, but remained an unused substitute throughout the 3-1 defeat.
His introduction would come five days later.
Gerard Houllier, Liverpool manager (1998-2004): He was very emotional when he came on. Can you imagine? A player's dream when you support a club is to play for that club. He was just 18. It was to just show him: 'You are in our plans and we rely on you for the future.'
Stephane Henchoz, Blackburn (1997-99) and Liverpool defender (1999-2005): [Gerrard] didn't feature in our prematch preparation. When you're doing stuff during the week you talk about the player who could really hurt you. Usually it's the strikers, the offensive players and those that are going to play against you. Gerrard wasn't supposed to play against us and we didn't know about him.
Referee Jeff Winter: At the time, it was just a young player making a late substitute appearance for his debut. It's now something I'm quite proud to say: 'I actually refereed the game when Gerrard made his debut.'
Gareth Roberts, Liverpool supporter: I remember there was a barbershop in Huyton that had a picture of him on the wall and he hadn't even played in the first-team. That gives you an idea of the hype and expectation around him.
Rob Palmer, commentator: The first time we came across him was at Vigo airport, when Liverpool played Celta Vigo in the UEFA Cup five days before. There was a kid that we didn't recognise as part of the travelling party. He was kind of this lanky kid whose feet were too big for his body and, in the nicest respect, he looked like a Scouser. That was obviously Steven Gerrard.
Houllier: From his performances in training and his ability, we could see that what he needed was games under his belt.
Gerrard finally takes the pitch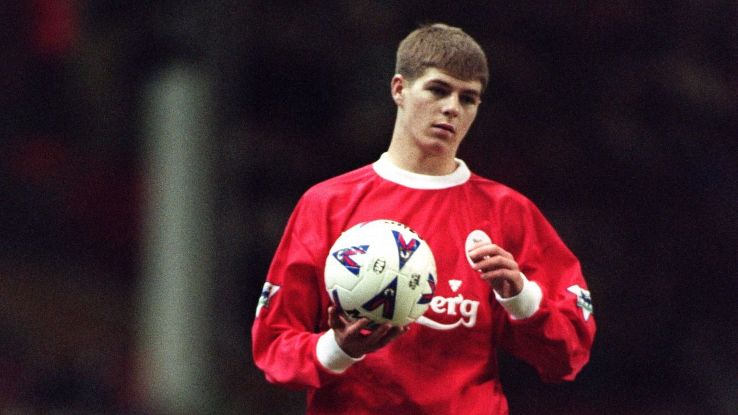 As a sporting contest, the match was over after 33 minutes. Captain Paul Ince scored a stunning, 30-yard goal on the half-hour mark before teenage sensation Michael Owen doubled Liverpool's lead just three minutes later. Plenty of the 41,753 fans in attendance had even departed Anfield well before Gerrard was introduced.
With the game creeping into injury time against lowly Blackburn, who would go on to be relegated that season, Houllier deemed it appropriate to bring on Gerrard in a competitive, professional setting for the very first time in place of Heggem.
Henchoz: In a way, it was a very important game for me. That's where the move to Liverpool started for me. Even though we lost 2-0, I did OK. That's probably why Liverpool started to follow me.
Palmer: All I remember is this name appeared on the teamsheet. We've got an app now when we do Premier League games, where an hour-and-a-quarter before [kick-off], the teams drop on your phone. Probably even 20 years ago, I might be wrong, but it was written up on a whiteboard in the press room. And this name appeared. But because I'd checked out the week before when he was with the travelling party [in Vigo], it didn't come as a complete shock to me.
Winter: It wasn't a major game and probably the ideal game for a young player to make his debut.
Henchoz: The game was lost for us. Liverpool made this substitution and gave him these minutes because the game was won.
Houllier: I didn't like to do changes for change's [sake]. If you change, it's got to do something. In that case it was just to give him his first cap for Liverpool FC. I think he played two or three minutes. All the players were very supportive and were congratulating him for his debut.
Palmer: He came on, got a nice reception, they were winning 2-0 and, in the nicest possible way, looked like a teenager that had won a competition to play for Liverpool.
Roberts: I remember the shirt he had on just looked absolutely massive. I don't know why they couldn't get a shirt that fit him. He came on and didn't set the world alight, it's fair to say. That came a little bit later. Everyone was just delighted, and you always are when a local kid turns out for Liverpool.
Houllier: I think he played two or three minutes. I can't remember anything from them. He played well against Tottenham on his first start in the game after, despite the fact I took him off maybe after an hour.
So how did he do?
Looking sheepish as he emerged from the touchline, Gerrard took up Heggem's position at right-back, where he would start his professional career.
There was zip to his first pass and a sliding tackle to keep the ball in play from a one-two. But ultimately, there were no hints in those handful of minutes about what was to come over the next 17 years.
Winter: He might not have stood out in the few minutes he was on the pitch against Blackburn. But over the years he scored many wonder goals and the 'wow' effect was tremendous.
Houllier: I'm pleased I spotted him very quickly. I saw an academy game and asked him to come with the pros immediately. I'm pleased we did that because Sammy Lee once said: 'You saved his career.' We sorted out his back problems [and] his growing problems gradually. That's why we were very progressive with him in his participation in the games. I remember we had to fill [out] his body and to be extremely cautious in some areas. But you could feel that he was going to make it. The attitude was right and he had a great desire to improve. He was listening and taking on board what you would say to him.
Palmer: Houllier has probably told you he bigged him up and made his career. But the truth was that at the time, Houllier wasn't big on him. If you do your research and look back, after a while Houllier sent him back [to the academy]. I think he needed some persuading from the academy staff that he was good enough to be part of the first-team. I was the man that was always asking questions in the news conference at the time and I think it'd be fair to say that Gerard took a while to be won over by Stevie G in the very, very early days.
Roberts: Houllier is quite sort of funny in that he always takes the credit for Gerrard. He talks about how he gave him the captaincy — and he did give him it really young. But it was absolutely no secret that Gerrard was going to make it.
Henchoz: When I joined Liverpool, in terms of his talent and energy on the training ground, you could tell he was somebody exceptional. I don't think you could tell, at the time, he would have the career he did because he was still quite shy.
Houllier: Once he was on the grass, he was not shy. I can tell you that. I remember one day that I think Paul Ince tackled him in training and within the following five minutes he put the same tackle on Paul Ince and trod on his back to show: 'OK, you can do that. I can do that.'
Roberts: I think we played Everton at Anfield when [Gerrard was] still only a kid then and he cleared a couple off the line. What I remember about that more than anything is after doing it he sort of turned to the fans and was clenching his fists. It was almost like watching a version of yourself on the pitch — obviously one who is much, much better at football."
The start of something great
From that match on, there would be a further 709 appearances for Liverpool and 186 goals. At the age of 23, Gerrard would be made captain of his boyhood club in October 2003 and went on to lift the Champions League, FA Cup and League Cup during his tenure.
In a 2013 poll entitled "100 Players Who Shook The Kop" by Liverpool's official website, Gerrard was ranked No. 1 by supporters, beating Kenny Dalglish.
Henchoz: Overall, he was the best player I played with. He was a player who could do anything.
Winter: I think he wrote something in his autobiography where I don't think I was exactly his favourite referee. Hey, he's entitled to his opinion. He was certainly one of my favourite players. I found him a great character, a winner, and he had so much skill.
Palmer: I commentate on a lot of football and with most players your tone is at a certain level when they get the ball. But when it's a [Lionel] Messi, [Cristiano] Ronaldo and Steven Gerrard with 10 minutes to go, you go: 'I've got to be sharp here because anything can happen.' He kept everybody on their toes like that.
Houllier: Stevie is a big player because in big games he always showed up. The one thing about him is that responsibility made him blossom, not shrink. Some people with responsibility shrink — they're not as good as they used to be. Stevie, in fact, responsibility and leadership made him even better. To me, that's why he was world-class. You have different levels — Premier League level, international level and then you have world-class. Stevie belonged to the category of maybe only 20, 25 players in the world that were world-class.