Tottenham must answer tough questions to emulate Liverpool's success
MADRID — Defeat on the biggest stage can trigger two responses: The losers either allow the disappointment to drag them down to the realms of the also-rans or use it as inspiration to go again and come back stronger.
Liverpool, having suffered a painful and comprehensive 3-1 defeat against Real Madrid in last season's Champions League final, took the latter option. The Anfield club invested wisely in the likes of Alisson and Fabinho and, having almost won the Premier League with 97 points, ended this campaign with a 2-0 victory over Tottenham Hotspur that delivered the club's sixth European Cup.
Tottenham face that same fork in the road, but there are too many question marks hanging over Mauricio Pochettino's team — not least that of the manager's own future — to suggest with any conviction that the North London outfit will follow Liverpool's example this summer. In the aftermath of this defeat, deep inside the Wanda Metropolitano, Pochettino was again careful not to banish the questions marks.
"I think it's not a moment now to talk too much," he said. "You can interpret things in different ways. After five years in Tottenham, it was so clear the project. Our ambition was amazing, and the commitment of our players amazing, providing us with our first ever Champions League final. But now it's time to be calm, change our mind and have time to talk."
Pochettino has three years to run on his contract at Tottenham, but recent non-committal remarks about whether he will stay or go after five years in charge have created doubt where there needs to be absolute certainty.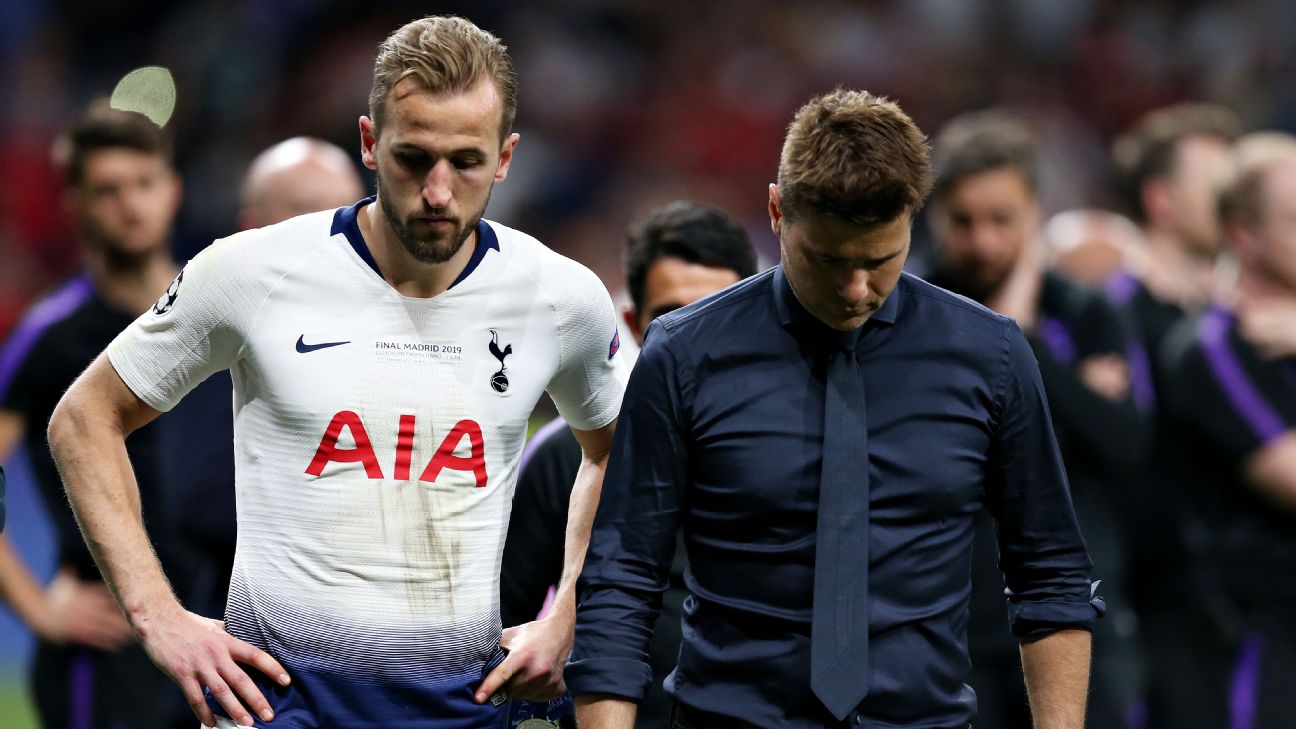 If he does leave, then Tottenham will be back to the drawing board. But even if Pochettino can be persuaded to stay for another crack at turning the club into trophy winners, the job he faces will be a big one, both in terms of finance and ambition.
Tottenham must somehow square a circle that has seen initial projections of the club's new stadium costing £400 million, rise to an eventual £1 billion. They have to pay for the ground at the same time as investing in a squad that has not had a penny spent on it since Lucas Moura arrived from Paris Saint-Germain for £25m in January 2018.
Pochettino's ability as a coach has helped him work wonders overcoming that competitive disadvantage, guiding Tottenham to this final and a top-four finish in the Premier League once again. However, the lack of investment is why his line-up in Madrid featured two half-fit Harrys — Kane and Winks — and out-of-form right-back Kieran Trippier, whose dip since the World Cup last summer led to his being dropped from England's squad for next week's Nations League finals in Portugal.
"We looked at the qualities of our players, but it would have been incredible to have won this trophy because Tottenham prioritised their stadium and spent zero on transfers," Pochettino said. "We're not the smartest in the class but not the stupidest, either."
– Marcotti: Journey for Liverpool's European champions is not over
– Liverpool ratings: 8/10 Alisson, Van Dijk set foundation for victory
– Tottenham ratings: 5/10 Kane, Alli struggle as Spurs fall short
– Toe Poke Daily: Klopp sings 'Let's Talk About Six, Baby!'
Tottenham maximised every resource to reach the Champions League final, but if this run is to act as a springboard, rather than a high watermark, things have to change. They must spend to build, but also show the ambition that will convince the likes of Kane, Son Heung-Min and Dele Alli that they can win silverware.
Kane, who will turn 26 next month, is approaching the peak years of his career, yet the man who won the Golden Boot at last year's World Cup does not have a winner's medal of any description to his name.
Tottenham's homegrown poster boy tasted the biggest stage as a runner-up in Madrid, albeit short of fitness following a seven-week injury layoff, and Kane has to decide whether he wants to fast-track himself to the winners' podium by following the likes of Gareth Bale and Luka Modric from North London to a club of Real Madrid's stature.
The same applies to Alli — younger than Kane at 23 — and Son, 26. Both have their admirers, even though Alli has had a disappointing season, and Tottenham could face a battle to convince both that they should reject interest from elsewhere to stay. Meanwhile, Christian Eriksen is refusing to sign a new contract to replace his current deal that expires in June 2020 and might be the first to move on.
One way to banish doubts over the futures of star players and manager would be for Daniel Levy to sanction the major spending required to maintain an upward trajectory. The chairman has never put the club's financial well-being in jeopardy, though, so if the numbers do not add up, big spending will not happen anytime soon.
Liverpool never looked like a team at the end of its journey last year, but it is hard to see how Tottenham can emulate them by bouncing back to win the Champions League in Istanbul 12 months from now. After the biggest night in the club's history, arguably their biggest summer lies ahead.
"We need to be clever now and, after a very painful game like this, it's about building for the next period of your life," Pochettino said. "Of course, it's going to be tough."